For Leo Baker, Joining 'Tony Hawk's Pro Skater 1+2' Is a Dream Come True
The Nike SB team skater spoke to HYPEBEAST about why it means so much to be a part of the revolutionary game.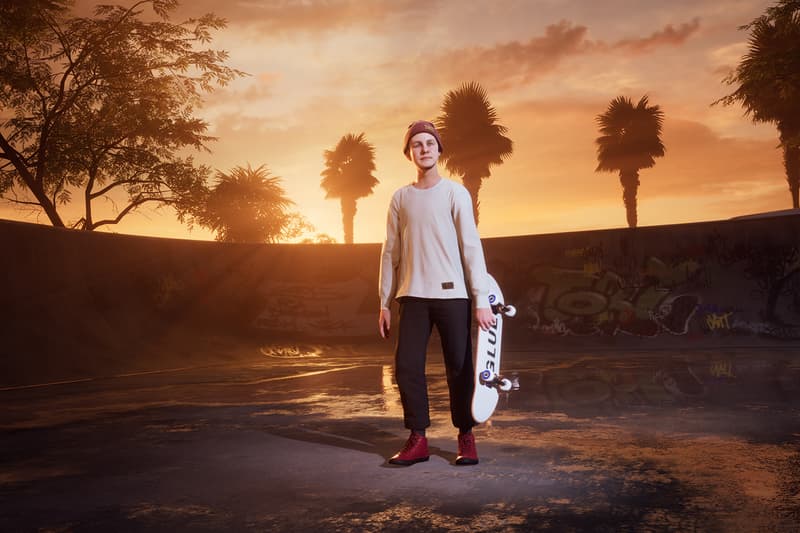 Tony Hawk's Pro Skater 1+2, the long awaited remake of the original 1999 game that kicked off the franchise and its 2000 sequel, is right around the corner. This latest iteration, releasing September 4, promises the return of classic stages with seismic upgrades to graphics.
Alongside the lineup of famed skaters for the original game, this release will add several new names to the roster including Nyjah Huston, Lizzie Armanto, Riley Hawk, Tyshawn Jones and Leo Baker. Baker, who signed with Nike SB in 2017, is one of skateboarding's fastest-rising stars. In addition to being a seven-time X-Games medalist, Baker founded the NYC Skate Project, a space for platforming women and queer skaters.
In advance of the release, HYPEBEAST spoke with Baker about their long-time love for the Tony Hawk game, the process of creating their character, and why being included means so much.
HYPEBEAST: So many skaters I've talked to have spoken about this as a game that they grew up playing. Do you have any memories of playing the games when you were younger?
Leo Baker: Oh yeah, for sure. So I had a Nintendo 64 that my dad got me when I was like seven or eight. And the only game I really played, I wasn't super into video games, but I had Tony Hawk. So back in the day, I used to play that game a lot. And the title of the game obviously has "Pro Skater" in it, so that's how I knew you could become a pro skater. That's actually what made me say, "I want to be a pro skater," which I think is pretty fascinating at this point — just to be in the game and stuff. I'm like, okay, I think I did it.
Who did you like to play as?
I chose Bucky Lasek and Bob Burnquist a lot. And I think it's just because I liked the way their name sounded. Like, such a young kid, I didn't really actually know who any of the players were. Obviously seeing Elissa Steamer in there was like, "Oh, like you can, you don't have to be just a guy to become a pro skater" or whatever. So, you know, I had like a vague idea of who the skaters were. I knew they were vert skaters and I was into street skating.
Tony lets the skaters choose their own clothing as well for their playable character, right?
Yeah, actually, that was a really fun part of the process. Creating my character, I got to choose like three different outfits, and it was really awesome too because right around that time, I dropped my Nike SB Orange Label collaboration. So I was able to wear all that stuff in the game. That's kind of a cool marker for a few accomplishments at one time, just because it's been a dream of mine to design clothes. So to be able to wear the clothes in the game, it means a lot.
"I feel like it's a real win for queers who skate, that there's trans representation in this video game that's extremely influential."
Yeah, that must be a surreal feeling.
Oh my god, it's beyond words. I saw for the first time a demo of me as a character in the game, one of the original levels, and I can't even put the feeling into words — being myself in the game. And with the graphics the way that they've advanced it for over two decades, it's super realistic. Like it looks just like me. It's just wild, very surreal to see that.
To get a sense of the timeline, was this something that you'd been discussing for a while with Tony?
It came about I think a year ago. They mentioned they wanted to have me in the game, which obviously was like, really nice. And along with the other new skaters in the game, it's just really cool to see that level of diversity. I think it really is a testament to where skateboarding currently is which is great.
So then I went into the Activision studios, and they had all these wild setups with, like, hundreds of cameras so they could get like every single angle. So I had all these cameras around me, making all these like facial expressions. That whole process I think took two or three hours.
I was curious about the process of the motion capture.
It's a little bit of a blur. I mean, I was sitting in this glow with all these super bright LED lights. And then they would flash when the pictures were being taken. So it was pretty overwhelming, actually. They would say, like, "make a happy face," and then I'd do it and then it'd be all the shutters going off around me like, click, click, click, click, click, click. And there's probably like 20 different facial expressions. So that process took I think maybe 20 to 30 minutes.
And then there was a different setup where of standing — I don't even what you would call it — but whatever, there were cameras taking pictures of me so that in that portion I changed my outfits a bunch of times and like, did a couple different stances and stuff like that. So, yeah, it was. It's pretty involved. I would say. It was like a full day of work. Like I left there feeling super exhausted.
Yeah, I've heard Tony is super meticulous about making sure that it actually looks and feels like skating — that it doesn't feel like you're playing a video game.
Oh, yeah. I talked about earlier seeing Elissa in the game. We were texting because obviously she's gonna be in this one, because she was one of the original skaters. I was asking what her experience was back in the day when she was put in the game 20 years ago versus now and she was like 20 years ago, we just took a couple pictures then that was that. And then this one was so heavily involved, like you're saying, super meticulous: every camera angle, every facial expression. So yeah, it's pretty wild to see the progress.
"I wasn't super into video games, but I had Tony Hawk."
The game has been so influential, especially for '90s kids. I was wondering how you feel about Tony Hawk's Pro Skater 1&2 being this phenomenon for the next generation but also a moment in time for people who did grow up with the game to now see our generation reflected in it.
Yeah, I think it's really fascinating. Just the timing of it, and the choice to reboot the full original first few games. It obviously rings a huge bell of nostalgia for everybody in our generation. And then I think also on top of that, the young kids who are able to see representation like women pro skaters, trans pro skaters, dudes, whoever. It's just going to reach such a wider audience. And I think that it's just going to be really fascinating to see what comes from it, you know?
Because I was able to see Elissa in the game, there was a part of me that was like, "Oh, I can be a pro skater." Now, there's even more representation. I think that's really beautiful. As a queer skateboarder, I feel like it's a real win for queers who skate, that there's trans representation in this video game that's extremely influential. It means a lot to me, and I'm super grateful to be a part of it.