8 Drops You Don't Want to Miss This Week
Featuring Supreme, AMBUSH, Wacko Maria, Stüssy and Palace.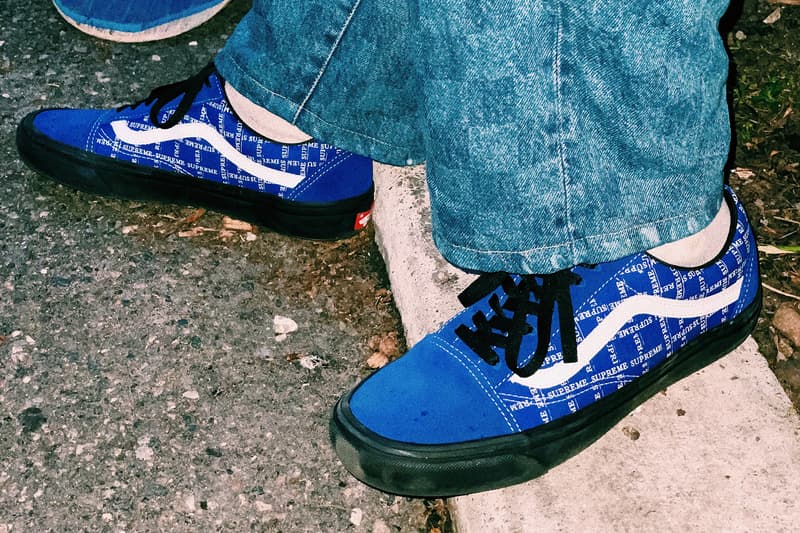 With another week upon us, we have yet another installment of our product drops series. Leading the list is the third drop from Supreme's Fall/Winter 2020 collection and Palace's Fall 2020 Week 6 drop with a GORE-TEX capsule.
Accompanying its Week 3 release, Supreme has readied its latest team-up with longtime collaborator Vans. This time around, the  New York streetwear imprint latest turned its focus on the Half Cab Pro and Old Skool Pro. Available in cream, blue and black, each pair is constructed of canvas and suede uppers marked with a checkerboard-like Supreme text graphic.
Other standout collaborations include Richardson and Hysteric Glamour's team-up, along with mixed-media artist Andrea "FACE" Facelli and WACKO MARIA's T-shirts portraying the Virgin Mary. Stüssy has also prepared a range of GORE-TEX garments and Yoon Ahn's AMBUSH has prepared the launch of its new DENIM by AMBUSH line. To round up this week's drops other standouts include Hyein Seo's latest FW20 offering and POST ARCHIVE FACTION 3.1 release.
Hyein Seo Fall/Winter 2020 Collection
Continuing to serve a distinct expression of technical clothing, South Korean designer Hyein Seo's eponymous label has returned with its latest offering for FW20.
Comprised of both womenswear and menswear styles, the seasonal range delivers resistant technical wares that defy convention and traditional codes of dress. Focusing on a monochrome palette, an array of outerwear leads the FW20 collection introducing complicated paneling, exaggerated shapes, obscuring hoods and engineered textiles to combat the elements. Standouts include a hooded pilot bomber jacket, lengthened parka, rain jacket with wide sleeves, cropped windbreaker and a life vest-like padded vest.
Pants follow more relaxed fits with flares and billowing cuts creating stacking plays dominating the mix. Maintaining the technical focus, pants highlight athletic and workwear inspirations while showcasing striking panel fabrications. Moving on, women's tops, dresses and skirts, are accentuated with cut-out detailing and cinch elements for unique asymmetrical looks. Rounding up the FW20 collection are accessories like running caps, tassel beanies, padded scarves and a convertible carry backsack.
When: Now
Where: Hyein Seo
POST ARCHIVE FACTION 3.1 Release
POST ARCHIVE FACTION recently released its latest 3.1 release. Focused on a unique spectrum of clothing, PAF offers conservative conventional "RIGHT," "CENTER" and experimental "LEFT." For 3.1, the label put together a distinct mix of conventional and experimental releases for the season.
Outerwear leads the set of offering with the 3.1 DOWN RIGHT providing a striking warmer option for the colder weather, while the 3.1 TECHNICAL JACKET RIGHT is a lighter cover-up with a unique curved zipper closure. Moving on we have a delivery of the 3.0 HOODIE LEFT featuring an exclusive for HBX centered around a black base and red entanglements that line the hood. Rounding up the concise release are the cinching detail 3.1 TECHNICAL PANTS RIGHT, extended 3.1 SCARF LEFT and the subtly decorated 3.1 CAP RIGHT.
When: Now
Where: HBX
Stüssy Fall 2020 GORE-TEX Capsule
For Fall 2020, Stüssy has prepared a range of GORE-TEX, which includes a light shell jacket matching pants and a bucket hat.
Prepared in blue and gray colorways, the weatherized goods are constructed of GORE-TEX's 2L material, with 50D poly-spun yarn. Decorative elements come in the form of embroidery with "STUSSY INTERNATIONAL" and "GORE-TEX." The shell comes complete with functional features like raised collars, twin pockets directly under the chest and a taped central zip opening.
When: Now
Where: Stüssy
Hysteric Glamour x Richardson FW20 Collaboration
For its latest collaboration, Richardson has now enlisted Nobuhiko Kitamura's Hysteric Glamour for a brief selection of clothing decorated with archive graphics.
Drawing from its wealth of classic imagery, the special range is marked with two prints – "Junkie's Baddy Powder" and "Rocker." Reflecting the duo's fascination with familiar iconography and subculture, the special range is comprised of T-shirts and hoodies also dressed with co-branding.
When: September 10
Where: Richardson
Supreme FW20 Week 3 Drop
Returning to its major FW20 collaborations, Supreme has now returned to reveal a Vans collaboration to accompany this week's Fall/Winter 2020 Week 3 Drop.
The latest team-up takes on the Half Cab Pro and Old Skool Pro in cream, blue and black colorway options. Each pair offers a branded spin on a classic skate silhouette with canvas and suede uppers marked with a checkerboard-like Supreme text graphic. Each pair is finished off with a black collar, black rubber midsole and traditional gum rubber waffle outsole.
The accompanying Week 3 Drop is led by Penguins Hooded Fleece Jacket and matching Rayon Shortsleeve Shirt, Side Logo Track Jacket and matching Pants, Peace Hooded Sweatshirt and Textured Small Box Sweater. Other top options include the Contrast Stitch Polo, Stay Positive Jacquard Shortsleeve Top and Collage Logo Shortsleeve Top. Headwear this time around comes in the form of the Paris Camo Beanie and New Era S Logo Beanie. While this week's boldly branded accessories include the Futura Logo Keychain coming in four color options, mophie powerstation Go and Pat McGrath Labs Lipstick.
When: September 11, 11 a.m. EDT & Japan Release September 12, 11 a.m. JST
Where: Supreme Online
Palace Skateboards Fall 2020 Week 6 Drop
Following the release of its Week 5 drop, Palace has now prepped another diverse drop from its Fall 2020 collection. Leading the sixth release is a selection from the collaboration with legendary British artist duo John Dove and Molly White. The team-up features a faux fur hooded jacket and long-sleeved T-shirt centered around the duo's LIPS print from the early 70s.
The accompanying offerings feature the Bulldog Hoodie, Ich Bun Crewneck Sweater, This is What Palace Stands For Shirt and an array of graphic T-shirts. T-shirt styles include the Shitfaced Shaka logo, simply This is What Palace Stands For Shirt display, snack-inspired Palacitos packaging and Parrot Palace-3 Tri-Ferg. Rounding up the latest selection is a series of headwear like the Take a Hike Shell Bucket, Top Line 6-Panel and Dirty Trucker Hat.
Additionally, this week Palace has prepared its latest partnership with GORE-TEX. Available in black, white and camo color options, the latest selection features the Wave-Length Jacket matching Pants and Boonie Hat. The select range introduces a distinct color-blocked segment design, reflective 3M details that express signature Palace and GORE-TEX branding and logo motif seam taping.
When: September 11, 11 a.m. EDT & Japan/China Release September 12, 11 a.m. JST/CST
Where: Palace, "Palace_Skateboards" WeChat store
DENIM by AMBUSH Launch
Offering a new line of everyday essentials, Yoon Ahn's label AMBUSH, is now preparing to launch DENIM by AMBUSH.
Building on the label's typically elevated fashion, the upcoming offering crafts jeans and jackets in a variety of fits and colors in premium worn-in mid-weight denim. Created in collaboration with Japanese craftsmen, their expertise delivers lightly distressed edges and a washed finish for a new set of durable everyday options. With standard belt-looped waist and elasticated band ranges, DENIM by AMBUSH serves jeans in light, dark, and black denim in straight, tapered, wide, and flared fits. Jackets appear in two heavily distressed versions and one mixed-denim offering.
When: September 12
Where: AMBUSH
Andrea "FACE" Facelli x Wacko Maria Collaboration
Sharing a penchant for the provocative, mixed-media artist Andrea "FACE" Facelli and WACKO MARIA have come together to design exclusive new T-shirts portraying the Virgin Mary.
The special range is comprised of white and black T-shirts emblazoned with a statuette of the Virgin Mary on the back portion. The phrase "God Bless You" in an Old English typeface hovers over the religious subject covered in a black shade with subtle gold accents across its form. Rounding up the release is the "GUILTY PARTIES" slogan inscribed on the pedestal of the statue.
When: September 12
Where: Wacko Maria