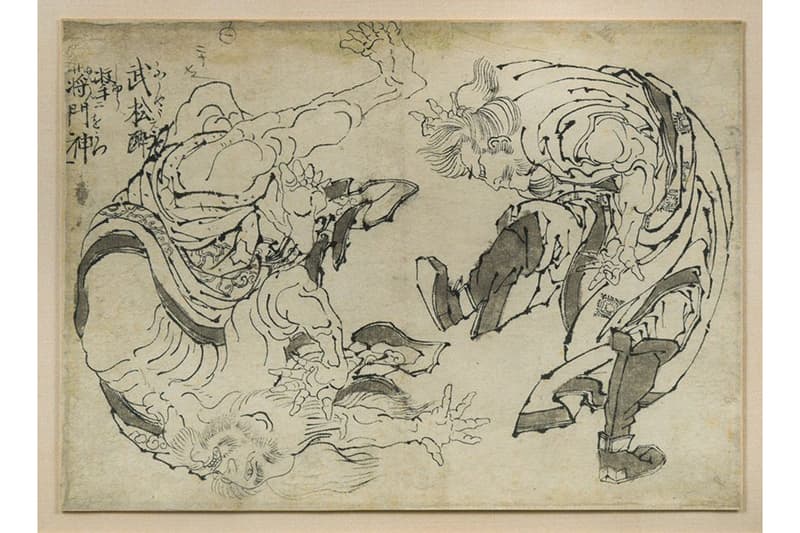 British Museum Acquires Over 100 Rarely Seen Hokusai Drawings
Resurfacing for the first time in over 70 years.
---
Japanese painter and printmaker Katsushika Hokusai, best known for his iconic The Great Wave print, created small-scale drawings for an unpublished book titled Great Picture Book of Everything in 1829. The British Museum in London has now acquired 103 of these works, which were held in a private collection in France for more than 70 years before resurfacing just last year.
These detailed drawings depict scenes from history, mythology, literature, religion and the natural world, while shedding light on Hokusai's work methods. "These works are a major new re-discovery, expanding considerably our knowledge of the artist's activities at a key period in his life and work," said Tim Clark, honorary research fellow. "All 103 pieces are treated with the customary fantasy, invention and brush skill found in Hokusai's late works and it is wonderful that they can finally be enjoyed by the many lovers of his art worldwide."
The museum plans to display the drawings in a free exhibition, although a date for the show hasn't been announced yet. In the meantime, the works are available to view on the British Museum's website.
In other news, Eddie Martinez is currently showcasing new works on paper as part of a new digital exhibition at Perrotin's Viewing Salon called "Drawnantine."
The works have recently been acquired by the Museum, made possible thanks to a grant from @artfund and you can take a closer look at all 103 drawings on our Collection online.

Look out for the ? to zoom in and see the incredible details: https://t.co/uvA8WVtKlL pic.twitter.com/mZ4o8Urrz7

— British Museum (@britishmuseum) September 5, 2020