BERWYN Has Always Been Ready
The British rapper's debut has been a long time coming. But its protracted release might have been a lifeline.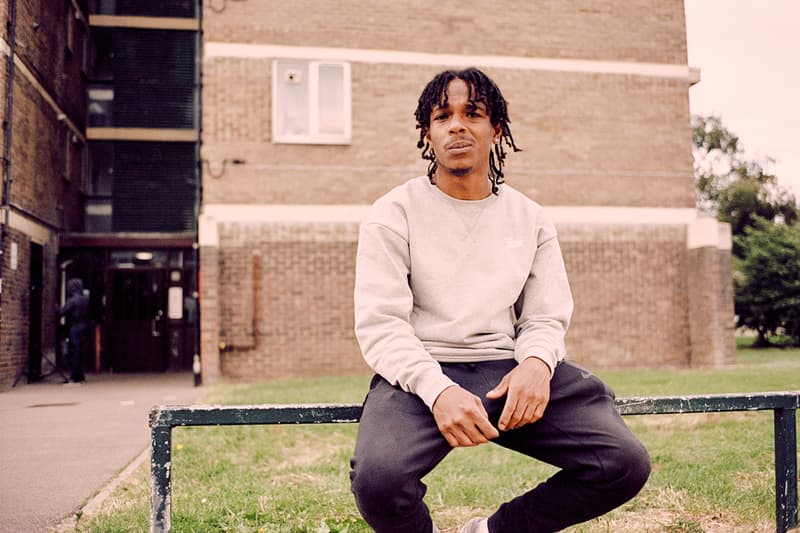 BERWYN's arrival into the music industry seemed to come from nowhere. Before the young rapper and producer had released any of his own music, he'd guested on Headie One and Fred again…'s Gang mixtape, and had appeared on two tracks from XL Records founder Richard Russell's latest album under his alias, Everything is Recorded. Working with such a host of big names could have been enough to overawe any young artist, but BERWYN took it in his stride: Pitchfork called him "the record's rising star."
His rapid trajectory continued when BERWYN began releasing his own music. His first single, "Glory," led to an appearance on the BBC's flagship music program Later…. With Jools Holland in early June, during which he performed a new version of the track, with an extra verse referencing the Black Lives Matter protests sweeping the world. After the appearance, a group of English teachers from across the U.K. got in touch with BERWYN asking for a copy of the lyrics to be able to teach their students.
"I knew with my circumstances that I couldn't go to uni, so what was the point? You've already got the promise of f*ck all, so why would you work for more?"
But while his guest spots might have formally announced BERWYN to the world, his musical career had been bubbling under the surface for years. "My family's always been musical," BERWYN explains. "My dad was a DJ back in the day and my mum's always liked music. I'm Trinidadian, all we do is live and breathe music for every hour of the day."
It took a new teacher at school to bring BERWYN's potential to the fore. "I had a new teacher who saw a lot of potential in me and convinced me to take it seriously," he remembers. "She used to take me to a folk club every Wednesday with people playing music on violins and all kinds of crazy instruments. The idea of understanding song and performance came then. Then I went to college and met a group of friends who were all into music. I was always in the studio there." After leaving college, it became increasingly difficult for BERWYN to continue his career or secure studio time. "There was a long time after coming out of college where I didn't have a computer," he continues, "but we were still taking every opportunity — between living life and all of its f*ckeries — to make music."
The result is Vega, BERWYN's debut tape, which is finally due for release; the artist wrote and produced the project in an intense two-week period almost two years ago. The tape is reflective of a particularly turbulent time in the artist's life, at the root of which was his uncertain immigration status. Without the correct papers, BERWYN found himself unable to enroll in university, get a job or release music. "It came to a point where I was getting close to a point of no return," he says. "It was a decision I had to commit to something, to a way out."
BERWYN explains that the world he was involved in at that time "was going too far. You could make a mistake and it could be difficult to return from." Thankfully, the project acted as a salvation for BERWYN, and became a way to remove himself from the situation he was in. "It was a dumb cycle I was done living," he says, adding that he had planned on moving to Trinidad to start a new life.
"I was getting close to a point of no return. It was a decision I had to commit to something, to a way out."
The issues that hung over his early attempts to break into the music industry are frequent reference points in BERWYN's lyrics. His most recent single, "017 Freestyle," deals particularly with his immigration struggles after he left school. The first verse features BERWYN stating that he "left school and went into the family business, where I learnt how to build a future off of half an ounce" before he adds "this wasn't my choice, I wanted to go to uni. It was the government who told man I wasn't allowed."
"It came to a point where I knew with my circumstances that I couldn't go to uni, so what was the point, I was acknowledging the futility," BERWYN says of these lyrics. "You've already got the promise of f*ck all, so why would you work for more?"
Like "017 Freestyle," BERWYN's lyrics are often stark and confessional, with tracks from across Vega referencing that point in his life. His debut single "Glory" references his mother's time in prison and the time he spent sleeping in his car, while follow-up "Trap Phone" covers the stabbing of a friend. "I do everything in a dark room on my own, you have to have the ability to get things out of your mind so you need to be secluded," BERWYN explains of his writing process. "I don't worry about the lyrics when it's out. I'm telling my story, what else is the point?"
As he prepares to release his debut project, BERWYN is keen to add that Vega represents the period in which it was written, a specific time in his life. Since then, BERWYN's situation has changed, not least with a new studio and apartment in East London. "It's funny," he says of Vega's delayed release, "now they have to dress up all the shots in the videos, make it look like I haven't got much."
"I think Vega is so potent as a moment in time, that it doesn't take an idiot to acknowledge that it's a different moment in time to now. Now I have to find some sort of way to bridge the gap between the present and Vega." Speaking about his upcoming project, which remains nameless, BERWYN explains, "I'm going to focus on the past, present and future, and acknowledging how I would like to be in control of that."