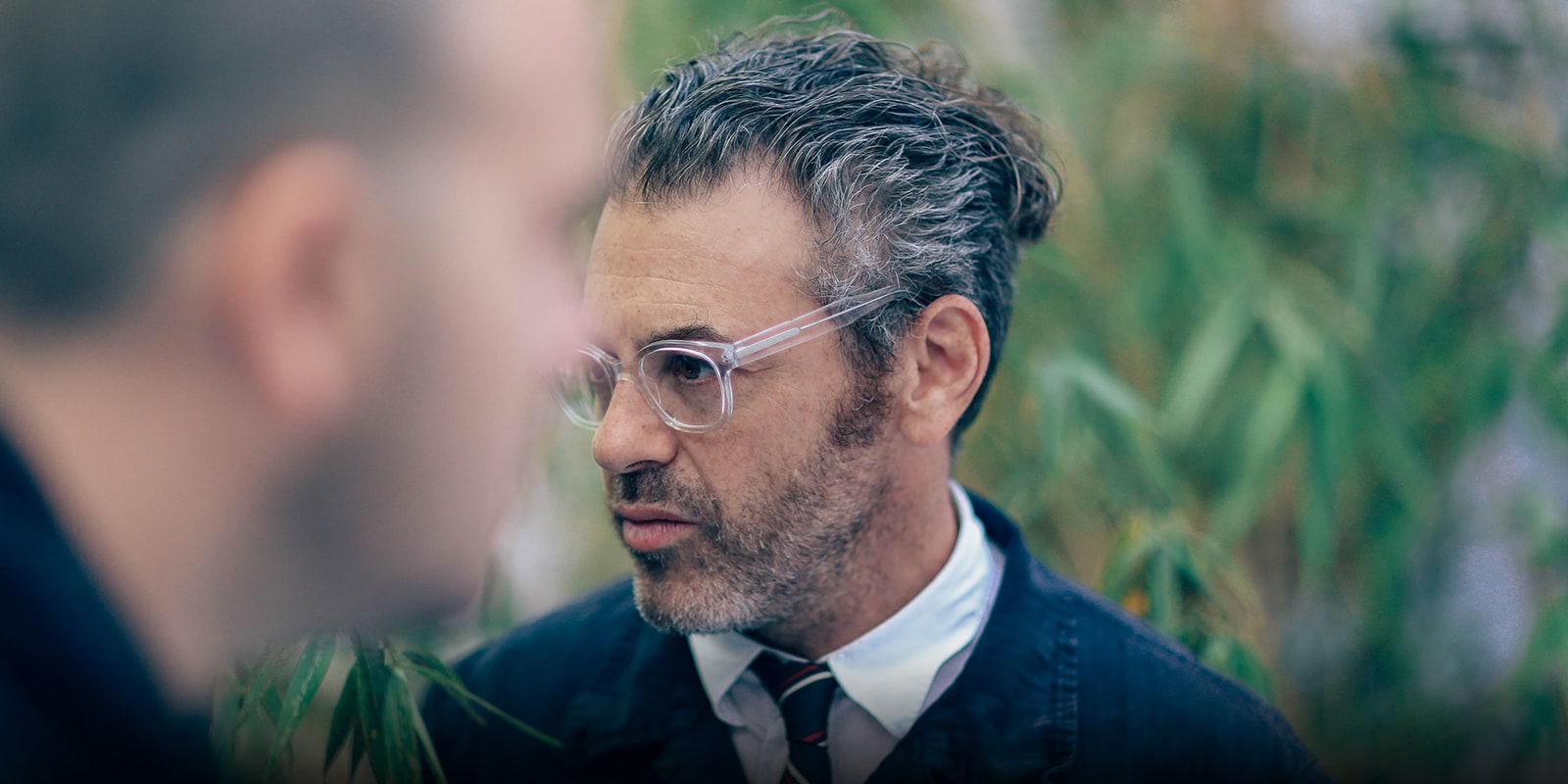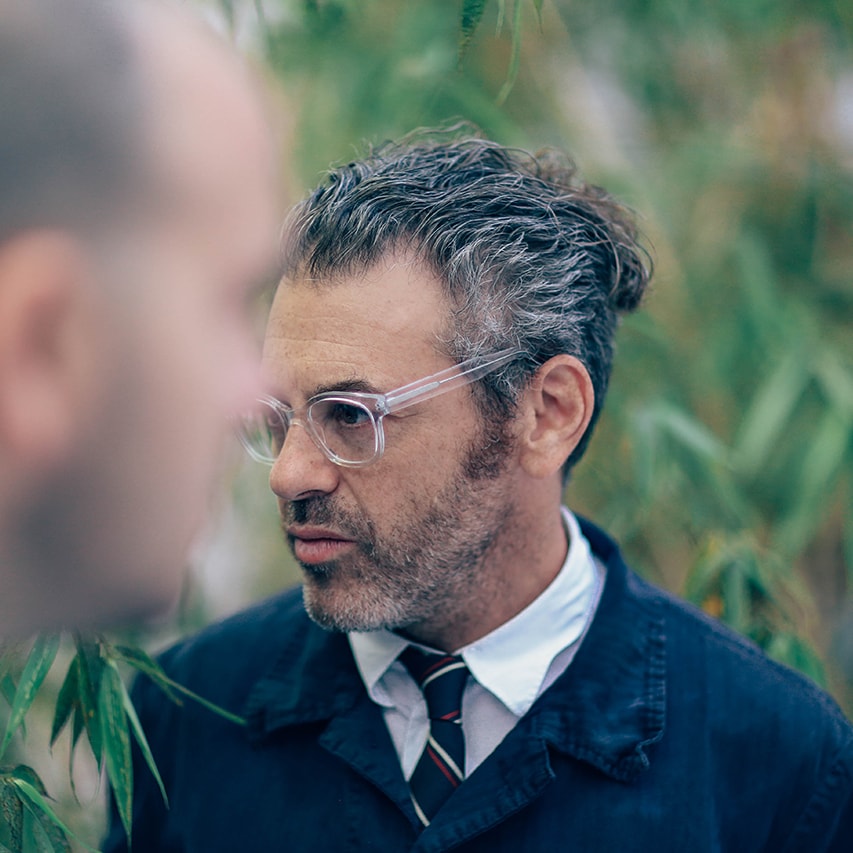 Tom Sachs Makes Art to Feel Human
The artist on why creativity is like a chili pepper, from HYPEBEAST Magazine Issue 17.
There's a gated door on New York City's Centre Street that hides a whole world behind it. It's a rainy afternoon when I am welcomed into a spotless office emblazoned with NASA livery: the red, white and blue meatball logo is placed front and center in the makeshift foyer and staff members scurry about in white tees emblazoned with the same iconic red "worm" logo. But this isn't some space-age satellite office — it's the downtown studio of Tom Sachs, master bricoleur and one of contemporary art's most polarizing figures.
Sachs' SoHo studio is a veritable Santa's workshop: the makeshift office space has, at various intervals, been converted into "Bodega," Sachs's full-scale installation that imitates a New York corner-store, selling candy, soda, and loose cigarettes in addition to artsier fare like custom-made Swiss passports and Japanese tea ceremonies. Everything is labeled: a paper towel holder is marked "TOWER RECORDS," a food processor is dubbed "DISMEMBER," a crockpot is named "DEBASER." All of them are labeled with the same bold, blocky letters.
Beyond the office space lies an extensive and expansive material library—a meticulously-organized inventory of anything one may need to make capital-A art. The collection ranges from pipe cleaners to PVC and paints, and includes all the tequilas, vodkas and whiskey needed for a fully-functioning wet bar. One of Sachs's assistants, Erum, refers to the library as an "OCD zen garden," and it's true: everything is organized and labeled accordingly.
1 of 3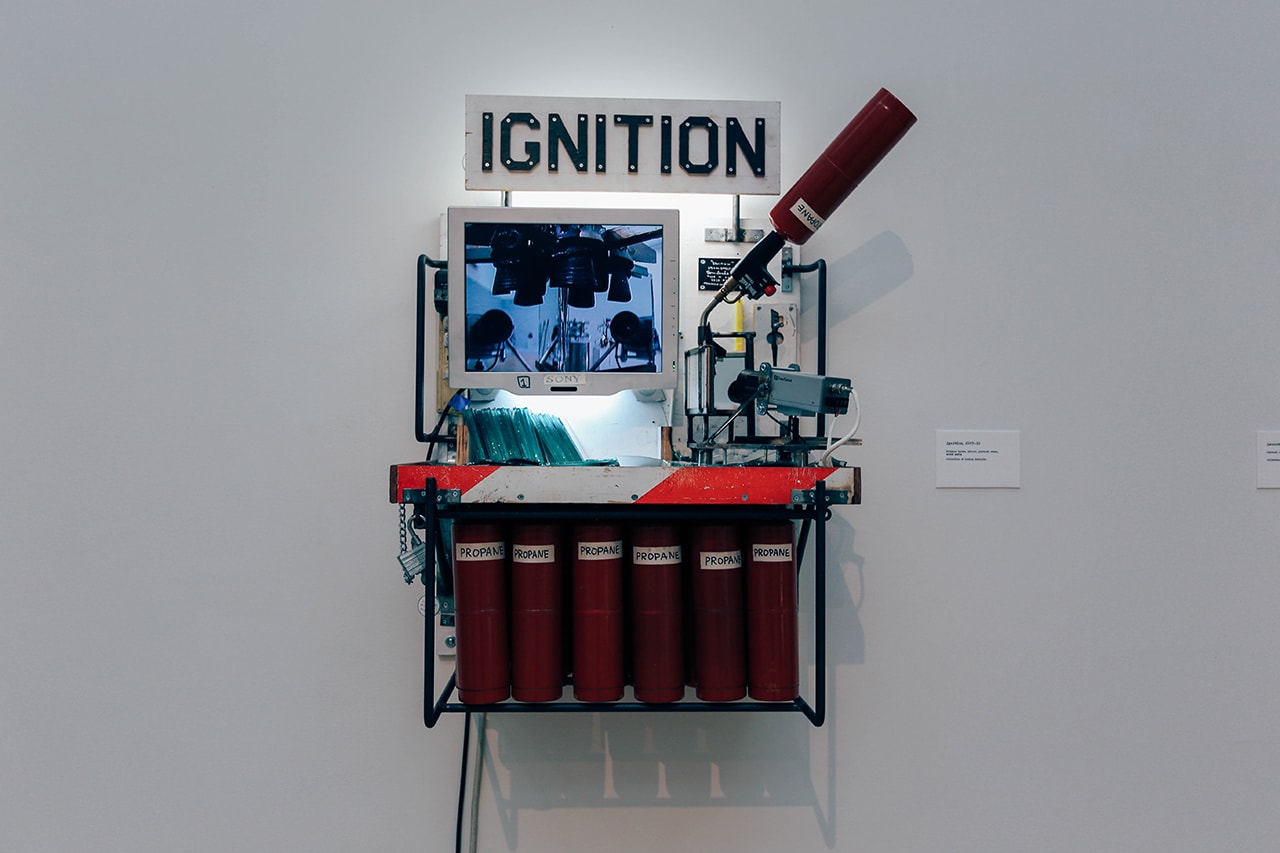 2 of 3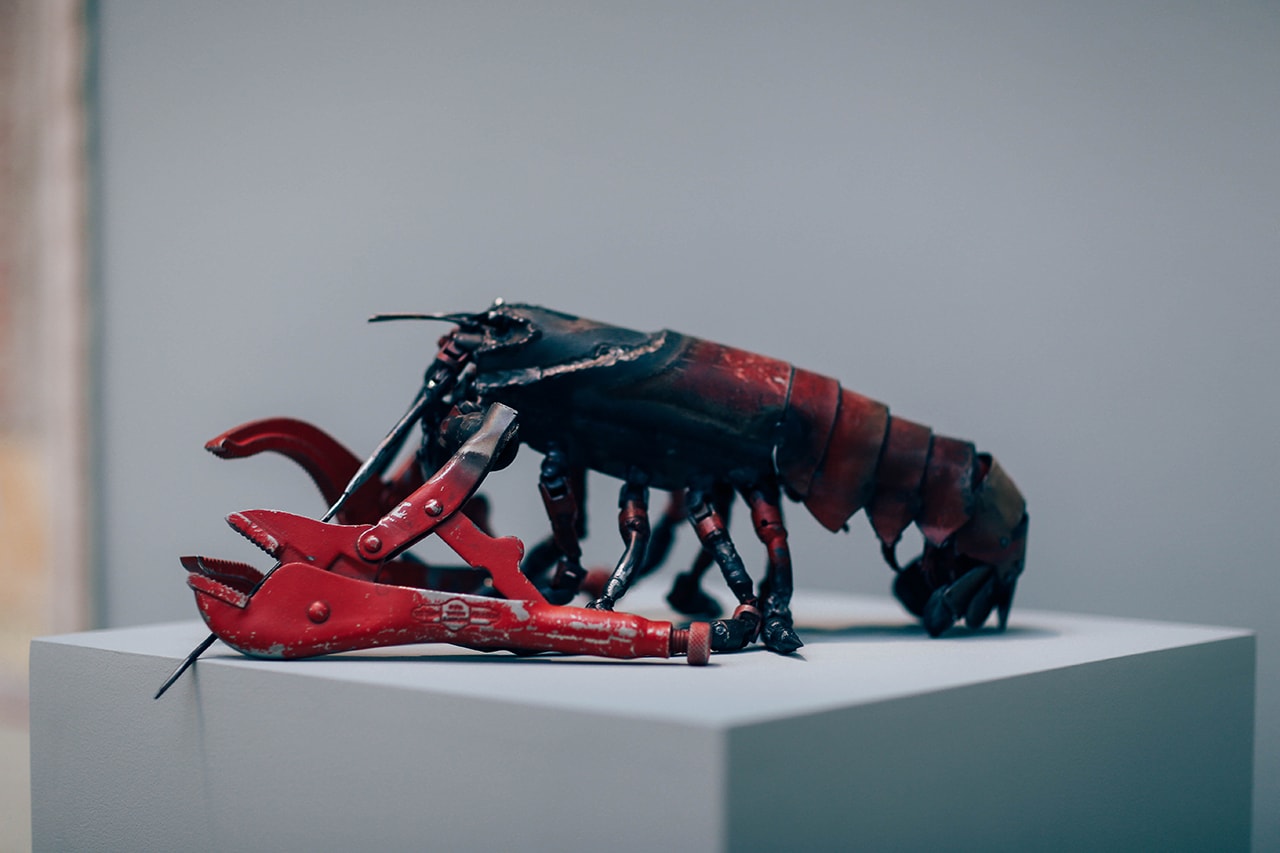 3 of 3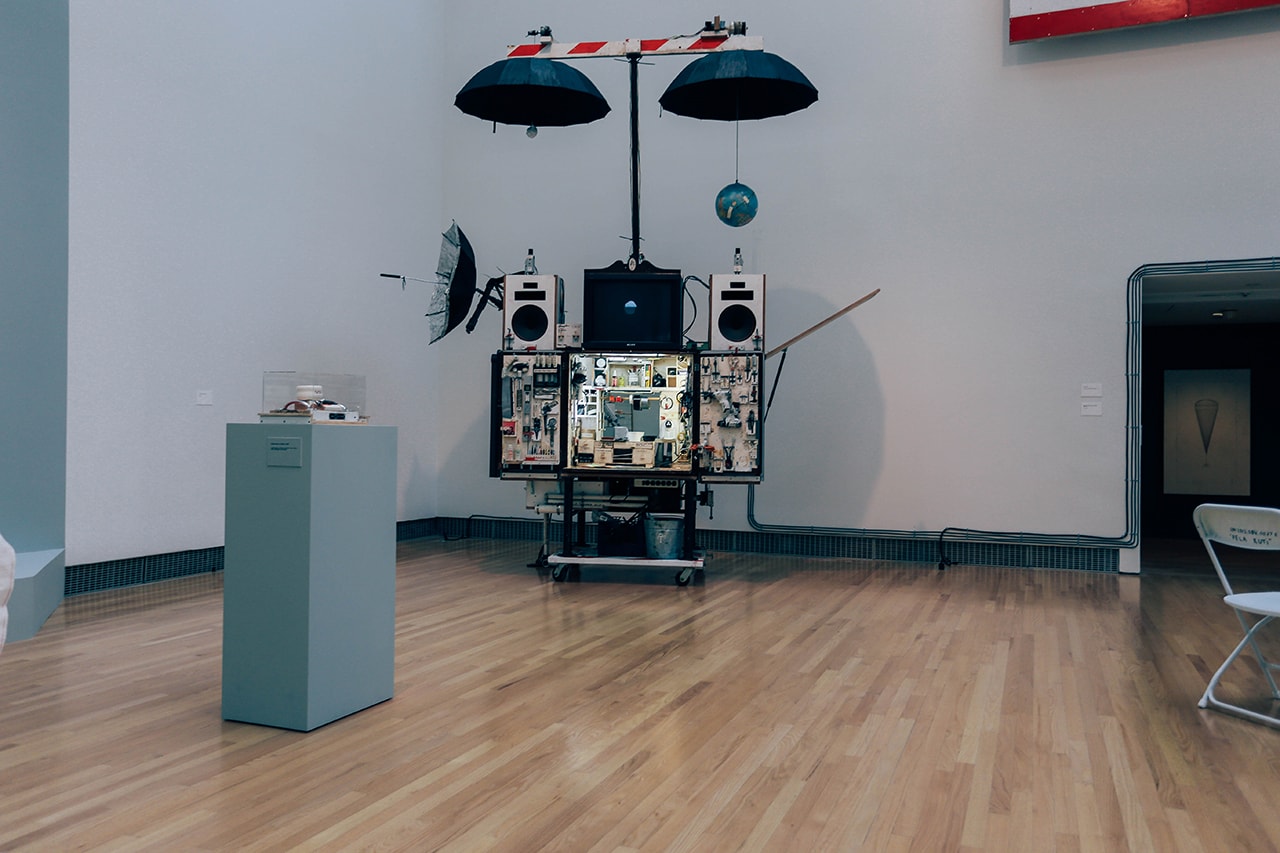 Everything imaginable is in its right place.
Downstairs is the workshop, where half a dozen of Sachs' employees are hard at work. One studio hand is busy building and meticulously burning a scale model of a hulking, sluggish Missile Crawler Transporter Facility out of plywood (another NASA reference); another is busy building one of Sachs' "dueling cabinets" —this one is filled with all of the ingredients necessary to build a flamethrower; Erum points out a nearby bucket filled to the brim with nuts and bolts left over from myriad construction and sculpture projects. This, she says, is the logjam. It is usually the intern's duty to sort and organize the various nuts and bolts in the logjam, but Sachs has recently branched out by opening the Logjam Café, a shop that serves coffee alongside cups of, you guessed it, nuts and bolts for the customer to sort. Erum cites the meditative escape that sorting and organizing can provide.
"I always try to make sure that behind something as audacious as the space program, that there's as much real science and depth to it. So it's not just made-up bullshit. It's as real as I can make it."
This concept is crucial to Sachs's oeuvre and aesthetic. His mantra in work and in life is that assistants should "always be knolling." Knolling refers to the perpendicular organization of like elements in a clean grid and is a central theme in Sachs' studio tutorial film, Ten Bullets, which outlines the basic rules and regulations for studio assistants. The film has been passed around corporate headquarters at Apple and Nike, while being simultaneously criticized for its cultish overtones. "Creativity is the enemy," Sachs intones stoically along with another Sachsian aphorism, "The reward for good work is more work."
When he appears suddenly in the workshop, Sachs is wearing a threadbare white tee, military surplus cargos, and a pair of his own NIKECraft Mars Yard Shoes, beaten within an inch of its life. He is ever so slightly stoned. He escorts me into his personal studio, where we sit at a table, Sachs scratching paint and gunk from its surface with the edge of his iPhone. His hands hardly stay still. I off-handedly mention that the iPhone is perhaps the least Sachs-ian object ever, and he's to the races. "To me, the iPhone is the best made thing, ever, yet it has no evidence of being built by a human being. Meanwhile, my sculptures are all about the individual. My ceramic tea bowls." At this, Tom scurries off, pulling a kiln-cooked chawan out of a nearby cupboard housing hundreds more. "These all have my fingerprints on them. So when all of the pieces of the iPhone eventually return to their original form — glass is inert — my fingerprints will still be there. The artist's fingerprints are the only thing that make an artist unique. It's an advantage that the artist has over industry: the flaws."
Sachs is an example of an artist who both acknowledges and exalts his flaws beyond his fingerprints. Take "SONY Outsider" for example: this 1998 project consists of a pod-sized hotel room inside of a sterile, hospital-white replica of the atomic bomb, complete with Sony branding. It bears none of Sachs' sculptural signatures — no plywood, no visible nails, no glue-marks — and the artist openly admits it was a dismal misfire, even writing a whole zine about it called The Failure of SONY Outsider. "I tried to make it ['Outsider'] perfect, but no matter how hard I tried, there were always hairs and bubbles and imperfections. And it was a mistake. It was as if any artist had made that. It was a mistake and I learned from it. The more I worked on it, the less it became an expression of me. But it opened up a whole door for me, because the guts—the plumbing, the wiring—that's where the mess was, that's where you could tell someone built it. It was one of my most successful failures."
This attitude toward learning from failure is one that Sachs shares with one of his heroes: Elon Musk. Like Musk, Sachs has his own space program, albeit Sachs opts to build to-scale replicas of missions from plywood and foamcore. When we meet, Sachs was fresh off a mission to Europa, where he and his crew of astronauts found and later ate a living creature. Previous missions include journeys to the Moon and Mars. With such an outlandish premise, it'd be easy for the space program to fall into the realm of parody, but Sachs refutes these claims outright: "My space program is not stagecraft," he states bluntly.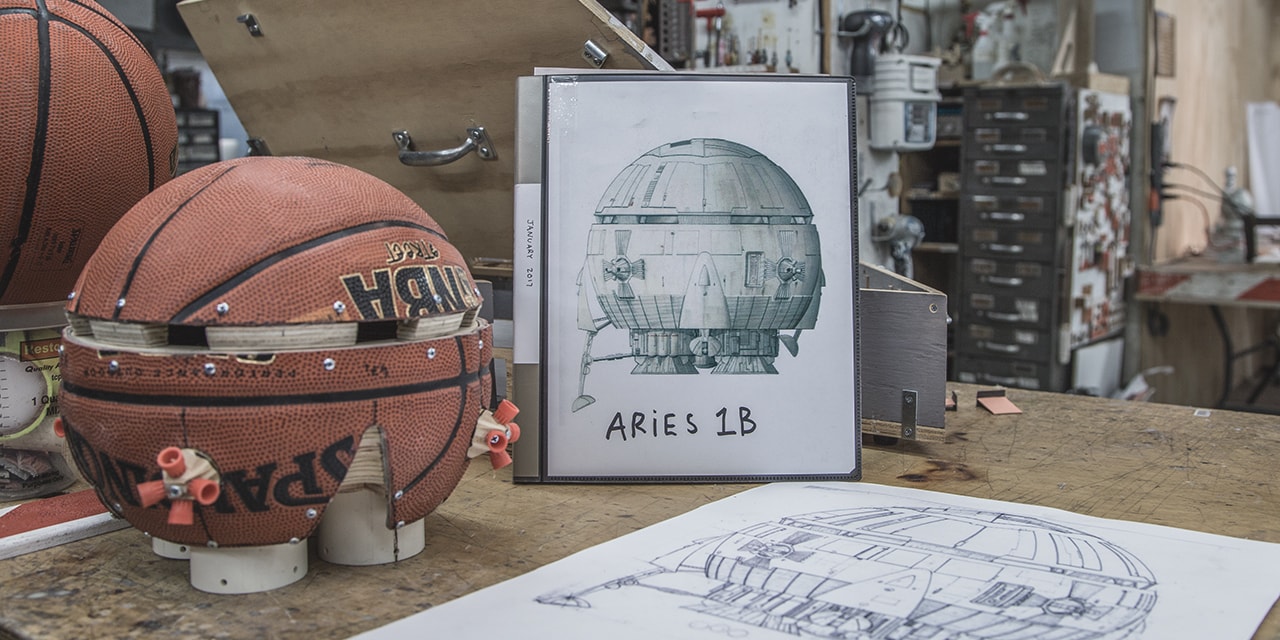 "I always try to make sure that behind something as audacious as the space program, that there's as much real science and depth to it. So it's not just made-up bullshit. It's as real as I can make it." Sachs says that he looks up to Musk—the two have spent time in this very studio, as it happens, and Sachs has a Tesla on layaway. He jokes that he has no need for it in downtown New York and daydreams of moving to West Virginia throughout our conversations.
Sachs defers to The Other NASA's mission to Europa as evidence of his own space program's legitimacy, before stating his ambitions plainly: "I wanna be the one to put the last nail in God's coffin and say, 'Yeah, there's life outside of life on Earth.'"
"The reward for good work is more work."
It should come as no surprise at this point that Sachs is not a fan of vacations. He maintains a strict daily creative regimen: "Every morning before I look at my email or the New York Times, I make sure to write in my journal, document my dreams; make some output of some sort. Before the input, before the world storms in. I think that colors the day." He claims that if he doesn't create, he becomes "like a vampire." He tells a story of how he spent some time in the South of France for a fancy wedding and "there were so many people and it was so opulent and I was really afraid because it was four whole days off." Feeling sapped and drained of energy he found a ceramics studio that used to belong to Pablo Picasso where he was able to make ceramics during the daytime. "That way, I could hang out at night. I could be a human after spending four hours straight making stuff."
At this, Sachs adjourns himself for dinner plans and a scheduled conjugal visit with his wife. When I return for our second conversation on the weekend, he is alone in the studio. A full-size artillery shell sits on a worktable — it is unclear whether it is an original or a Sachsian replica. I don't ask. Sachs sits down, pulling his hair back with both hands.
1 of 2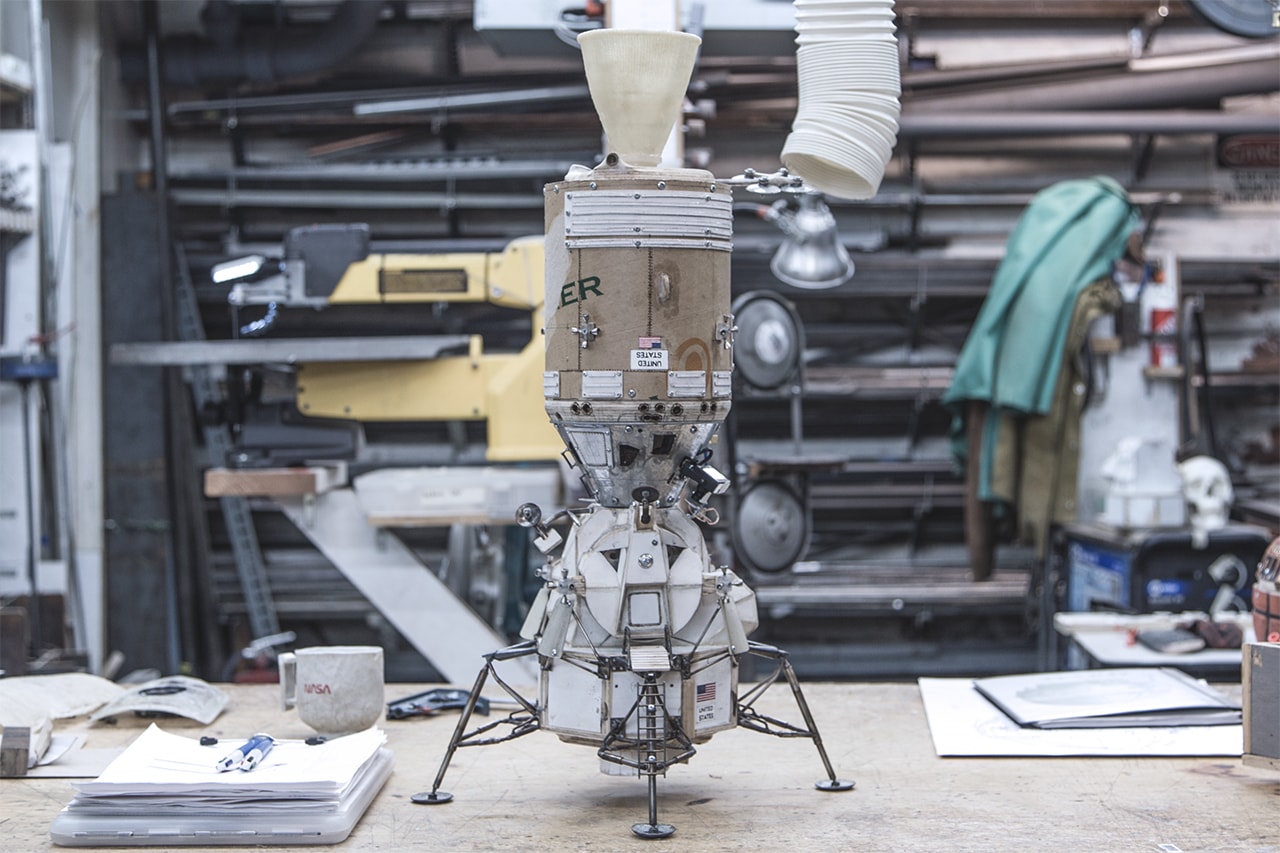 2 of 2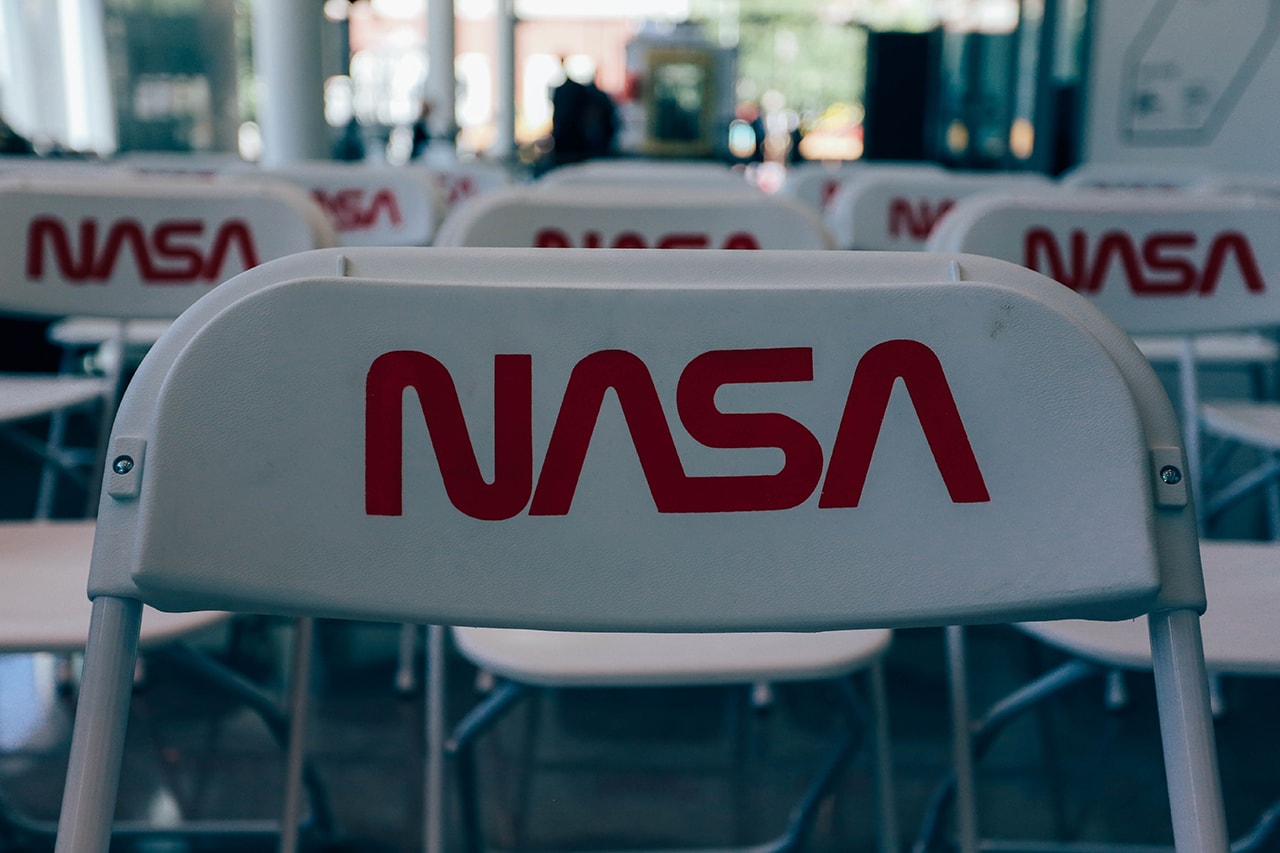 When I bring up his "creativity is the enemy" maxim, Sachs explains: "When I say creativity is the enemy, I mean that creativity is like a chili pepper: you only need a little bit; if you use too much, you ruin the sauce." At this, he raises a finger in warning. "But if you don't use any, things can get pretty bland." The answer is to find the sweet spot: "It's all about moderation, really." Sachs cites one of his favorite brands to make an example: "I have a great relationship with Nike and it's one of the most innovative companies but innovation can sometimes be an addiction. Just because you can doesn't mean you should. It's important to innovate incrementally—not just to beat the market."
Sachs has a long, storied and creative relationship with Nike's Mark Parker. When he interviewed Parker for Interview magazine, their conversation naturally turned to issues of industry, ethics and environmental sustainability. "At a point, Parker turned to me and said, 'You think you can do a better job? You try!'" The conversation yielded the NIKECraft collaboration, which taught Sachs the hard way how difficult it is to produce an heirloom product in an age of mass production. Parker also called Sachs a sneakerhead.
1 of 2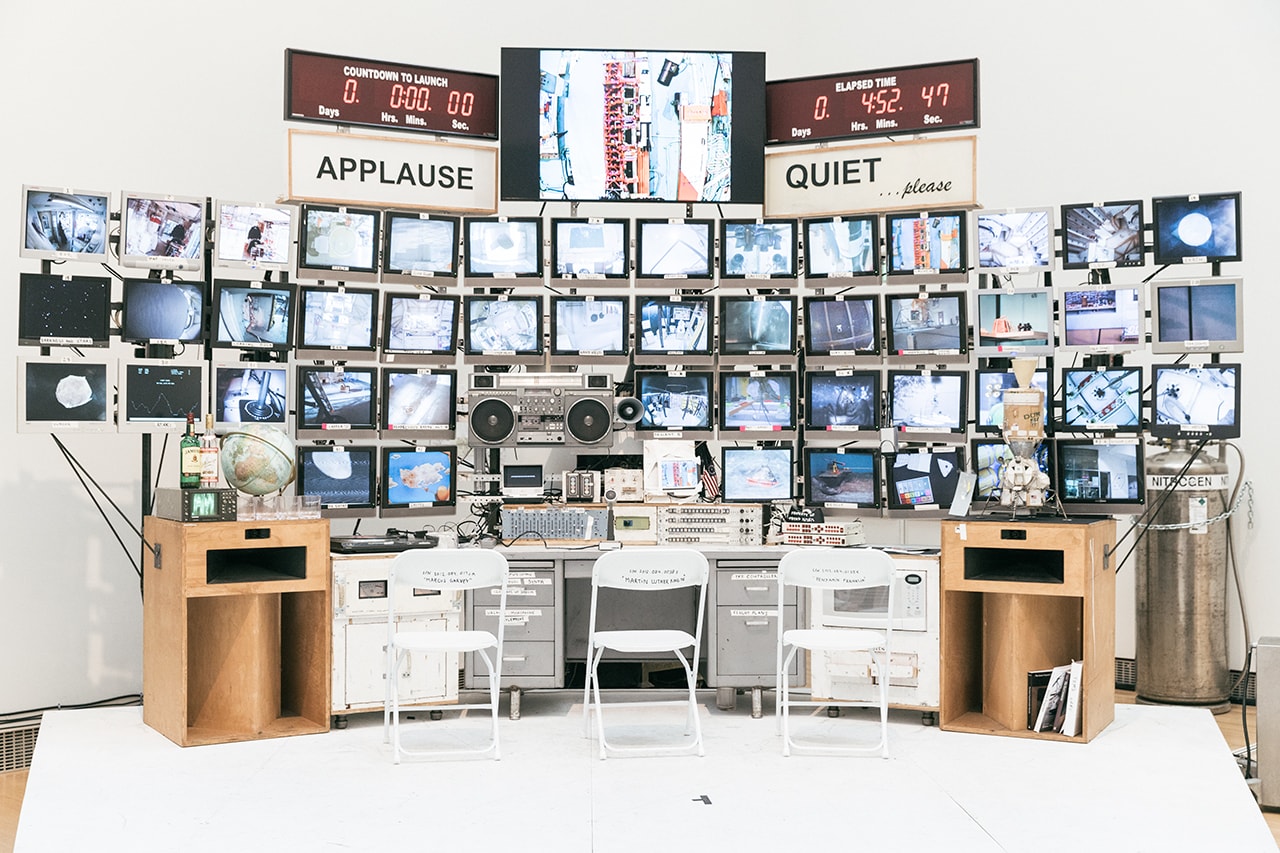 2 of 2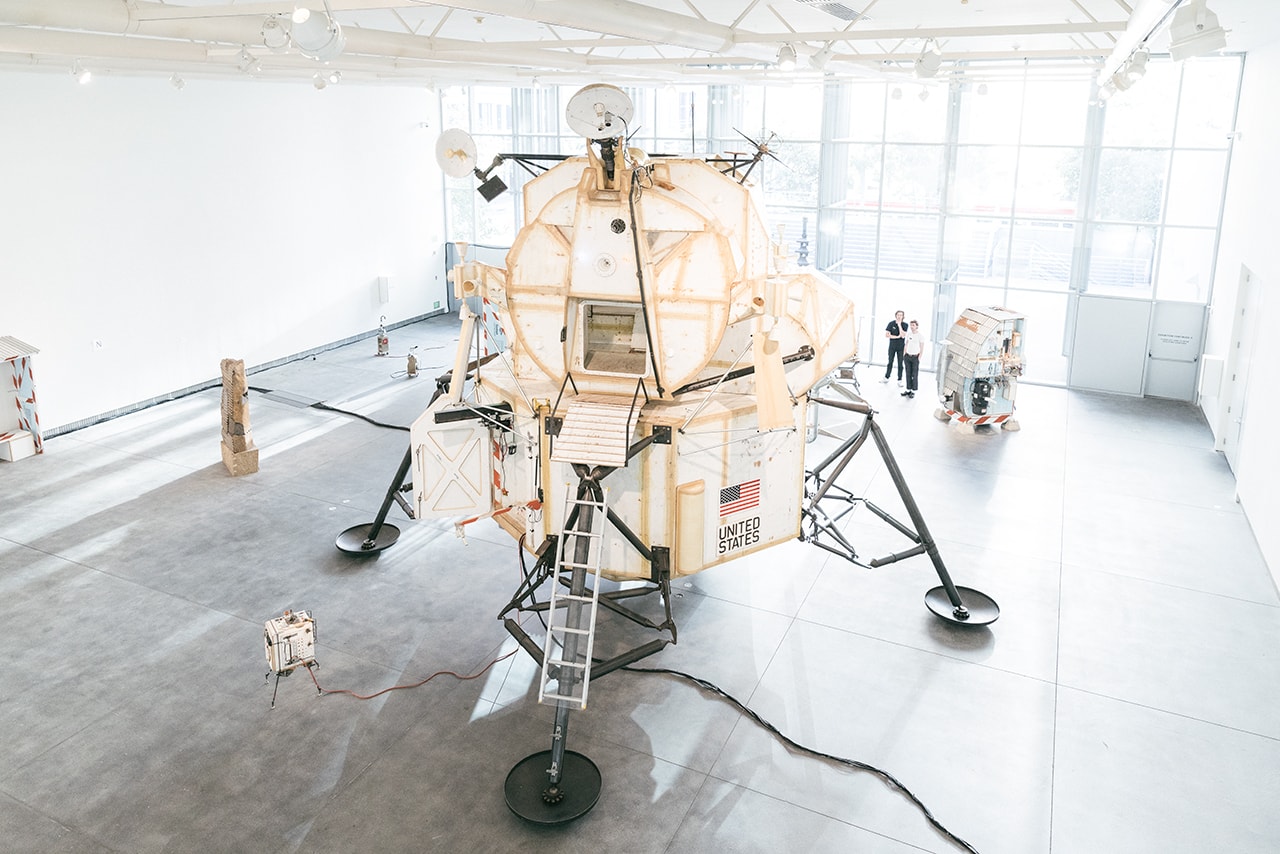 When he protests the label, I point toward his collection of shoes, dangling like stalactites from the ceiling of the materials library. Tom claims these are for him to study. "It's crucial for anyone reading this," he says, speaking directly into the recorder placed between us, "to understand that I am a critic of Nike and Apple, but I am also a participant." He picks up his iPhone and holds it up for proof. "You have to be both. You can't be a blind hater—unless it's like, the Nazis. But even then: in order to truly defeat them, you have to understand them."
Since we're talking about famous friends, I figure it's time to ask the obvious question: how does Sachs feel about his sudden resurgence in pop culture? I run down the checklist in my notes: his sculpture Toyan's was featured in the background of Frank Ocean's Endless project; his NASA chairs have been repurposed for Virgil Abloh's Off-White™ retail space at Selfridges; his boomboxes at the Brooklyn Museum were used for PARTYNEXTDOOR's album listening party.
""When I say creativity is the enemy, I mean that creativity is like a chili pepper: you only need a little bit; if you use too much, you ruin the sauce."
"Those guys are just my friends," Sachs says. He seems as surprised as anyone to have found himself in the popular canon: "Those guys came to me, but I'm a big fan of what they do." He refers to Ocean as "the Morrissey of hip-hop." "When he was having some trouble with the zine, I kinda gave my opinion on how it should look and made a spread for it," he recounts. "Smart people ask the people around them that they respect for their opinions, and then they make the decision for themselves."
After an hour and a half of conversation, Sachs looks drained—like a vampire starving for blood. He lays his hands on the table, still for once, and asks very politely if I would mind leaving him to do some sculpture. "So I can be a human again," he says, smiling wanly. I rise and shake his hand before he makes his way to the craft table, planting his hands on either side of the artillery shell, laying his iPhone— that most perfect, sterile and impersonal of personal devices—next to the hulking piece of metal. I turn as Sachs places a hand on the munition, leaving him to knoll and work in peace.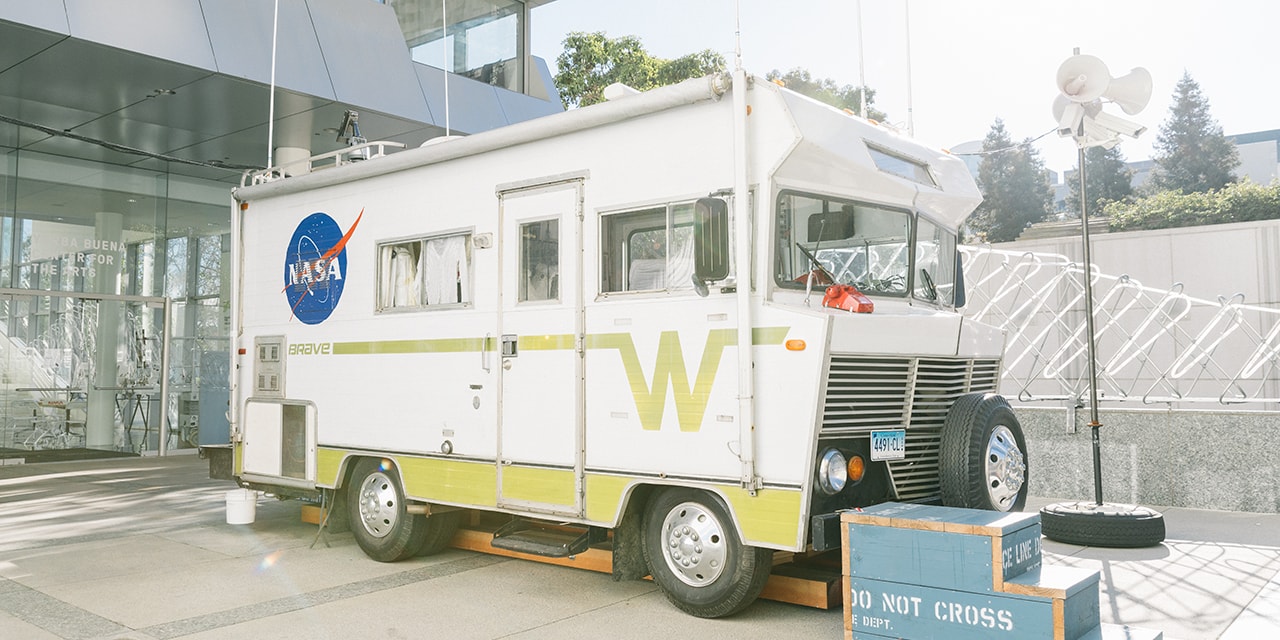 THIS STORY WAS ORIGINALLY PUBLISHED IN HYPEBEAST MAGAZINE ISSUE 17: THE CONNECTION ISSUE AS "EVERYTHING IN ITS RIGHT PLACE: IN CONVERSATION WITH TOM SACHS."
---