12 Essentials to Help You Make Ramen Like a Pro
All the culinary accessories you need to get cooking.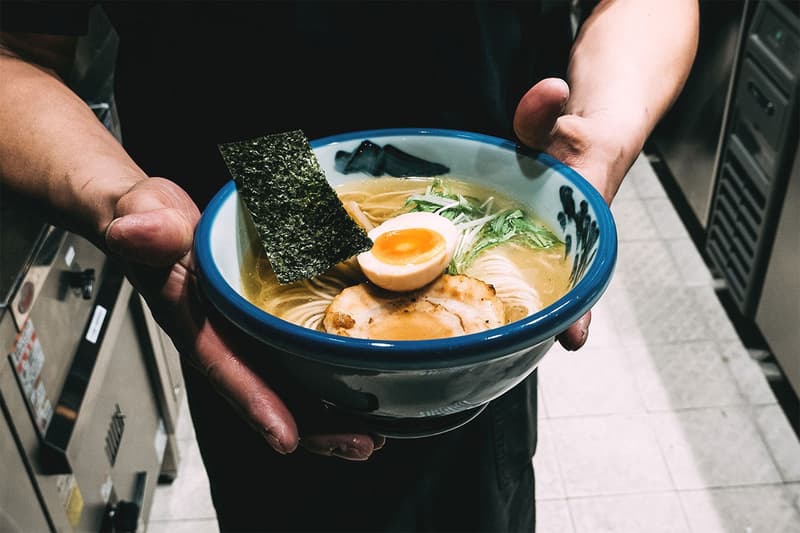 In our most recent HYPEBEAST How To, Ichicoro's Noel Cruz broke down how he crafts a home-made shoyu ramen, from making the earthy tare to boiling noodles to springy perfection. But for those of us new to the ramen game — or used to cooking ramen from an instant packet — you might find your kitchen lacking in the equipment department.
To help you in your journey to your kitchen supply store for a few extra pots, HYPEBEAST has pulled together some of our favorite ramen-ready accessories to make sure you can pull off your first bowl successfully — and with flair.
To Prepare
Williams Sonoma Noodle Straining Basket
When it comes to cooking your noodles, every second is crucial. As Cruz explains, they must be added to boiling water and cooked for the time specified on the packaging — no more, no less. A straining basket makes the time crunch a lot less stressful. This one from Williams Sonoma also features a wooden handle so you can avoid any full-palm burns as you jump from one task to the next.
Ekobo Scoop Colander
In lieu of a full-colander, which may take up more counter-space than many of us can afford, this little scooper is perfect. This space-saving tool from Ekobo can fish larger ingredients out of the tare or broth and can do double-duty for rinsing vegetables and fruits. It's also made with a plastic-alternative, BIOBU: a dishwasher-safe composite material made with bamboo.
Uncommon Goods Egg Timer
Timing boiled eggs is tricky — and often means spending a few minutes watching the water bowl. This "egg" puts perfect, jammy eggs in everyone's reach. Pop it in with the rest of the eggs and wait for it to sing at each stage of done-ness: "Old Susanna" for soft boiled, "Take Me Out the the Ballgame" for medium boiled and "Hail, Hail the Gang's All Here" for hard boiled eggs.
Ginkgo Japanese Yukhira Saucepan
Whip up — simmer up, rather — your tare in one of these elegant stainless-steel saucepans. The handle is crafted in beechwood and the hammered steel gives it an almost glittery finish. These pots are offered in a variety of sizes and are all extra thin, meaning they'll heat up and cool back down a lot faster.
Alessi Edo Stock Pot
With an 8.5 liter capacity, this stainless steel stock pot has more than enough room for your broth — including the whole chicken that Cruz's recipe calls for. Inspired by both Italian and Japanese cooking traditions, the pot has a sleek yet functional shape, offset by its burnished handles.
Sur La Table Stainless Steel Mesh Sieve
Chef Cruz uses a mesh sieve similar to this one to strain his tare. This one offers a weighted ergonomic handle and a non-corrosive stainless steel body. Get your money's worth by using it to sift flour for baking — even strain yogurt and cheese.
To Serve
Miya Aoi Nagashi Ramen Bowl
These ceramic bowls from Miya come in a variety of shapes and colors, including this earthy blend of sienna and ocean blue. They're also dishwasher-friendly and microwave-safe for maximum flexibility.
Masami Takahashi Ramen Spork
Originally developed for a popular Japanese ramen chain in order to minimize the waste created by single-use chopsticks, this unconventional utensil makes it easy to enjoy your noodles and broth at once. MoMA carries the model, created by designer Masami Takahashi, in their online shop, and museum members get a couple dollars off as an added perk.
Tetoca Prune Tree Chopsticks
Tetoca's chopsticks have a close grain and a subtle shine, thanks to their pure beeswax matte finish. The octagonal shape makes them more comfortable to grip — and makes it a little harder for them to go rolling onto the floor. The chopsticks are also available in Persimmon wood if you're looking for a darker look.
Rikumo Sashiko Embroidered Placemat
Made by artist Toshiyuki Fukuda and sashiko embroidery artist Kenichi Ohazama, these placemats feature incredibly precise abstract patterns. Each is crafted with 100-percent cotton and features a strong, tight jacquard weave that keeps spills off the table — always helpful when enjoying a brothy, splattery meal.
Hasami Porcelain Bowl Gloss Gray
A shallower serving bowl keeps your noodles and toppings closer to the top. You can also order larger and smaller sizes to hold your ingredients and flavorings as you work.
Ombrato Renge Ramen Spoon
The "renge" is a flat-bottomed spoon commonly used to serve ramen. The hooked end helps the spoon rest easily at the edge of the bowl rather than sink beneath noodles and pork belly. These porcelain spoons are crafted in Mino, Japan's famous ceramic-producing region, and are offered in a variety of colorful finishes.