GORE-TEX Is Fashion's Favorite Technical Fabric
The company speaks on collaboration, R&D and finding its niche, from 'HYPEBEAST Magazine' Issue 13.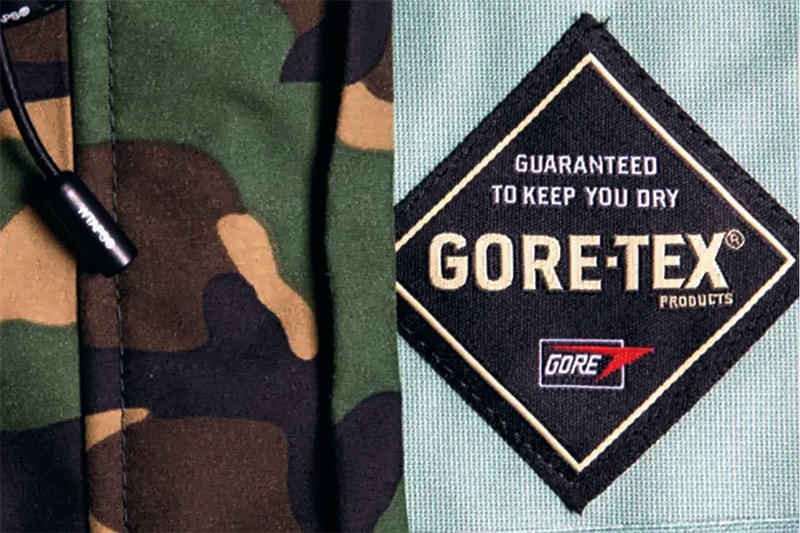 It's not often that the name of a product becomes synonymous with its entire category, but when it happens, it's often for a good reason. That much is true with GORE-TEX®, a proprietary and revolutionary fabric that, when introduced by W.L. Gore & Associates in 1969, caused a breakthrough in textile technology for its ability to blend waterproofing and breathability – a prized trait that had, for centuries, remained the stuff of fantasy and science fiction. Since then, GORE-TEX® has effectively become the byword for highly technical outdoor wear.
Its discovery was innocuous enough – Bob Gore, who at the time was working for his family's Teflon-insulated cable-making company, was trying to figure out a way of incorporating more air bubbles into the Teflon material to lower production costs while increasing its insulating capabilities. Teflon (also known as PTFE) was first synthesized by Dr. Roy Plunkett at the DuPont chemical company in 1938, and was hailed as a super material, upon its discovery, for its ability to function in a wide range of temperatures. It is now most widely used as a non-stick agent in cookware, automotive parts, electronics and implantable medical devices.
This success didn't seem so likely back in 1969, however, after weeks of carefully teasing the material to constant failure, Gore's frustration led him one night to take an alternate approach. Heating up a rod of Teflon, Gore yanked both ends rapidly outwards, causing the material to stretch 1,000 percent and rather than break, it became even more porous and durable. The result was extended PTFE, or ePTFE, which heralded a new age in technical wear for its microscopic structure of pores that are 1/20,000 the size of a water droplet, thus making it impervious to water yet allowing water vapor molecules to float through. The rest, as they say, is history.
Today, GORE-TEX® is a staple in outdoor clothing, and with the advent of the athleisure trend, the brand is making inroads most notably into streetwear, with the likes of visvim, nanamica, ASICS and Stüssy all incorporating the functional fabric into their designs. Here, we caught up with Gore's Consumer Garments Product Specialist, Chris Eisenmann, to discuss the challenges of designing with a technical material, the logic behind choosing brands to collaborate with, and possible developments in the future for the GORE-TEX® brand.
HYPEBEAST: To the majority of the world the GORE-TEX® application is a highly technical product. Does having this synonymous connection to the outdoors pigeonhole you in other segments or is this concentration a conscious effort?
Chris Eisenmann: For Gore, success is always based on the efforts of developing new product with the intent to offer a unique benefit to the user. If this were missing, our products would just be "me too" products and likely not be successful. Achieving a unique benefit to the user often requires an excellent understanding of the "unmet need" in a specific end use. Only with this understanding, can a solution to the problem be developed. As a consequence, many products offered by Gore are highly technical.
"Adding another brand partner must also add a new opportunity."
How are different elements of weather approached in the R&D department? For example, waterproofing and breathability in a spring shower versus freezing rain in sub-zero temperatures. How is insulation thrown into the mix?
The best approach to understand the environmental challenges is to go out and [experience them]. Different types and levels of activities as well as fitness, weather challenges and comfort perception, are factors that can be so significantly variable that it is simply impossible to simulate this all in a lab. Therefore, all new products will be tested in the field before market launch. Only if there is a good understanding, will we then try to identify corresponding lab tests to ensure good quality.
The great advantage of lab test methods is that they produce much more consistent and reproducible data, but the downside is that they often cannot reproduce all the interplay of different stresses in real use. For our new light rain-resistant products for example, we have used light rain with an intensity of 3mm/h in our rain room. This is significantly less than what we normally use for GORE-TEX® apparel. With insulated products, it was important to us that the insulation works as good as possible also in windy conditions, during sweating, or even light rain showers or snow. All weather challenges and sweating have been simulated during development and we have tested how insulation performance can be maintained.
What was the rationalization in targeting the bike/run-centric demographic with active product lines, GORE BIKE WEAR and GORE RUNNING WEAR?
The reason for starting with cycling brings us back into the year 1985. During these times, GORE-TEX® products were already successfully introduced in the collections of our brand partners in outdoor activities, such as hiking, backpacking and skiing. Members of the Gore business team at the time were also passionate cyclists. While they successfully tried GORE-TEX® products during their own cycling activities, they were not successful in convincing cycling brands to use GORE-TEX® products, who were simply not interested in working with Gore. So, the only way to access this market was to make our own cycling collection. This had a catalytic effect on the rest of the market, and in the meantime we worked with many of the great brands in the cycling market. A couple of years later, running was added as a good fit and with the same catalytic effect. Not long ago, we also added the hunting brand SITKA® into our portfolio.
"The best approach to understand the environmental challenges is to go out and [experience them]."
As we've covered an extensive range of collaborations and offerings from GORE-TEX®, we often wonder how these collaborations occur, and how you choose your outdoor partners, such as Arc'teryx and The North Face.
The market is constantly changing and therefore customer selection and partnerships are also under constant change. Many partnerships have already been going on for decades, which is fantastic. New partnerships are emerging and others are coming to an end. If we target a market, we want to work with the winners. If we maintain successful partnerships with a few select brands, adding another brand partner must also add a new opportunity, for us to target a niche we have not been able to offer to before. Otherwise, the market is just divided into smaller pieces, and in the end we cannot grow.
What is it like working with more fashion/lifestyle brands? Was the approach different than say working with a technical brand like yourself?
Of course this part of the market has much higher demands related to fashion trends, textile surface interest and color options, and as a highly technical-driven company, we have our difficulties with this. Nevertheless we get along reasonably well, and over the years we have developed a number of excellent relationships with brand partners in this market.
Are there any upcoming innovations at GORE-TEX® that you'd like to share with us?
In the middle of the winter, we will introduce the new GORE-TEX® Active products with revolutionary permanent beading surface. It features an outer surface that permanently repels water, a shake dry surface, which beats water off the surface with just a few quick shakes. The Active products are the lightest and most breathable GORE-TEX® products available.