Designer Victor Glemaud Is Putting Equality and Body Inclusivity First
His statement knits are "designed for all people, genders, races, sizes and personalities."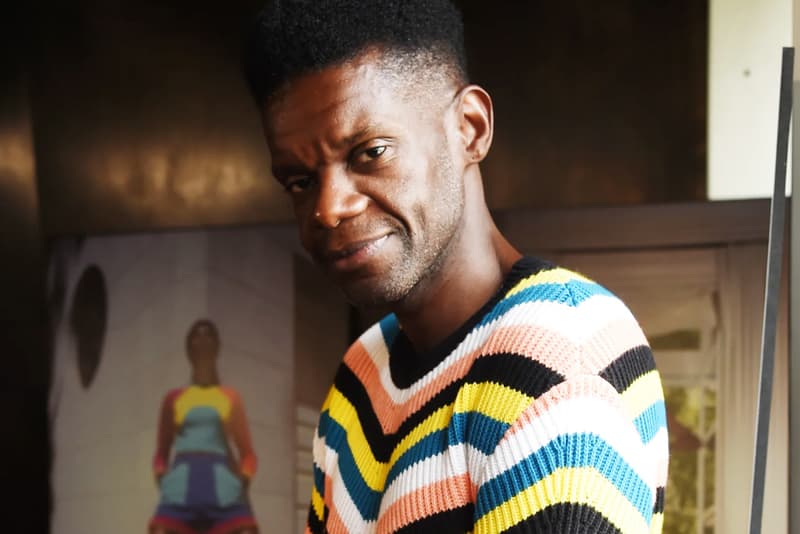 New York City-based designer Victor Glemaud is renowned for his kaleidoscopic colors and body-contouring knits. He's mastered the art of the sexy sweater, knitting wool and cashmere so precisely that his pieces look like they were carefully tailored to their wearer.
For Glemaud's recent Fall 2020 ready-to-wear collection, the designer showcased some of his signature styles — slashed dresses, bold colorblock tops and cutout tanks. The range oozed effortless cool with most of the ensembles ideal for day to evening wear. Glemaud's practical approach to glamour is why celebrities are drawn to his aesthetic. The likes of Michelle Obama, Florence Pugh and Issa Rae have all worn his work.
Victor Glemaud was born in Haiti in 1978 and moved to the United States at the age of three. His journey to fashion started in his teen years. While attending the Fashion Institute of Technology, he landed an internship with designer Patrick Robinson and became a full-time design assistant.
After finishing his studies at FIT, Glemaud worked for five and a half years as a publicist for KCD, one of fashion's leading public relations companies. The experience taught him different aspects of the industry that would be valuable to his career in design. "I call it my finishing school because it introduced me to all types of clothing construction, from different denim weights at the Gap to the interior construction of a Versace gown," Glemaud told Fashionista of his time at KCD. "If I went and worked at another place in New York, I would have never experienced and touched and felt those things. It also taught me about the production and the marketing of a show. It introduced me to editors all over the world, to models and model agents, to hair and makeup people backstage. It really introduced me to the fashion industry."
When Glemaud's mentor Patrick Robinson became artistic director of Paco Rabanne in Paris, he joined Robinson as studio director. There, he worked on design concepts, researched market trends and developed the brand's image. Stints at Tommy Hilfiger, H&M and Tory Sport followed, leading Glemaud to finally start his own menswear collection in Paris in 2006. The 25-piece collection of tops, shorts, reworked vintage cardigans and a trench coat impressed buyers and editors enough to lead retailers like colette, Maxfield LA and BEAMS Japan to carry his designs.
Since becoming a CFDA/Vogue Fashion Fund finalist in 2017, Victor Glemaud looked to champion body inclusivity in luxury fashion. The designer took model Ashley Graham as his date to the Fashion Fund ceremony and dressed her in a white floor-length knit dress that had peekaboo cutouts at the shoulder. Graham's red carpet look shined a light on Glemaud's work in promoting body positivity. "The reaction to that look was just phenomenal," Glemaud said to Vogue about Graham wearing his dress. "It made me realize that size inclusivity was something that came so naturally to me." His push promoting different body types in the industry has been evident in the models he chooses for the runway and his most recent collaboration with 11 Honoré, the luxury e-retailer specializing in extended sizing.
"It's all about statement knitwear, designed for all people, genders, races, sizes and personalities," said of his design ethos in a 2019 interview with The RealReal. The creative has always had an optimistic outlook on fashion's ability to impart positive change. "I think it's about having our industry truly support Black-owned businesses by paying us, by promoting us within their channels," Glemaud told Vogue. "Not just today or tomorrow, not just a tag here or there, but showcasing work in a meaningful way, really being true partners. Whether it's a retailer, an editor, a stylist, a production partner. Things that are needed to actually grow a business." In addition to running his line, Glemaud has begun exploring hands-on involvement with mentoring NYC public school students while also exploring opportunities in Haiti.
Victor Glemaud has been involved in almost all aspects of the fashion industry. He's held jobs as an assistant, a publicist, a studio director, a creative director and as the founder of his own brand. His statement knits are sought after by celebrities and retailers like Nordstrom, SSENSE and Saks Fifth Avenue. The creative truly knows the ins-and-outs of the business through the people he's met. It's through these relationships in the industry that he's found a sense of belonging which is reflective of how he champions those outside the traditional norms of fashion to be included and feel welcomed in the community.