Next Level: Kevin Angeloni Only Collects The Games That Marked His Generation
The curator reflects on his personal gaming moments.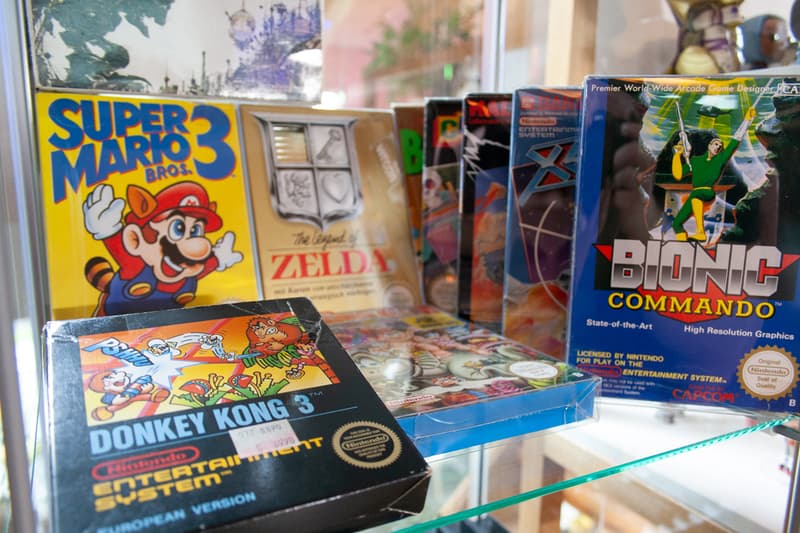 Nintendo is the starting point for most gamers of any era. That's mostly due to its eclectic cast of first-party characters like Mario, Link and Donkey Kong, all introduced in the 1980s. These household names have spanned the decades to become the forefathers of gaming, staples in any generation of the medium. For Switzerland native Kevin Angeloni, the Nintendo bug bit him during the company's early stages.
Although he's passed down most of the items in his collection overtime, he continues to build on his treasures by gathering other titles he played during his childhood. For some, collecting means hoarding the rarest and most expensive products they can get their hands on. But for others, collecting means recapturing pieces from your childhood and displaying them as attributions of who you've become in the present day.
As part of our new series dedicated to documenting all things collectible such as games, comics, figurines and more, we take a deep dive into Kevin's collection.
How did you first start collecting?
I think "this illness" all started before I was born the day my dad brought an NES back home and since then my parents haven't stopped playing games for fun. As time went by, their game and console collection kept growing, and today, I am the lucky heir to this collection. And actually most of my retro items used to belong to my parents so they are the ones I played with in my childhood.
I have always kept the game I was gifted and those I bought with my own pocket money, and since then it started to accumulate without it being a collector's mindset. Nowadays, it's different, I collect for the love and nostalgia of these various pieces, consoles, and franchises I played at home.
What franchise or series shows up in your collection the most, and how did you become a fan of it?
There are so many incredible franchises, from the better-known ones that everybody has already played in their lives at least once, such as Mario and his friends or Zelda. However, there are also some lesser-known ones that haven't had the same success and that deserves a deeper look such as the .hack // and Klonoa to not mention a whole bunch of other ones among them. But if I had to choose only one, I would say the Pokémon saga (the first generations until the Emerald). An adventure common to a whole generation and an unforgettable period in my gamer life, with my friends, without of course forgetting the Link Cable.
What is your favorite character from the franchise?
My earliest hero remains Crash Bandicoot. There is also Mario and his friends, Wario whose mustache I love, Sonic with his red shoes, Link, not Zelda, Rayman without his legs and arms, Pikachu, Jak and Daxter, Ratchet & Clank, Captain Qwark, CJ (from Grand Theft Auto: San Andreas), Leon S. Kennedy (from Resident Evil 2), Regina (From Dino Crisis 1 and 2) and I was also very much in love with Yuna from Final Fantasy X… But if I had to choose just one, who I really learned to appreciate more with time and different scenarios and probably as I grew up and got wiser, that is Snake from Metal Gear Solid. Thank you, Hideo Kojima!
How many figures are in your collection? How much is your collection worth?
At the time of this writing, I own 696 pieces. This includes games, consoles, important accessories, and Collector's Editions. I am starting to lack space.
What is the most expensive piece in your collection?
I own 16 different systems at the moment without counting those I own multiple times. The rarest I have, which is actually brand new to my collection is the Virtual Boy produced by Nintendo in 1995 that I have wanted for a long time. I'll spare you the full story, but it is one of the least known consoles and a total commercial flop by Nintendo. Very few have been sold (about 780,000), which halted the production after barely one year. For comparison sake, the PlayStation 2, which still to this day holds the absolute record, has more than 155 million units sold. Even better, his creator is none other than the grandiose Gupei Yokoi, who brought us the Game Boy.
I want to emphasize that "rare" doesn't always mean "expensive" and vice versa. But to return to the question, it would be the Virtual Boy by Nintendo that I just brought into my collection which I discussed earlier. Its state justified the price that was around $700.
Which piece is your favorite?
This will surely surprise a lot of people with my answer but my favorite piece is my old Goldeneye 007 on Nintendo 64, with its box smashed from all corners everywhere. The reason is that I took this game everywhere, be it on birthdays with friends, on sleepovers, at school to show it under the coat as if it were a secret, by lending it to my next-door neighbor or my parents who helped me by telling me where to go and what to do. This game has gone through so many different hands, seen so many different places, and been plugged in so many times that if today I was given the choice between the same brand new rigid blister and mine, I would choose mine without hesitation. I have so many memories with it that are linked to so many different people and to a period of my childhood that it makes it my f*cking most precious piece. (The film is also awesome.)
Did you play all your games and how do you find time to play them?
Indeed a collector does not systematically play all his games, it is almost impossible, but I have no doubt that there must be some more courageous ones than me. I have my favorites ones that rotate. Otherwise regarding retro gaming sometimes I turn on this or that console and play a game for two or three days and then stop for another. So no, I don't play all my games, unfortunately, for lack of time.
I always try to have a moment during the day between work and the dogs for a gaming session, but I especially have an extraordinary companion with whom I can play, because she is also a gamer. So I'm very lucky because she appreciates this universe as much as I do and willingly offers to come upstairs for a gaming session.
What is the goal or the direction that your collection will take?
Since I started collecting seriously, I have changed directions with my collection several times. For example, there are people who only want Nintendo, some will prefer Sega's Dreamcast, Atari and the first generations of consoles for some, others will be more attracted to PlayStation (like me) or others will focus only on specific titles like Mario, Zelda, Sonic, Final Fantasy…
Some even pursue the full set. But as far as I am concerned, I started by wanting to do the full set PlayStation 1 (which I very quickly gave up on, because it is becoming more and more difficult to find boxes in good condition, and being OCD about clean boxes made it not possible for me), then do the full set PS2 (which I am seeking). And now I decided to acquire all the titles of my youth, the titles, and the sagas that marked my generation as well as to make the partial full set of the PS2 (because it remains my favorite console). We'll see if I discover a passion for another medium in the meantime, but with this last project, I have plenty more to do.