Art for Your Home: Dr. Woo Incense Chamber, Miles Johnston Sculpture & More
Including charity prints benefiting various justice organizations.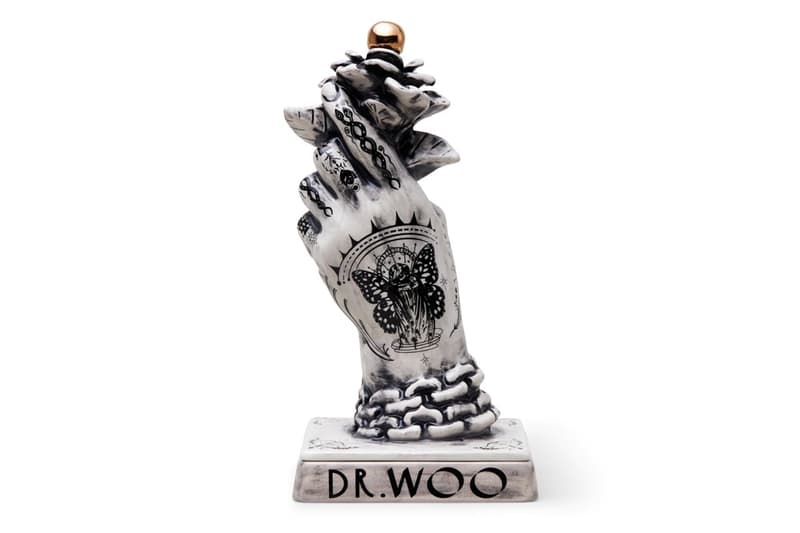 Every week we curate notable art releases by diverse artists, studios, and art platforms across the globe. Listed items typically encompass limited edition artworks, books, collectible figures and more. We hope these pieces will add visual interest to your space and elevate your aesthetic sensibilities.
For this week's installment: Dr. Woo joins NEIGHBORHOOD for an intricate incense chamber embellished with a 24K gold plated skull, Miles Johnston unveils his new Boundaries sculpture in four colorways, J Balvin and Louis de Guzman are celebrating 20 years of the Nickelodeon franchise with SpongeBob and Patrick vinyl figures, Paper Journal and Galerie Number 8 team up for an anti-racism fundraiser called The Time is Now, and Cleon Grey releases his art book titled SHEREN featuring photography by Adrienne Raquel.
View the full list below.
Dr. Woo x NEIGHBORHOOD Incense Chamber
Release Date: Available July 22 at 11 p.m. EDT on NEIGHBORHOOD's website
Release Price: ¥22,000 JPY (approx. $205 USD)
NEIGHBORHOOD has enlisted acclaimed tattoo artist Dr. Woo for a bold take on a ceramic incense chamber. The piece is etched with an intricate array of motifs and shadings in Dr. Woo's artful style and fired in a monochromatic design — as opposed to the usual blue color scheme NEIGHBORHOOD ceramics come in. A 24K gold plated skull is placed at the top of the chamber, nestled over the pistil of a rose that's held up by a hand. Geometric patterns, spider webs and a hooded figure with butterfly wings decorate the the hand, while "DR. WOO," "Angel of Mercy" and "Los Angeles * Tokyo" brand the square base.
Miles Johnston Boundaries Sculptural Edition
Release Date: Email mooncraneshop@gmail.com
Release Price: $300 USD
Sweden-based visual artist Miles Johnston's pencil artwork has been transformed into a surreal sculpture with the help of art store MoonCranePress. Titled Boundaries, the work depicts two individuals wrapped in an embrace as their arms melt into each other's bodies. "Wanted to make a metaphor for setting healthy boundaries in relationships," Johnston said about the original pencil drawing. "By refusing to define themselves as individuals they pass through each other, unable to truly touch and connect at the boundary of the skin." The sculpture is available in gold, black, silver and white colorways.
J Balvin and Louis de Guzman SpongeBob SquarePants Figures
Release Date: Available July 31 at 12 p.m. CST on Louis de Guzman's website
Release Price: $375 USD
To celebrate 20 years of the Nickelodeon franchise, Chicago-based visual artist Louis de Guzman has teamed up with Latin superstar J Balvin on a series of SpongeBob SquarePants limited edition vinyl sculptures. Standing at eight and 10 inches high, the figures of SpongeBob and Patrick are rendered in de Guzman's signature "geometric abstraction" style. Various geometric parts protrude from the beloved character's bodies, while lightning bolts replace the pupils of their eyes. Each sculpture is available in an edition of 500.
The Time is Now Anti-Racism Fundraiser
Release Date: Available now on The Time is Now's website until August 10
Release Price: Between €60 and €120 EUR (approx. $68 to $138 USD)
Paper Journal and contemporary art gallery Galerie Number 8 recently launched an anti-racism fundraiser called The Time is Now. A globally diverse roster of emerging artists in photography and mixed media have donated their work for a series of posters produced specifically for the fundraiser. Available in an edition of 15 or 30, the posters range from intimate portraits to dreamy landscapes. 100 percent of the proceeds will be split evenly among the Stephen Lawrence Charitable Trust, Pay The Rent, La vérité pour Adama and the Marsha P. Johnson Institute.
Cleon Grey SHEREN Art Book
Release Date: Available now on SHEREN's website
Release Price: $35 USD
Cleon Grey has collected his experiences, thoughts, memories and personal moments in one tangible body of work, titled SHEREN. This photographic tome showcases Grey and photographer Adrienne Raquel's self-discovery and rumination as they venture through New Mexico and Arizona. Musings on relationships, family, America and Black identity inform SHEREN, accompanied by intimate, color-soaked imagery provided by Raquel and Grey. "The goal of my entire existence is to try to do something that creates a feeling or an emotion in someone," Grey said. "I feel that's what we're all here to do."