Why Nalgene is the Air Force 1 of Reusable Water Bottles
How an outdoorsy water bottle designed for scientists became streetwear's blank canvas.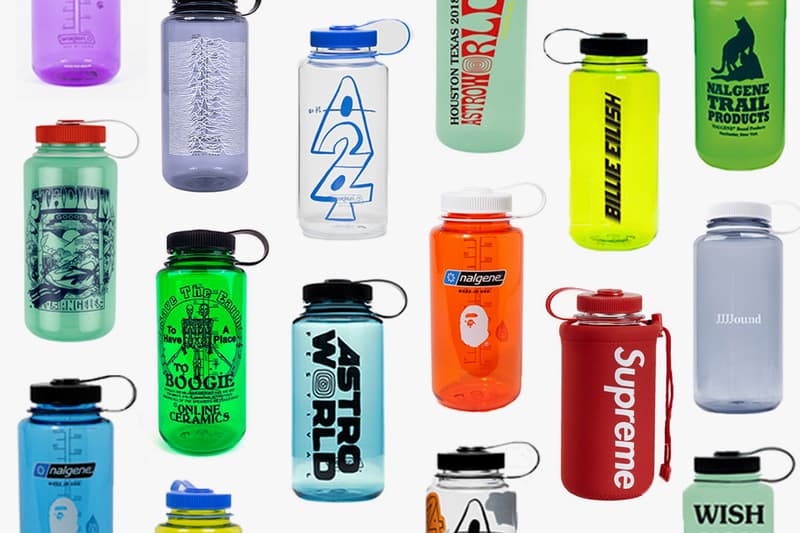 It's not insulated, it's not made of a sleek steel, nor is it particularly streamlined at all. "It's almost like Crocs. They're so ugly they're interesting again, right?" said Elissa McGee, general manager of Nalgene Consumer Products.
Nalgene's appeal may be counterintuitive to some, but it's the brand creatives consistently reach for when they want to put their spin on a reusable water bottle. "It's been the same crazy boxy shape since its inception because it was simple by design," McGee continued. "We're not chasing after trends on our own and trying to be the next new thing. We don't try too hard. We're there, and we're reliable."
The bottles have long enjoyed popularity among athletes and everyday consumers who value their highly functional, no-frills frame. That's partly why Stadium Goods chose Nalgene as the base for its Los Angeles bottle, created for an "urban outdoors" themed pop-up at famed LA retailer Fred Segal in Fall 2019.
"We wanted to create a functional accessory, and a tribute to LA. Something that could actually be used around the house, at the office, or on a Griffith Park hike. As someone who went camping a lot when I was younger, I know that Nalgene is the gold standard," said Stadium Goods brand director Ben Jacobs.
"The 32oz wide mouth is like their Air Force 1: a simple OG style that works with everything."
Nalgene is no longer just the "gold standard" for outdoorsy types. It's evolved into a "blank" of sorts, in the vein of standard, boxy Gildan T-shirts and Champion sweatshirts coveted for their easy customization and anti-fashion utility.
"I think people gravitate towards Nalgene because it's a big broad canvas with no features," Jacobs continued. "Back in the day Nalgenes didn't have big, cool, branded art on them, it was just the blue or grey. So this felt like a great opportunity to put our touch on a classic silhouette and make it our own."
Beyond its better-known collaborations with Supreme and BAPE in 2014, and Supreme again in 2020, Nalgene has been a canvas for a host of lifestyle and fashion brands like Online Ceramics, Fuct and Brain Dead as well as musicians. Travis Scott incorporated customized Nalgene bottles into merch lines for last year's Astroworld tour and included them more recently in a merch drop aligned with his Nike Air Max 270 React ENG "Cactus Trails." A collaboration with Tame Impala is also in the works according to McGee.
"We want to give them the freedom," she said of Nalgene's collaborators. "Sure, we have a couple of constraints. Our bottles are shaped this way. This is how our logo shows up. But otherwise, we kind of let them do them."
This hands-off approach toward collaboration brought PLEASURES to the table recently, for a bottle marking the 40th anniversary of Joy Division's Unknown Pleasures. "We've been working with Nalgene since 2016 because we saw the benefits of an environmentally friendly water bottle that is also easily customizable," said Alex James, PLEASURES co-founder and director. "To my knowledge, we were the first to do a three-way music related collaboration via our Joy Division project."
But it's not just that Nalgene gives these brands carte-blanche. In a field now saturated with new-comers, where insulated, stainless steel bottles like S'well and Hydroflask are an increasing norm, the longevity of Nalgene and the simplicity of its offerings stand out in comparison — particularly, the 32oz wide-mouth bottle. Although Nalgene makes a wide range of bottles in varying sizes, Nalgene's most iconic bottle is the one that most of their collaborators choose for their canvas.
"There's a lot of companies that come out with the new revolutionary water bottle, with all sorts of features and gimmicks, but in this instance we wanted to go with something tried and true and classic," said Jacobs. "The 32oz wide mouth is like their Air Force 1: a simple OG style that works with everything."
Similar to the Air Force 1, Nalgene's "simple" design is painstakingly thought-out and safeguarded. You probably will rarely, if ever, see a knock-off. "We legitimately have trademark protection on the raised ridge top, the loop, the kind of bulky shoulder," McGee said. "Same with a Coca-Cola bottle with that kind of sexy silhouette or the Guinness pint glass. [The 32oz bottle] has just become so recognizable and synonymous with the category that it just keeps on truckin'."
Nalgene has offered its signature shape since the bottle was first invented in 1949, but then, the structure wasn't an aesthetic choice so much as a necessity. Chemist Emanuel Goldberg developed the first Nalgenes as a plastic alternative to the glass jars used in science research. His finished product was transparent, leakproof, lightweight and virtually indestructible. You can also thank Goldberg for the now signature bottle measurements on the side of all Nalgene bottles. "It was really basic functional stuff," said McGee. "Will it make sure no smells get in or get out because it's holding reagents when we're trying to cure cancer?"
But the same qualities which made Nalgene lab-ready made it a tempting candidate for everyday use. In the '60s, Nalgene employees and assembly line workers began to take the bottles out on backpacking trips, making campers Nalgene's first cult fanbase. Later, coinciding with environmental initiatives across the U.S., the company created a separate arm for consumers in the mid '70s.
"When we became a consumer brand, it was because people were putting their own stamp on it, kind of demanding it of us pulling us along," McGee continued. "And I think it's the same kind of thing now."
As a part of its zero waste kits, EDEN Power Corp. included a simple riff on the 32oz wide mouth bottle featuring Eden's logo and "GOOD FOR HEALTH" in reference to Akira's iconic pill jacket.
"It's a classic: design, price, quality, BPA free, low minimums and made in the U.S.A.," EDEN Power Corp. founder Isaac Larose said of the bottle. "It's the new tote bag or the new dad cap. But in the end it's still made of plastic, so it's not because it's cheap that you should buy one if you don't need it. That defeats the whole purpose in our mind."
"[Sustainability] is having a moment and hopefully the moment isn't just, 'Ok this was cool, and now we're moving on to the next "it" thing.'"
The rise of reusable water bottles as hyped consumer goods is a complex bind for Nalgene and the creatives who incorporate them into their collections. The so-called "status water bottle" frenzy has grown out of a perfect storm, where "sustainable fashion" met legacy outdoor sporting companies like Nalgene. Similar dynamics have given rise to the seismic rise of brands like Arc'teryx.
"[Sustainability] is having a moment and hopefully the moment isn't just, 'Ok this was cool, and now we're moving on to the next "it" thing,'" McGee said. "I think there's staying power for it, but it is pretty crazy when you think about something that's as basic as a water bottle that all of a sudden is becoming this hot statement piece."
How, and whether, the fashion world's eco-conscience will reconcile itself with consumerism and the environmental consequences of mass production is still an open question. But in the context of these sorts of collaborations, when it comes to something as basic as where you drink your water from, these contractions are laid bare. One of the most expensive water bottles to date was Chanel's golden water bottle and holder, which retailed at £4,410 GBP (approximately $5,611 USD).
"We love the fashion brands and the Swarovski-encrusted whatever's coming into the space," McGee said. "But we're not about style over substance. It's for what it's for. It's amazing at holding water and not leaking and not breaking. And we've embraced that."
With asking prices for Supreme Nalgenes ranging from $50 to 100 USD, as well as a few outliers in the $200 range, it's safe to say Nalgene isn't totally outside of the hype. As anti-fashion turns into a mark of fashion, Nalgene becomes a perfect case-in-point. But it's not Nalgene's forays into streetwear that keep creatives coming back. The collaborators we spoke to, who are themselves navigating how to create responsible yet covetable collections, don't have much interest in creating the latest grail water bottle for the sake of it.
"Drinking water is drinking water, as long as it doesn't leak it works for me," Jacobs said.
All of Nalgene's collaborators were quick, like Jacobs, to keep things in perspective. As Larose put it, "People are always in the endless search of something new to validate their status. Honestly, it's way cooler if you just keep your old bottle, no matter what it is. As long as it's not poisoning you, don't buy a new one."