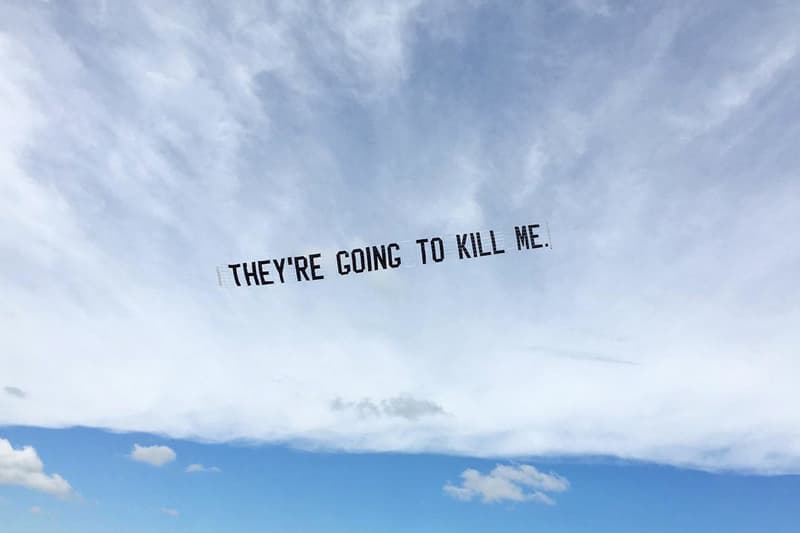 Artist Jammie Holmes Stages Aerial Demonstrations of George Floyd's Final Words
Aiming to "underline a need for unity."
---
Amid the nationwide protests in response to the murder of George Floyd and other African-Americans who have been murdered by police officers, aerial demonstrations by the Dallas-based artist Jammie Holmes were staged across five major US cities to further shed light on systemic racism and police brutality.
This past Saturday, airplanes across major cities flew transparent banners embellished with several of Floyd's final words in bold black lettering: the statement "Please I Can't Breathe" was observed in downtown Detroit while "My Stomach Hurts" was flown in Miami. Moreover, the phrase "Everything Hurts" was circling around Los Angeles while "They're Going to Kill Me" took to the skies in New York City. The artist described the project in a statement  as "an act of social conscience and protest."
"I thought this was a better way of getting the message out [than taking action on the ground]," Holmes said to the New York Times while also expressing that these banners were mainly utilized in spaces where he lives to promote golf tournaments "Or you'll see something like, 'Will You Marry Me?' It's always controlled by the rich."
On May 25, Floyd was arrested by former  Minneapolis Police Department officer, Derek Chauvin and other police officers after he ostensibly attempted to use a counterfeit $20 USD dollar bill in a grocery store. Chauvin has been charged with third-degree murder and second-degree manslaughter. He was then transferred to a maximum security prison in Minnesota. Floyd's family members and protestors across the US, however, are still demanding that Chauvin should be charged with first-degree murder with the other officers apprehended as they were complicit in the murder.
"With this demonstration, I hope that people across the US will use the outlets available to them to continue to demand change," said Holmes. The artist has published a full statement on George Floyd's death on his website alongside links to several petitions and organizations that are helping victims of police brutality and protestors who have been arrested during the protests.
Elsewhere, Michael Jordan issued a statement on George Floyd's death. Also, read HYPEBEAST's How to Stay Informed, Vocal and Safe article for a statement from the company on the recent events and for recourses, charities and petitions for the ongoing protests.