Run The Jewels Announce 'RTJ4' Will Be Free for Everyone to Listen
El-P previewed a new song titled "A Few Words for the Firing Squad."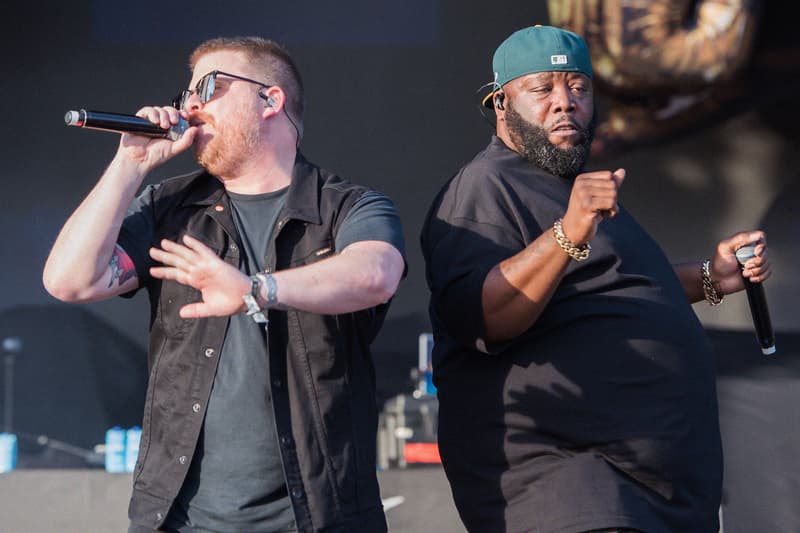 Run The Jewels will release their highly-anticipated album RTJ4 on Friday, June 5. El-P and Killer Mike have been making highly political and necessary music together since Mike's R.A.P. Music back in 2012. Given the nationwide protests demanding police reform following the murder of George Floyd, their next project will prove more important and timely than ever. Now the duo has announced that Run The Jewels 4 will be released for free for all to hear during this time.
El-P and Killer Mike will still release the album via traditional means on both streaming platforms and physical editions. El-P took to social media to explain the decision as well as preview a new song presciently titled "A Few Words for the Firing Squad" which you can stream below. El-P stated:
"I don't have sh*t left to say right now that me and my brother Killer Mike don't express on this album so I'm not saying sh*t anymore until then. On it is all our joy, humor, friendship and rage. We got bangers to help you lose yourself and smile and we got sh*t that comes from the deepest places in our hearts and when it drops on Friday, it will not only be for sale but it will be made available for free for anyone who wants some music. For me this is the only way I really know how to contribute to the human struggle and experience beyond just trying to be kind and aware and grow. It's the only weapon I'm truly trained in and I'm grateful to have it. So no more talk from me until the music drops. I love y'all. Be safe don't fall for the f*ck sh*t and protect each other and your spirits from those that would divide and hurt you. This ain't an advertisement this is just me saying I love you and I hope this music does something for you in these fucked up times."
Killer Mike, who is the son of a police officer, also gave an emotional speech in his hometown of Atlanta, Georgia urging protesters to protect each other but not to burn their own property to the ground while angry at an enemy. "I'm mad as hell. I woke up wanting to see the world burn yesterday, because I'm tired of seeing black men die. He casually put his knee on a human being's neck for nine minutes as he died like a zebra in the clutch of a lion's jaw." He continued, "So that's why children are burning it to the ground. They don't know what else to do. And it is the responsibility of us to make this better right now. We don't want to see one officer charged, we want to see four officers prosecuted and sentenced. We don't want to see targets burning, we want to see the system that sets up for systemic racism burnt to the ground."
Run The Jewels previously dropped "Ooh La La", a collaborative effort with DJ Premier and Greg Nice that celebrated the death of income inequality in a new music video. That track joined the first single of the project "The Yankee and the Brave". They'll be joining Rage Against the Machine's "Public Service Announcement" Tour next year.
Listen to the new song and check out Killer Mike's full speech below. In more updates, revisit HYPEBEAST's How to Stay Informed, Vocal and Safe statement surrounding the current protests.