Facebook to Alert Users When Sharing Old News
Notifying people when content is over 90 days old.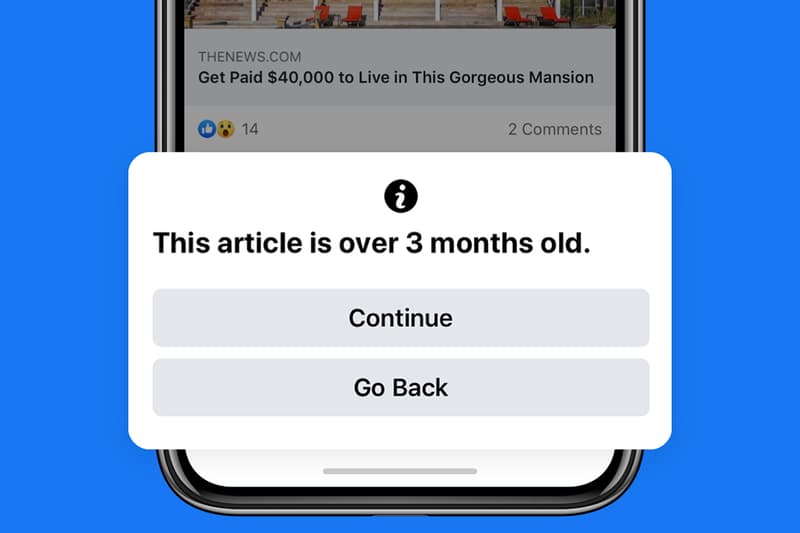 Facebook has announced that it is rolling out a new alert that will notify its users if they are sharing old news. The alert reads "this article is over three months old," and then asks the user whether they'd like to continue with or cancel their post.
Timelines of an article are integral to authenticity and truth-telling, as an older piece of context could confuse the current news climate or the recent angle of the topic. By introducing a 90-day warning banner, Facebook hopes that people will think twice about sharing news with their friends if it might not still be relevant.
John Hegeman, vice-president of feed and stories at Facebook, has wrote, "news publishers, in particular, have expressed concerns about older stories being shared on social media as current news, which can misconstrue the state of current events. Some news publishers have already taken steps to address this on their own websites by prominently labeling older articles to prevent outdated news from being used in misleading ways."
Facebook is also looking into testing other screen notifications, such as highlighting stories containing COVID-19 content. The notification would provide information about the source of the link and then direct people to Facebook's COVID-19 Information Center for "authoritative health information." The new 90-day-old news notification is rolling out on the Facebook platform globally from today.
In other tech news, Instagram will soon let its creators sell on its app.