How To Create Custom Sneaker Cookies With EatGoodNYC
The duo behind the most Instagrammable baked goods you'll ever see shows us how to make custom Nike SB Dunk cookies.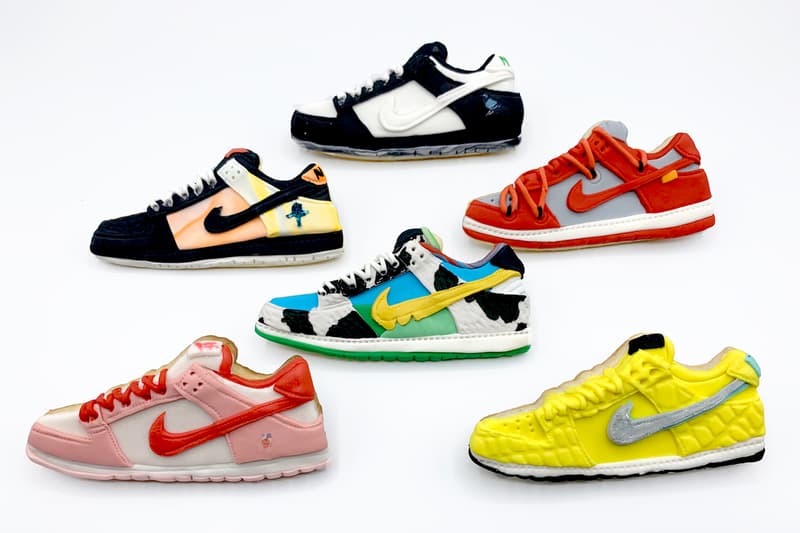 If "you are what you eat" is indeed a true statement, EatGoodNYC's Carolina and Benny just might be the most fashionable bakers in street culture today. Known for their sneaker and celebrity-themed cakes, cupcakes, lolipops and more, Carolina and Benny bridge the gap between two divergent worlds in delectable style. Even if you're not familiar with the name, you've undoubtedly seen the work. Among the highlights: they've catered events for adidas and made cupcakes for Beyoncé and Mariah Carey, the latter of which was a "wow" moment for Carolina, who quipped "I still [say to] myself 'is this really real life?'"
As of late, however, EatGoodNYC has caused a stir with its custom cookie cut-outs and Instagram tutorials. "Because we are so custom based, our clients are very particular," says Carolina. "We don't do things traditionally, and we know our clients always expect us to think outside the box and innovate." EatGoodNYC views its offerings as equal parts art and food, with Carolina going on to state, "We are known for our over the top artistic designs, but it is important to us that all our products taste good. People demand that our product is as good or better than a regular bakery's, all while keeping its visual nature."
This artisanal ethos lends itself in apt fashion to the aforementioned cookie cut-outs, which enable bakers novice and experienced alike to put their own tasty spin on iconic footwear silhouettes. First up was an Air Jordan 1, but now in an exclusive video for HYPEBEAST, the Art Eaters are showing you how to make custom Nike Dunk-shaped sugar cookies. From baking the cookies to decorating them to look like Diamond Supply Co.'s ultra-rare SB Dunk Low "Canary," Carolina and Benny take you through the process behind the product in detailed fashion.
As many passion projects do, Carolina and Benny's delicious hustle came from humble beginnings. "Food means love to me, and I wanted to take up a hobby to make people happy [and give myself] a break from my work life." says Carolina. Benny's introduction to baked goods was more cheeky: "I learned from my mom. It was just me sitting next to her constantly trying to steal treats and lick the bowl." The duo is all about positivity as well. "We honestly only make things that make us happy. If we feel joy from what we make, others will have the same reaction to it" finishes Carolina.
And of course, the duo loves their sneakers. When asked about their favorite pairs, Benny looks to 2014's Ricardo Tiscci x Nike Air Force 1s, noting that the design was produced right when Nike was "getting into that high-end feel." Carolina has fond memories of camping out overnight for the Nike SB Dunk "Money Cat" during her college years in North Carolina, saying "Not many girls were into [shoes] and I had no competition getting size 5.5 sneakers."
See images of EatGoodNYC's work above and watch the how-to video below. If you're looking to cop cookies and lollipops or inquire about a custom order, be sure to head over to The Art Eaters webstore.