Babylon LA Brings Back Justice-Focused "Rights" Tee
100% of proceeds go to The Bail Project to help free arrested protestors.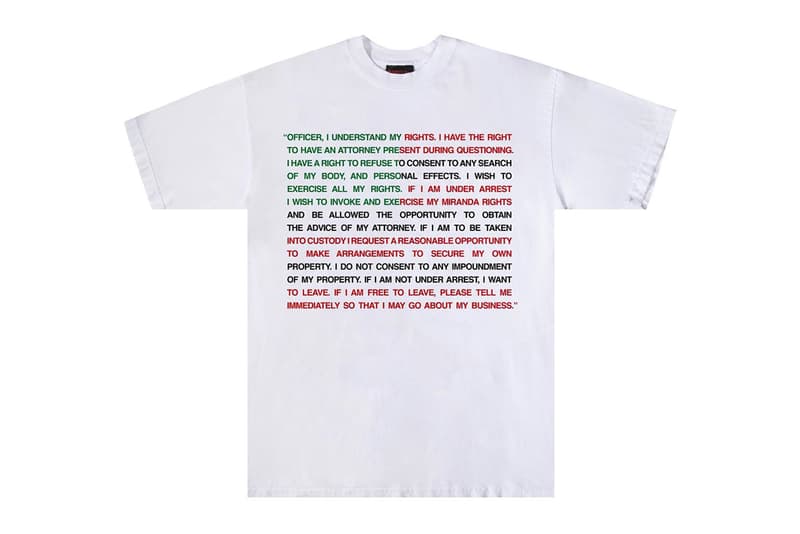 Babylon LA has revived its "Rights" tee — a style that first released in 2015 — in support of social justice-focused causes. With 100% of the proceeds going to The Bail Project to help free arrested #BlackLivesMatter protestors, the tee backs up its powerful message with a meaningful financial impact.
The white tee features a block of black, red and green text on the front, arranged in a striped fashion reminiscent of the American flag but in Pan-African colors. Essentially a crash course on one's civil rights if arrested, the tee lists off everything from Miranda rights to making steps towards securing your property in case of arrest and the ability to leave immediately if not placed under arrest, making for a resonant message of empowerment.
As mentioned above, proceeds from the tee go directly to The Bail Project, a "national nonprofit organization that pays bail for people in need, reuniting families and restoring the presumption of innocence." The "Rights" tee is available now via the Babylon webstore, and is priced at $46 USD. Direct donations can also be made via The Bail Project's website.
Babylon LA founder and Trash Talk vocalist Lee Spielman has been staying busy on the music front as well, announcing a new "Squalor" EP that's produced by the ever in-demand Kenny Beats.