Amazon Renames Seattle Venue "Climate Pledge Arena" After Buying Naming Rights
Aiming to make it the first zero-carbon arena in the world.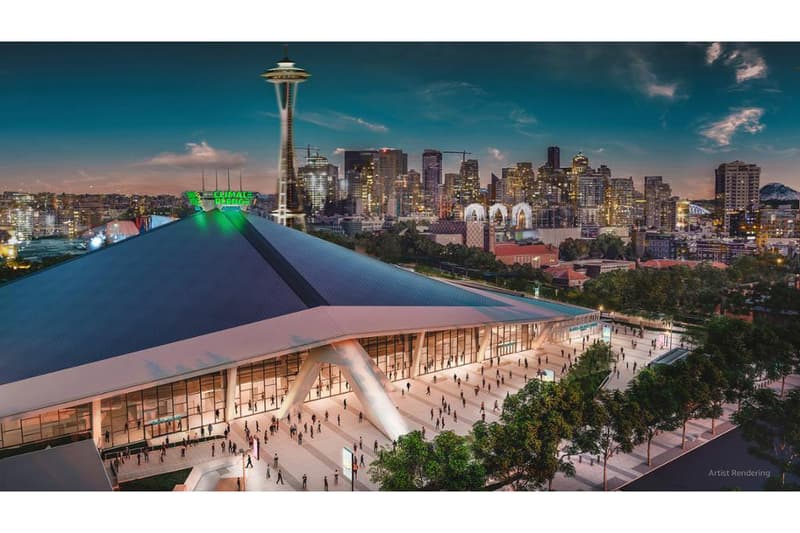 Amazon has purchased the naming rights for Seattle's historic arena — previously called KeyArena — which will be home to the city's incoming NHL franchise and WNBA's Storm. Instead of using the company's name, Amazon announced it will rename the venue "Climate Pledge Arena." Oak View Group, NHL Seattle and Amazon aim to make Climate Pledge Arena the first zero-carbon arena in the world, powered exclusively by renewable energy including both on-site and offsite solar.
"Our goal is to make sure every visit to this arena will be enjoyable and memorable, and sustainability is a large part of that," said Tim Leiweke, CEO of Oak View Group and leader of the arena project. "It is not just about one arena, it's the platform. We challenge music, facilities, concert tours and sports. It is our time to step up to face the challenge of our generation." The arena will run on electric for daily operations, eliminating fossil fuels from the building and installing the first all-electric dehumidification systems in the National Hockey League.
NHL Seattle CEO Tod Leiweke said another goal for the arena is to produce zero waste, source food locally and eliminate all single-use plastics by 2024. "You go all the way back to 1962 when the building opened and what all of this stood for," Leiweke added. "Seattle was on the forefront, it was the World's Fair, it was about the future. It was about exciting people about what was to come. And in an amazing, circuitous route, this (arena) roof now stands for those things again."
Amazon's decision to rename the arena comes days after the company announced it had emitted 15 percent more carbon dioxide in 2019 than it had in 2018.
In other news, the NBA has released the schedule for the restart of the 2019-2020 Season.