10 Items to Keep Your Space Neat and Organized
Boost your spring cleaning with a little home improvement.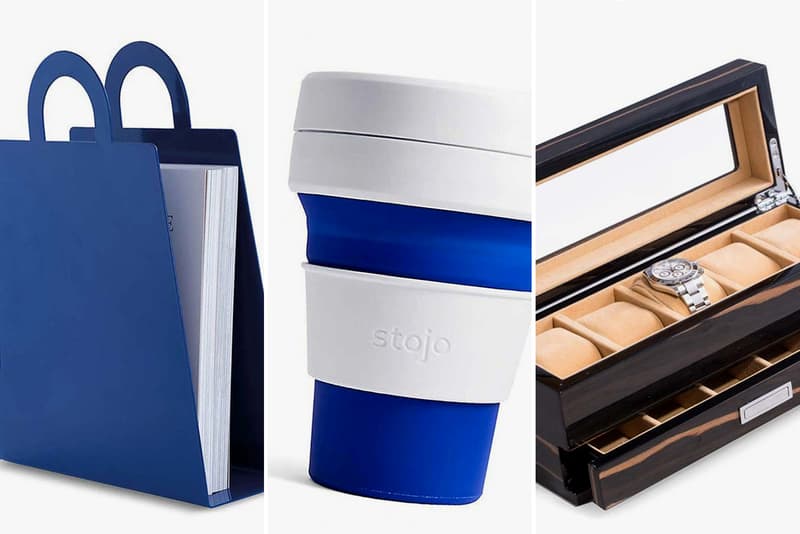 Where do all those knick-knacks go at the end of every day anyway? The loose change, house keys, and special jewelry pieces that stake a claim in our everyday routines but also seem to be the easiest to lose.
If you're already organizationally savvy, items like trays, watch boxes and sunglasses holders might be a normal household purchase to help keep your most prized possessions safe. But for those in need of an extra boost for tackling spring-cleaning duties, now is as good a time as ever to stock up on containers, baskets, boxes and other decors to get your space in order.
HYPEBEAST has rounded up several options to help transform your home and organize your life with functional and approachable pieces. Scroll below to browse picks from Jonathan Adler, Oyobox, Stojo and more.
Oyobox Tech Organizer Tray
Product Details: Holds and charges up to six devices at once. Handcrafted with seven layers of lacquer. Washable leatherette interior. Six cord grooves for easy access to charging cables. Soft velvet underside cover.
Buy Now: $145 USD at Neiman Marcus
Hightide Stackable Storage Containers
Product Details: Set of four, made with plastic.
Buy Now: $25 USD at Selfridges
Stojo Collapsible Pocket Cup
Product Details: 355ml collapsible silicone travel mug. Made from recycled materials, integrated heat sleeve. BPA free. Collapses into a leak-proof disk. Microwave and dishwasher safe.
Buy Now: $11 USD at Selfridges
kikki.K A4 Monthly Planner Pad
Product Details: 100gsm paper. Seven columns for each day, six rows (six weeks per page), sixty sheets, A4.
Buy Now: $8 USD at Selfridges
Maze Birch and Metal Wall Hanger
Product Details: Eight wooden knobs. Designed to be fixed to the wall. Height 38cm, width 45cm, depth 21cm.
Buy Now: $80 USD at Selfridges
Maze Metal Magazine Holder
Product Details: Bag design, made from coated metal.
Buy Now: $65 USD at Selfridges
Bey-Berk 5-Watch Storage Box
Product Details: Storage box for up to five watches in lacquered Italian ash veneer. Glass top. Soft velour pillows. Five-slot accessory drawer. Chrome accents.
Buy Now: $189 USD at Neiman Marcus
Kristina Dam Studio Book Keeper White
Product Details: Made from white painted steel. Also available in black. Dimensions: L 38 cm x W 27 cm x H 32 cm.
Buy Now: £109 GBP at Harvey Nichols
Jonathan Adler Canaan Tray
Product Details: Tray made of marble. Approx. 18"W x 12"D x 2"T
Buy Now: $268 USD at Neiman Marcus
Bey-Berk Tray Table
Product Details: Tray table in high lacquered ebony wood. Boxed weight, approximately 11 lbs.
Buy Now: $225 USD at Neiman Marcus