10 Other-Worldly Music Videos to Lose Yourself In
Transport yourself with visuals from Thom Yorke, OutKast, Snoop Dogg and more.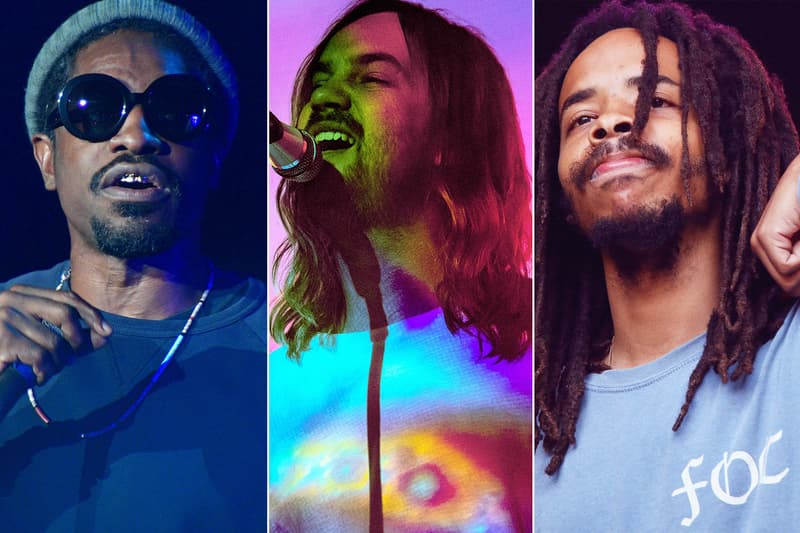 Escapism is important during dire times, as allowing our imaginations to wander can distract us momentarily from reality. It's something we should all do given the current global pandemic, whether that's through listening to albums, learning something new or even just finding some peace of mind.
One great way to escape is to fire up all the senses. Life is a sensory experience, but as we spend more time indoors we can become deprived of its diverse visuals and sounds. Music videos provide a way to stimulate the mind, especially when they're packed with reality-altering, mind-consuming aesthetics.
There is an endless array of music videos that you can watch to lose yourself in. Read on to find out how the likes of A$AP Rocky's Enter the Void-inspired "L$D", psychedelia-tinged tracks from Tame Impala, and surreal Spike Jonze-helmed dance numbers can help you immerse yourself into another world, even if just for a few moments.
A$AP Rocky, "L$D" (2015)
A$AP Rocky's "L$D" is arguably one of the rapper's most chilled-out tracks. Its music video, directed by Dexter Navy and Rocky himself, takes place in a hazy, neon-lit tour of Tokyo. The visuals are heavily inspired by Argentine film director Gaspar Noé's psychedelic art film Enter the Void, which gave "L$D" its narrative of a warped trip through the city. Scenes melt into one another, while the song is equally tinged with neo-psychedelic nods that play with the reverse camera pans and seamless transitions. Rocky brings you back to reality with an abrupt — yet still trippy — switch into "Excuse Me," which sees him rap into a mirror.
Blockhead, "The Music Scene" (2010)
Blockhead's "The Music Scene" is the perfect escape. The piece was created by visual animator Anthony F. Schepperd, and despite its dark undertones — it showcases a world where technology takes over all forms of nature — it's an incredibly deep, visual overload for you to enjoy. The song itself is a mix of experimental hip-hop and electronica that features elements of archaic folk music throughout, as well as a sample from the 1967 Fapardokly hit, "The Music Scene."
Moby, "Why Does My Heart Feel So Bad?" (1999)
Moby's 1999 "Why Does My Heart Feel So Bad?" has never felt more fitting. The song is a twist on a classic gospel track that originally asks "why does my soul feel so glad?", and was remixed by Moby to become what he calls "mournful and romantic." In the video, a caricature of the DJ, coined "Little Idiot," as well as his space-alien bug-dog-hybrid go on a journey from their home on the moon, down to earth, and back to the moon on a ladder. The video produced by Royal College of Art London students Susi Wilkinson, Hotessa Laurence and Filipe Alçada, tells the story of something somber, yet filled with hope.
Thom Yorke, "Suspirium" (2018)
The serenity experienced by projecting Thom Yorke's "Suspirium" in complete isolation is unrivaled. The melancholic song was made for Luca Guadagnino's film Suspiria, and features an ethereal piano track alongside equally soothing vocals. The orchestral piece is accompanied by a RUFFMERCY-produced animation that depicts a pair of dancers effortlessly dancing, almost floating, along with the music. "Suspirium" is as close to watching a contemporary opera as possible for the moment.
Tame Impala, "Feels Like We Only Go Backwards" (2012)
For something a little more upbeat, watch the visual to Tame Impala's iconic "Feels Like We Only Go Backwards." The imagery is reminiscent of Picasso's works thanks to its use of bold colors and the nods to surrealism and cubism. All of the scenes are designed using clay and are assisted by a heavy dose of psychedelia thanks to a merging of warped prints, patterns and interpretive ideas. It was produced by the Don't Hug Me I'm Scared creators Joe Pelling and Becky Sloan, making for an aptly odd visual journey.
The Pharcyde, "Drop" (1995)
We could easily embark down a rabbit hole of Spike Jonze's best music videos with the likes of Fatboy Slim's "Weapon of Choice," any of his Beastie Boys creations or Arcade Fire's "The Suburbs." But The Pharcyde's "Drop" was the first of its kind. Here Jonze had the Los Angeles rap collective remaster the song in rewind and the rappers memorize their bars in reverse in order to perform the hit entirely backward. There was even a linguist holding cue cards on set to help the process. The choreography was complex, trippy and full of practical effects that demand multiple watches. There's footage of a behind-the-scenes making of the music video floating around the internet, too.
Earl Sweatshirt, "EARL" (2011)
Earl Sweatshirt's "EARL" was many music fans' earliest introduction to Odd Future's twisted world. In the lo-fi fisheye video, he displays brazen and dangerous acts that, when paired with his tongue-twisted verses on the song, only helped fuel rumors of why he was sent off to a boarding school in Samoa. In the video, the crew mixes together a drug cocktail that's so poisonous they start pulling out fingernails and losing teeth. It's shock value for the sake of shock value. It's still kind of hard to believe that nearly a decade later he went from that to this.
Outkast, "B.O.B (Bombs Over Baghdad)" (2000)
Outkast's "B.O.B." is an adrenaline-fueled marathon from the second André 3000 draws his first breath. He sprints across purple grass outside of project buildings while Big Boi jumps from drop-top Cadillac to Cadillac and their tour bus transforms into a dancehall. Of all of the memorable music videos from the duo, "B.O.B." exudes the most infectious energy. That's saying a lot given in other videos Andre played an eight-piece '60s pop band by himself, the two feuded as rival crews, and tried to save an unfixable home together. The entire visual is color-graded in Technicolor on acid.
Snoop Dogg, "Sensual Seduction" (2007)
Snoop Dogg is, above all else, an excellent performer. His run in the mid-2000s is often glazed over outside of his mega-hits with Pharrell, but dig a little deeper and you'll find the vintage, 1970s stylings of "Sexual Seduction." The explicit version goes by "Sexual Eruption" which was understandably a little less subtle. The vintage VHS-filtered video features plenty of glittery effects, star lens filters and Snoop faking expertise on a keytar with unparalleled enthusiasm. There's a rotating bed that rockets off to space and by the time Snoop breaks into his last verse, trippy animated effects hit. Watch for the wardrobe selections alone, stay for how great the song actually is.
Fatboy Slim, "Praise You" (1998)
The story of Fatboy Slim's "Praise You" may be even crazier than the actual video. Director Spike Jonze, playing Richard Koufey, recruits a group of amateur dancers for his Torrance Community Dance Group. Nobody at the time knew that Jonze was a famous Hollywood director, they just thought he was an overenthusiastic if not terrible dancer with an undeniable need to let out his inner b-boy. The flash mob of a dozen or so dancers took over the sidewalk outside of Westwood, Los Angeles's Fox Bruin Theater and created a now-iconic visual with a portable speaker and handheld camera no less. The video reportedly cost just $800 USD to make, and when it won MTV VMAs for Breakthrough Video, Best Direction and Best Choreography, Jonze brought his dance group on stage to perform one last time. It's hard not to smile upon every watch.