Surveillance Camera Captures Thief Using Sledgehammer to Steal van Gogh Painting (UPDATE)
The painting is still missing.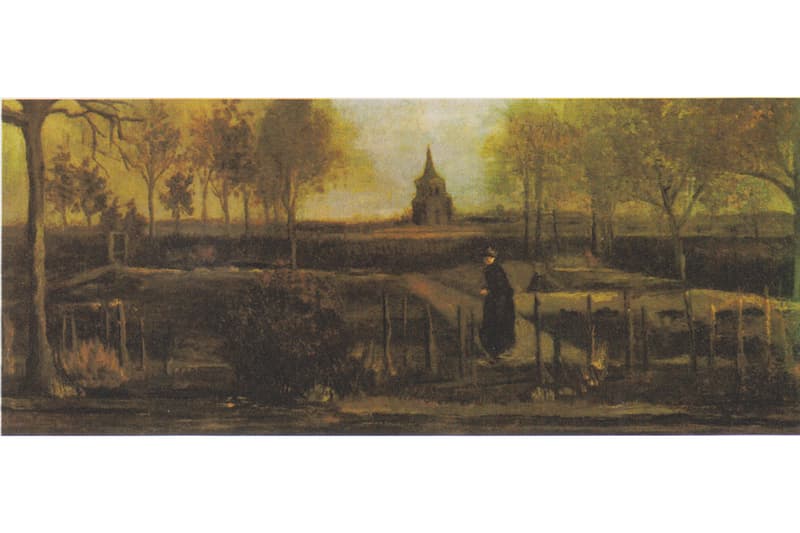 UPDATE: New surveillance footage has surfaced, capturing the thief responsible for breaking into the Singer Laren museum in the Netherlands and leaving with Vincent van Gogh's The Parsonage Garden at Nuenen in Spring (1884) painting. Museum cameras also show the suspect arriving outside of the museum on a motorbike before the robbery took place on March 30 — ironically, the date of the late impressionist master's birthday and when the museum was closed due to lockdown measures to contain the spread of coronavirus.
Local authorities withheld other footage from inside the museum including a clip of thief leaving after the work was stolen.The Singer Laren managing director, Evert van Os, told The Guardian: "The burglar broke through a number of doors and several layers of security that had been approved by security experts. The footage released does not therefore allow any conclusions to be drawn as to the quality of security at Singer Laren."
In the clip below, viewers can also see the thief using a sledgehammer to smash through two glass doors, and later, walking off with the artwork under his or her right arm. Currently, no arrests have been made and the painting is still missing.
Original Article (March 30, 2020): On Monday morning, a painting by Vincent van Gogh was stolen from the Singer Laren museum in the Netherlands. Thieves broke into the museum at 3:15 a.m. GMT+2 and made off with the Dutch artist's 1884 painting The Parsonage Garden at Nuenen in Spring, which is estimated to be worth up to £5 million (approx. $6.2 million USD). The painting was stolen while Singer Laren was closed under measures to slow the spread of coronavirus. Not to mention, the historic work was on loan from fellow Dutch institution, the Groninger Museum.
The thieves smashed a large glass door at the front of the museum to access the building and vanished before the police arrived after the museum's alarm was triggered. "I am extremely pissed off that this happened," Singer Laren's museum director Jan Rudolph de Lorm said at a press conference. "This is a huge blow. This is extremely difficult, especially in these times." The work was the only painting by van Gogh in the Groninger Museum's collection and depicts the ruins of a village church, which the artist observed from his father's house.
Police have launched a criminal investigation and are requesting any security footage captured by other cameras around the neighborhood. The date of the theft happens to be the artist's birthday: March 30.
In other news, President Trump signed a $2 trillion USD relief bill that includes some funds for arts organizations.
We're so sad that today, on Vincent van Gogh's birthday, burglars broke into @SingerLaren and stole this work, on loan from @GroningerMuseum. We hope they get caught soon! pic.twitter.com/47WTrzV5An

— Van Gogh Museum (@vangoghmuseum) March 30, 2020