HAVEN & Mountain Research Link up for Technically-Indebted SS20 Capsule
Featuring an exclusive interview with designer Setsumasa Kobayashi.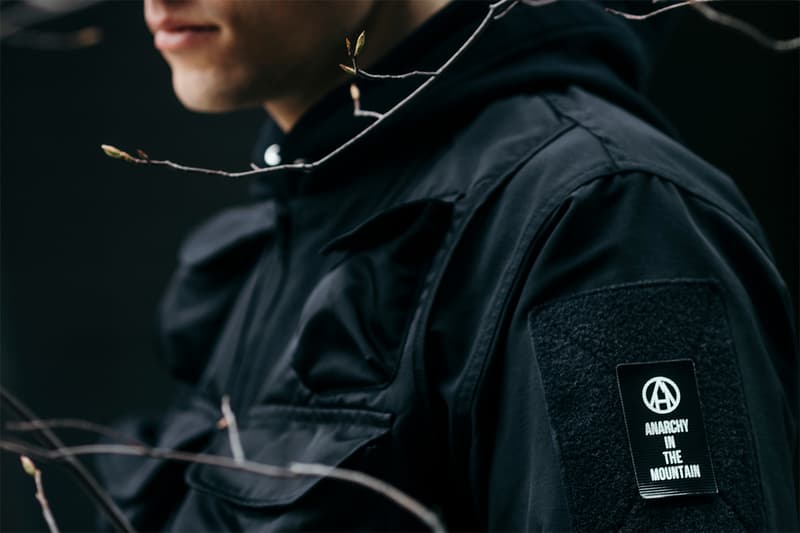 1 of 5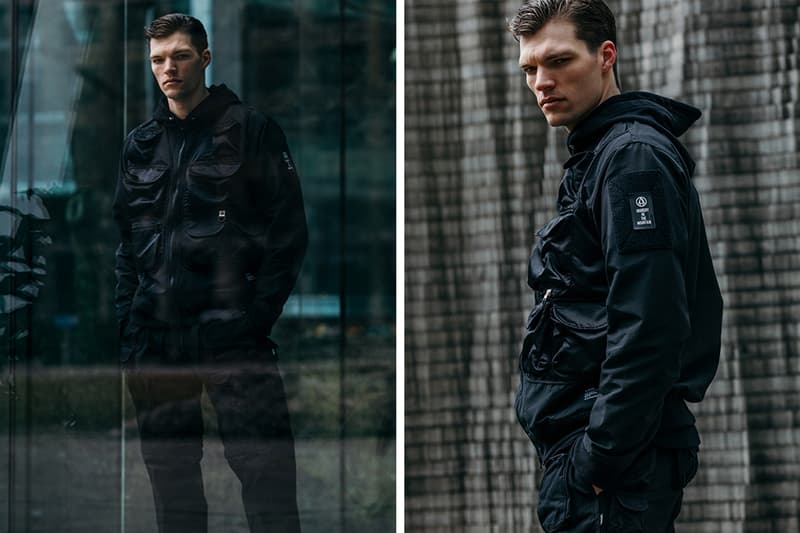 2 of 5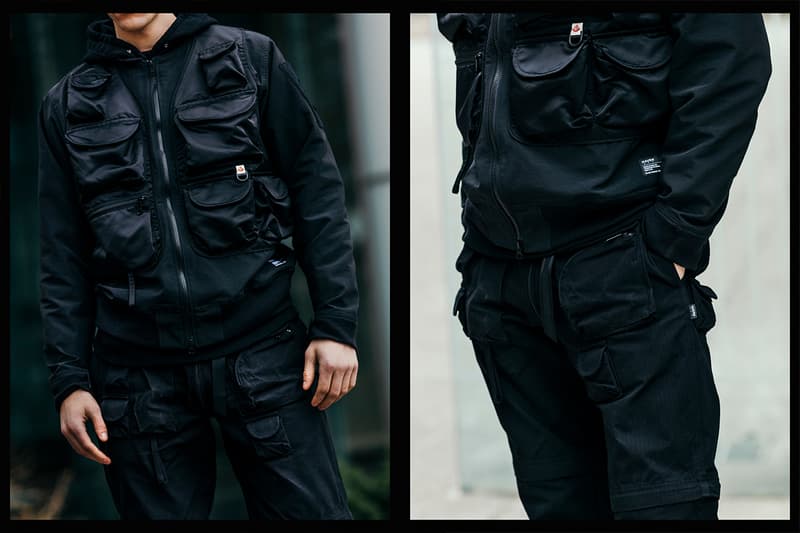 3 of 5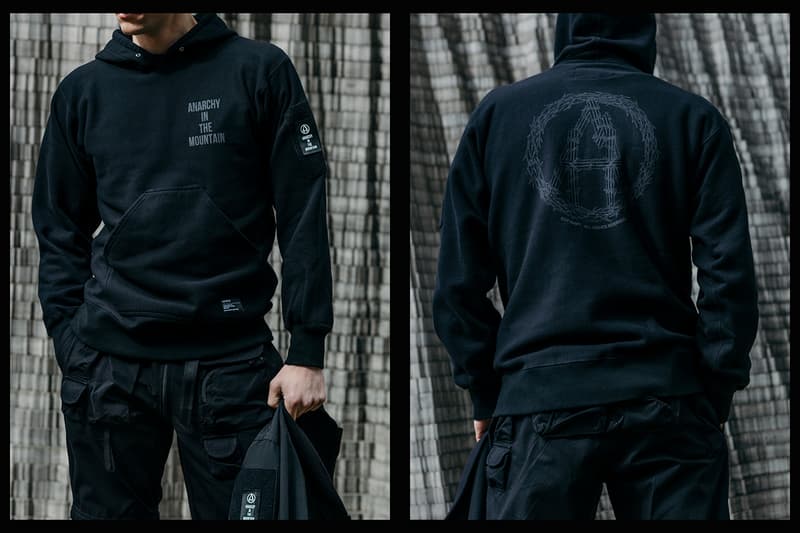 4 of 5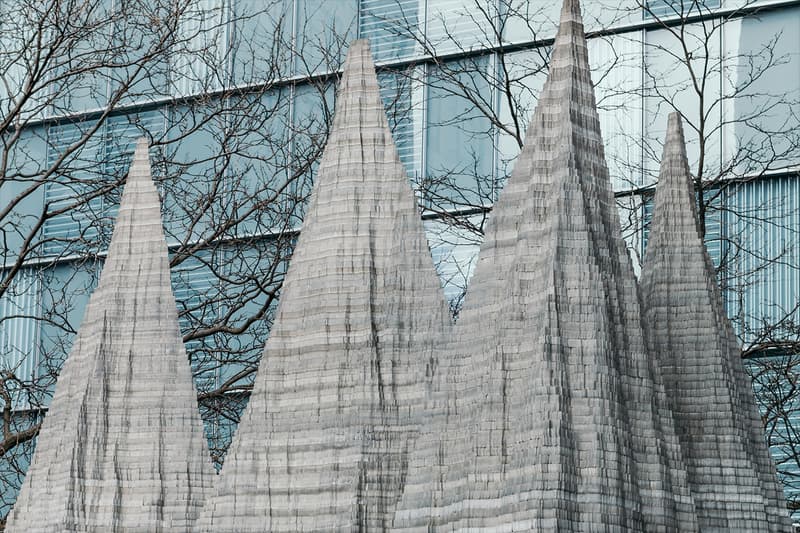 5 of 5
HAVEN has teamed up with Mountain Research for a concise Spring/Summer 2020 capsule, featuring a range of technical outdoor silhouettes that merge both HAVEN's and the Japanese label's unique design ethos. This project follows a collaborative M990RG5 with New Balance unveiled back in the middle of March.
Featuring a nylon flight jacket, multi-pocketed trousers, a graphic T-shirt, a hoodie, a bandana and a keychain, the entire collection is made in Japan, doused in a sleek black shade that highlights the selection of outdoor-friendly details. Leading the capsule, the two labels placed a special emphasis on one of Mountain Research's iconic silhouettes: the Jacket w/Vest. The front of the piece boasts seven patch pockets over an articulated panel that bears the mold of a fishing vest. Offsetting the outermost layer are glossy nylon fabrics, making up the arms and hem, rounded off by tonal zippers and collars.
Another highlight is the Phisherman Trousers, constructed with a modular, two-way build. The garment is originally inspired by fly fishing, cut with detachable panels at the legs to be worn as shorts. Furthermore, the trousers are made with durable CORDURA ripstop, adding extra weatherization, while velcro flap cargo compartments are placed near the waist. Other notable pieces in the collection include the A.I.T.M. Hoodie and T-shirt, alongside the Protester Bear plush keychain and a black bandana. Mountain Research's head designer Setsumasa Kobayashi conceptualized a special insignia that integrates elements of both entities' logos — the "H" in HAVEN is fused with Mountain Research's "Anarcho" motif.
The HAVEN x Mountain Research SS20 collection will be available at HAVEN April 2, 11 a.m. EST priced between $44 – $558 USD.
To accompany the utilitarian collaboration, HAVEN sat down with Kobayashi for an extensive interview, imaging the designer's remote estate in Nagano, while detailing the brand's inspirations and evolving design ethos throughout its rich 25-year history. Scroll below for a look at a few excerpts from the conversation and head over to HAVEN's website to read the full feature.
After launching General Research, what drew you to further refine the name and the brand's mission?

General Research was my first venture into clothing design. Since I only had a background in footwear, I asked myself: What's the best way to approach this? From there, I figured, how about starting off broad and narrow it down from there? But then I came to realize that creating such a vast range of products under one brand would make things complicated. Why not separate my interests into their individual research lines, and delve deeper from there? It would allow me to sift through, for example, outdoor-wear, naval-wear, biker-wear, and more accurately pinpoint each study.

As someone with no affiliation to any tribe, collective or fashion group, I chose to approach clothing from a place of personal interest. Rather than following a trend, or collaborating with peers, I was intrigued by researching the many facets of clothing that existed. My exploration always starts from the size of a Lego block, and expands through further investigation and understanding. Without that starting interest, the research doesn't come to fruition.

What are some of the design inspirations for your work with Mountain Research?

When I first started Mountain Research, 1960's mountaineering gear interested me the most. A bit after the Korean War era, there was an excess of military wear that had been stocked up. A lot of these pieces were then dropped off at military surplus stores for people to buy. The wide array of pieces, like sailor hats, corduroy pants, leather mountain boots and white button-up shirts, were really intriguing. I remember thinking how neat it was, seeing photos of the Patagonia founder, Yvon Chouinard, wearing this clothing on the mountains. This generation of military silhouettes shaped the building blocks for Mountain Research.

Were there any guidelines that you gave Shin Ohori and the General Design team for this development?

Yes, I knew I wanted two dome tents to act as bedrooms on the roof of the structure. We also wanted to strictly use natural materials from the village area when building. Keeping the wooden walls and surfaces free of paint was another request of ours. In order to preserve a 100% compostable development, we avoided the use of any paint or chemicals. If any of the wood in the structure were to deteriorate, we would replace it, one piece at a time. Those were the basic guidelines that I requested; everything else we entrusted in their professional execution.
In case you missed it, check out HAVEN's latest SS20 Stone Island editorial.