Damien Hirst Pays Tribute to NHS With 'Butterfly Rainbow' Painting
Proceeds of limited edition prints will be donated to the NHS.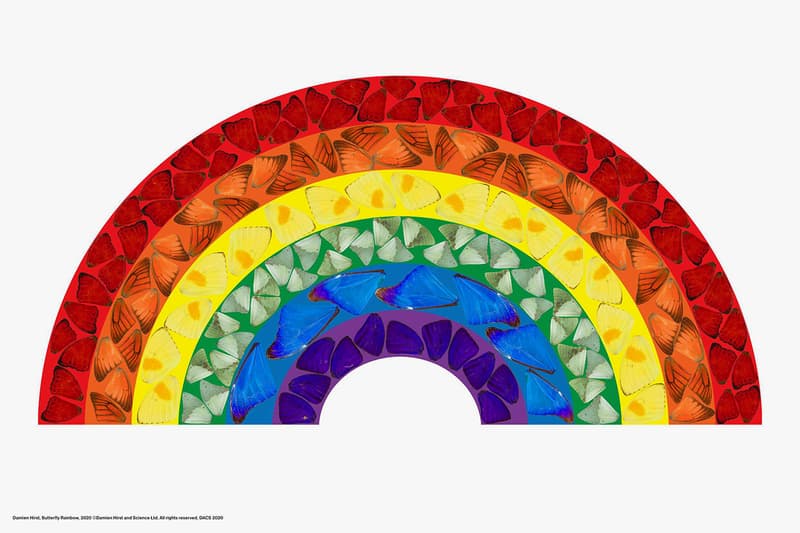 Damien Hirst has unveiled his latest work called Butterfly Rainbow, which has been made in support of Britain's National Health Service during the current coronavirus pandemic.
Butterfly Rainbow plays on Hirst's iconic butterfly wing motif. The original print was debuted when he was just 26-years-old in his 1991 piece, In and Out of Love, which used butterfly wings to symbolize death and resurrection. For this new piece, Hirst takes the rainbow that has recently been used as a symbol to honor the NHS and fills each band of color with butterfly wings.
Speaking on his new piece, Hirst said, "I wanted to do something to pay tribute to the wonderful work NHS staff are doing in hospitals around the country. The rainbow is a sign of hope and I think it is brilliant that parents and children are creating their own version and putting them up in the windows of their homes."
Butterfly Rainbow will be printed as a limited edition and will be sold with all proceeds being donated to the NHS. Further information on how to get your hands on a piece will be announced on Hirst's Instagram soon.
In case you missed it, watch Damien Hirst answer 98 questions in a recent Instagram Live Q&A.