These Are the Best Artworks Releasing This Week
A new silkscreen edition by Takashi Murakami, a grinning art toy by Ron English & more.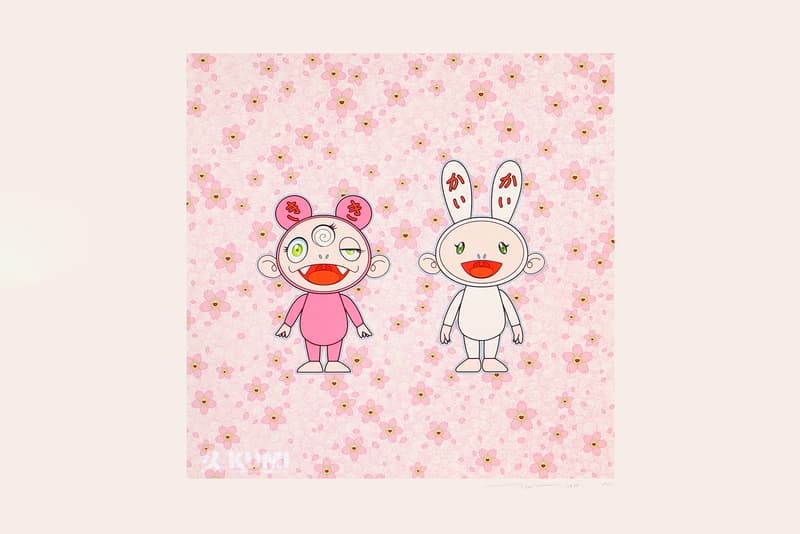 Every week we spotlight the best art releases weekly by notable artists, galleries, museums and contemporary art platforms across the globe. Listed items typically encompass limited edition artworks, prints, collectible figures, collaborative merchandise and more.
For this week's installment: Kumi Contemporary launches a new Takashi Murakami silkscreen edition of duo Kaikai and Kiki, Ron English releases an 850 Grin art toy to celebrate New Balance's new 850 sneaker silhouette, Nikkolos Mohammed showcases his artistic process in a new risograph box set that includes 12 prints, Victor Solomon crafts a solid crystal ball titled Moonshot VS.004 as part of his ongoing "Literally Balling" project, and Joe Andoe teams up with JRP Editions to launch a new lithograph depicting a 1966 Cadillac.
View the full list below.
Takashi Murakami Cherry Blossoms in Bloom Kaikai Kiki Silkscreen Print
Release Date: Available now on Kumi Contemporary's website
Release Price: $4,525 USD
With cherry blossom season approaching, Japanese contemporary art seller Kumi Contemporary is launching Takashi Murakami's new silkscreen of duo Kaikai and Kiki in an edition of 100. Titled Cherry Blossoms in Bloom Kaikai Kiki, the 18 by 18-inch work depicts the artist's two characters enjoying the sakura bloom surrounded by an all-over cherry blossom print. The vibrant pink silkscreen showcases Murakami's close attention to detail and the silkscreen printing process.
Ron English 850 Grin Art Toy
Release Date: Enter the draw now on New Balance Hong Kong's website
Release Price: N/A
Ron English has joined New Balance for an exclusive 850 Grin art toy, powered by MINDstyle, that celebrates the new 850 sneaker in Hong Kong. Like the sneaker itself, the 4-inch collectible is available in a blue, pink and purple colorway and features a wide grin in the artist's signature style. Those who purchased pre-selected styles from the last New Balance range can join the online "lucky draw" in a chance to win one of the 150 pieces available.
Nikkolos Mohammed Lady Hoops Box Set
Release Date: Available now on Nikkolos Mohammed's website
Release Price: $550 USD
Inspired by the layering process that occurs during printmaking, co-founder of DREAMHAUS LA Nikkolos Mohammed has released his latest project called "Lady Hoops Box Set." Each risograph print pays homage to former Los Angeles Lakers player Nick Van Exel's winning shot against the Boston Celtics at the historic Boston Garden arena in 1995. Six black and white originals, along with six colored images, arrive in a hand-screen printed 16 inch by 20-inch box.
Victor Solomon Moonshot VS.004 Crystal Ball Sculpture
Release Date: Available now on Victor Solomon's website
Release Price: $1,499 USD
Los Angeles-based artist Victor Solomon has crafted a 200mm faceted solid crystal ball featuring seam lines etched and filled with gold enamel. Titled MoonShotVS.007, the work is part of the artist's ongoing "Literally Balling" series, which elevates traditional icons of basketball into opulent forms. The work creates a hypnotic experience for each viewer, optically bending space in a unique way.
Joe Andoe Chanel Cadillac Limited Edition Lithograph
Release Date: Available now on JRP Editions' website
Release Price: $955 USD
Widely-recognized for his muted compositions featuring landscapes, everyday objects and portraits, American painter Joe Andoe teamed up with JRP Editions to launch a new limited edition lithograph, entitled Chanel Cadillac. Inspired by an original painting, the 116 by 44 centimeters print depicts a 1966 Cadillac in a fey Chanel powder baby blue. The faded-looking print juxtaposes a symbol of American power with the refined tastes of Paris.