These Are the Best Artworks Releasing This Week
Hajime Sorayma's "Sexy Robot" home decor leads this week's drops.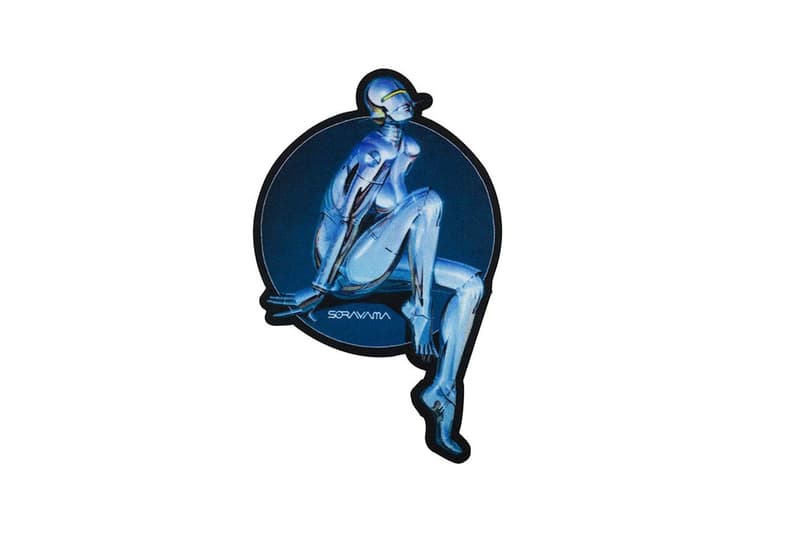 Every week we spotlight the best art releases weekly by notable artists, galleries, museums and contemporary art platforms across the globe. Listed items typically encompass limited edition artworks, prints, collectible figures, collaborative merchandise and more.
For this week's installment: Hajime Sorayama and Medicom Toy transform the artist's sensual female robots into home decor pieces, James Jean releases a surrealist Alice in Wonderland-inspired time print titled Lory, APPortfolio joins Javier Calleja for a Do Not Touch sculptural edition which will aid the Malaga City government under the stress of coronavirus, Efdot unveils a new print inspired by folk art from Mexico City, and David Shrigley teams up with AllRightsReserved for a humorous SERPENT sculpture as part of the "MEET David Shrigley's April Fool PROJECT."
View the full list below.
Hajime Sorayama's Sexy Robot Rug & Monroe Wall Clock
Release Date: Available now on Medicom Toy's website
Release Price: Between ¥18,000 JPY and ¥24,000 JPY (approx. $164 USD and $215 USD)
Medicom Toy has brought Hajime Sorayma's "Sexy Robot" figures into the home decor world with a floor rug and wall clock marked with the artist's seductive bots. The blue rug features a metallic bot in a coy, seductive pose, while the pink clock offers a bold Marilyn Monroe-inspired option for the home. Dressed in a skimpy yellow dress blown away by the wind, the female figure recalls Monroe's famous subway image.
James Jean's Lory Time-Limited Edition Print
Release Date: Available from April 2 at 8 a.m. PDT to April 3 at 7:59 PDT on James Jean's online store
Release Price: $500 USD
James Jean returns with another time-limited print edition titled Lory. Sized 14 by 11 inches, the print is comprised of ten intricately layered foil color enhancements on metallic canvas, which creates an all-over iridescent effect. Jean depicts Alice from Alice in Wonderland in a surrealist style, with "a pair of lorikeets stealing the words emerging from Alice's mouth." Each print is mounted on Baltic birch and ready to hang.
NANZUKA x APPortfolio x Javier Calleja's Do Not Touch Sculptural Edition
Release Date: Email lottery.jc@nug.jp to participate in the lottery
Release Price: $2,500 USD
NANZUKA and APPortfolio are teaming up with Javier Calleja for a sculptural edition titled Do Not Touch. Each 36-centimeter tall sculpture depicting Calleja's signature big-eyed boy comes with a painting on canvas by the artist. Calleja and Alicia Gutiérrrez will purchase 200,000 face masks from the sales to donate to the Malaga City government in Spain, where hospitals are struggling to fight coronavirus. Do Not Touch is available in an edition of 250.
Efdot's Naturaleza Nueva Print
Release Date: Available now on Efdot Studio's website
Release Price: $35 USD
Efdot has released a new print based on a mural the artist created in Mexico City back in December 2019. Titled Naturaleza Nueva, each giclée-printed work symbolizes new beginnings and an optimistic outlook on the future. The flowers, inspired by folk art found in Mexico City's National Anthropology Museum, and the artist's "Blob" characters are integrated into a vibrant, cohesive piece.
AllRightsReserved x David Shrigley's SERPENT Ceramic Sculpture
Release Date: Available on April 1 at 7 a.m. EST on DDT's webstore
Release Price: $550 USD
AllRightsReserved has enlisted David Shrigleyfor its next MEET PROJECT, centered around the contemporary British artist's humorous SERPENT sculpture. Drawing upon his Ridiculous Inflatable Swan-thing floatie, Shrigley crafts a 24-centimeter tall erect serpent boasting a cartoonish smile. "Everyone who has this serpent in their home will experience joy and will find that their attitude towards life becomes more positive," Shrigley says.