Stay Home Snaps: Bodega
The Boston boutique's staff advises on keeping optimistic while working from home.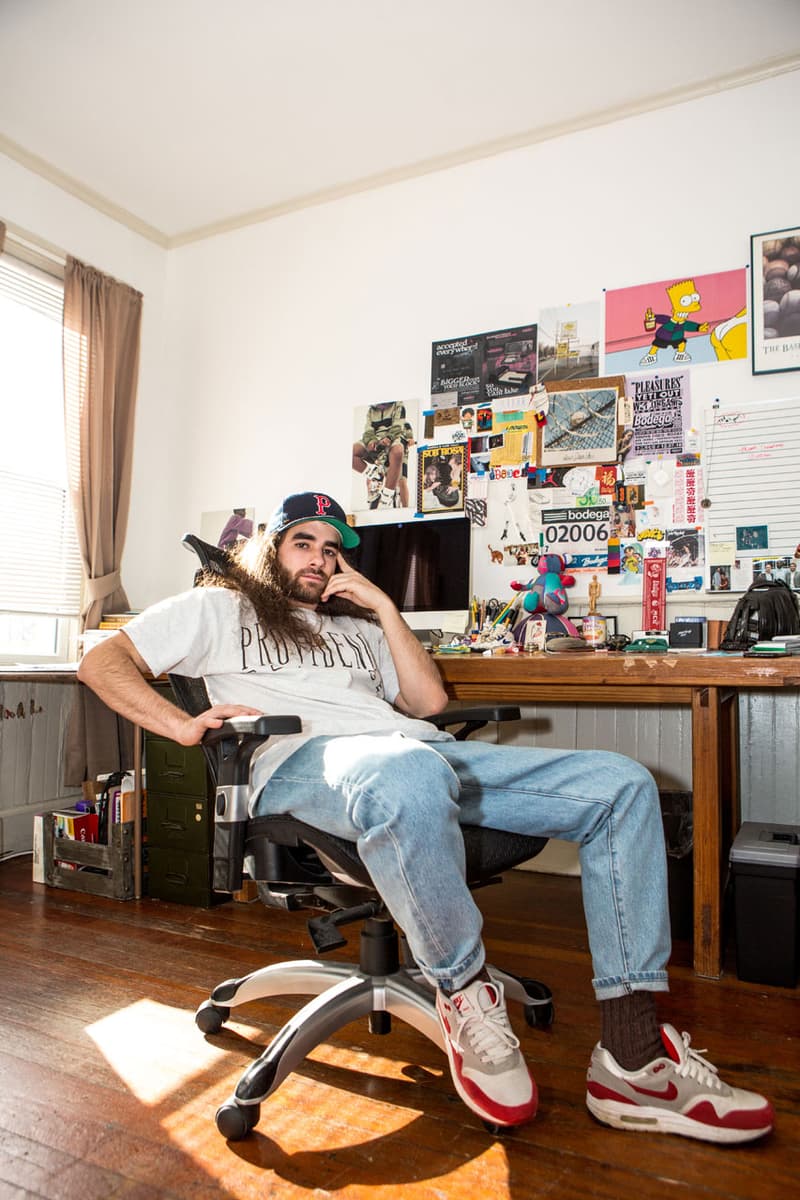 Stay Home Snaps: Bodega
The Boston boutique's staff advises on keeping optimistic while working from home.
Boston's Bodega may have temporarily closed its doors due to coronavirus-related quarantine efforts, but the company certainly isn't on hold. The team is currently sequestered at home, hard at work on future and ongoing projects. Key to maintaining composure? Staying busy.
HYPEBEAST spoke to two team members about staying productive and upbeat during stressful times, highlighting the importance in staying indoors to combat the spread of COVID-19. Key factors include eating good food, helping friends in need and getting some fresh air — away from other people.
---
Thomas Boudreau, photo director
What's your daily routine?
I'm still staying on schedule, waking up early, getting work done. I'll check my emails and get in touch with my team to plan out the days work usually while listening to an audiobook or podcast. On occasion I'll take a break and do some push ups or pace around like a maniac to get the blood pumping!
Where in your home do you like to work?
I'm fortunate enough to have an office in my apartment to work in. It's pretty plain and simple but I like it that way. As Michael Scott said, "A cluttered desk means a cluttered mind."
What do you wear while working from home?
When I'm at home I'm usually in a full sweatsuit. Right now I'm wearing a Levi's Made & Crafted Seamless Hoodie with gym shark sweats and UNIQLOsocks.
What are you eating now?
Overnight oats from Trader Joe's! These things are insane, they have dates and almond milk all mixed together. I look forward to it every morning.
How do you stay a good headspace while in isolation?
Staying busy works best for me. I always suggest listening to a podcast or book to keep the mind running. You are what you consume, so it's best to dive into things that you'll learn something from. Some advice to everyone, just know that everything — EVERYTHING — in life is temporary. This will pass and I hope it gives everyone an appreciation for this wonderful planet we call home.
What are you listening to?
The Joe Rogan Experience and Stuff You Missed in History Class are a must.
---
Drew White, designer/project manager
What's your daily routine?
Wake up early, make coffee, stretch, chill and read a little. Then, bathroom rituals, get dressed, chef up something quick and get to it. After lunch, I've been stepping out for fresh air around mid-day and taking photos, in an effort to sort of document what my area looks like during all this. Then I go back to the crib and finish strong. [I've also been] reading more than ever, Facetiming with family and friends, doing more research, watching tutorials. I feel like it's time to really reflect and think more deeply about what I'm doing and why.
Where in your home do you like to work?
What used to be my mother's dinner table serves as my main work area. I like to get things done anywhere in that room, that's what it's for. The rest of the crib is for hanging around and relaxing.
What do you wear while working from home?
At first thought it was kinda weird but [getting dressed] helps me feel more ready and together for the day. I wear whatever I normally would, I'm pretty straightforward. Jeans, tee, hoodie — just real casual and comfortable. Not going to lie, have been on a streak with some 'fits, might catch me in the same joint for like three days straight now.
What are you eating now?
Like a month ago, I bought one of those Ninja blender things so I've been on a heavy smoothie kick. You just can't make a bad one if you have the right assortment of ingredients — sometimes I go wild-style throwing whatever in there and it always comes out proper. Aside from that, been trying to help support local spots that are still allowing takeout: this place Bucktown in Providence, they have the A-1 chicken biscuit sandwich. I'm also a regular at this pizza spot called Fellini's, gotta try and stay consistent with them through this.
How do you stay a good headspace while in isolation?
First of all, I'm just super grateful to be able to work from home right now. Staying in a good headspace involves trying to help those that aren't as fortunate, especially family and friends. A bunch of my homies are out of work, so I've been trying to help by donating to GoFundMe pages, buying gift cards to their businesses for future use, "tipping" DJ's during their live Instagram sets, purchasing artwork.
Aside from that, I've just noticed how the quarantine has sort of slowed me down, in a good way though. I'm just doing my best to remain productive and thoughtful and pushing myself to learn some new tricks while I have nothing but time.
What are you listening to and doing for fun?
Playing no games! Kidding but honestly I don't watch or play much in general anymore, my friends always get on me for it and now it's especially the case since the NBA is done. I did see the Lee Morgan doc on Netflix, that was a pretty crazy story. Belly and The Sandlot are always on the watch list just cause, classic material. For albums right now: Nas' It Was Written, Steely Dan's Can't Buy A Thrill, Benny the Butcher's Tana Talk 3 and Brent Faiyaz's F*ck the World.