J Balvin, Bad Bunny to Join Jennifer Lopez and Shakira during Super Bowl LIV Halftime Show
A star-studded celebration of Latino culture.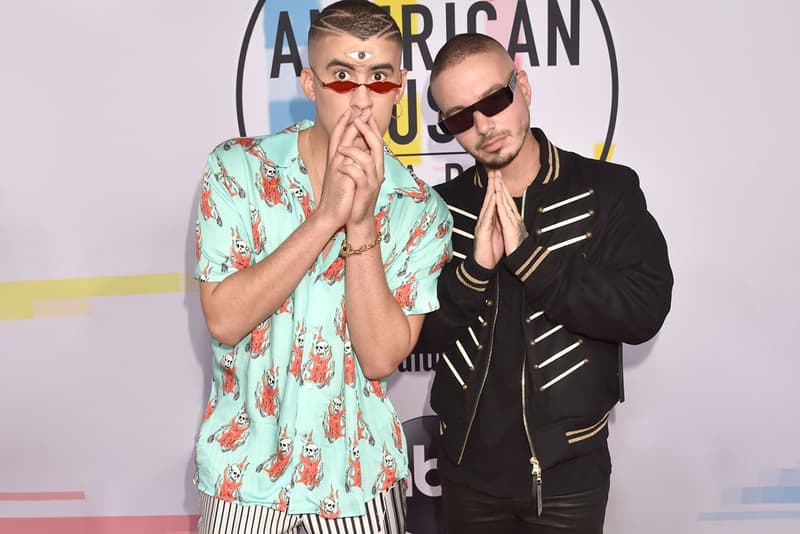 Fans across the globe are eagerly awaiting Jennifer Lopez and Shakira's Super Bowl LIV Halftime Show performance on February 2, and now there's much more to get excited about. As ET announced, the superstar singers will reportedly be joined by two headline-worthy special guests: J Balvin and Bad Bunny. If that wasn't enough of a headline, Balvin has also teased a new Air Jordan 1 sneaker collaboration, set to debut during the performance.
According to rumors, Balvin and Bunny will make appearances during Lopez and Shakira's set, performing some of their best known-songs alongside the renowned songstresses. Balvin has been hinted to perform "Que Calor" and "Mi Gente" with J.Lo, while Bunny will supposedly join Shakira for "I Like It" and "Chantaje." J.Lo's creative director Napolean and producer Tabitha Dumo told ET that the show is part of the team's efforts to shine a light on Latino culture with a global platform. "I think the style of music you'll hear will be very evident of the culture that the ladies both come from," Dumo explained. "So we're representing the culture in a way that shows the great entertainers that they are."
At Lopez and Shakira's recent press conference, Shakira also touched on a planned homage to Kobe Bryant. "We'll all be remembering Kobe on Sunday and celebrating life and diversity in this country," said Shakira. "I'm sure he'd be very proud to see the message we are trying to convey on stage that day." Though Bad Bunny recently released a tribute to Bryant, "6 Rings," there's no word on that song's appearance during the proceedings.
Recap the press conference below and watch the 54th Super Bowl when it airs February 2 at 6:30.
Another notable moment to look out for at the big game: Facebook's first-ever Super Bowl ad.