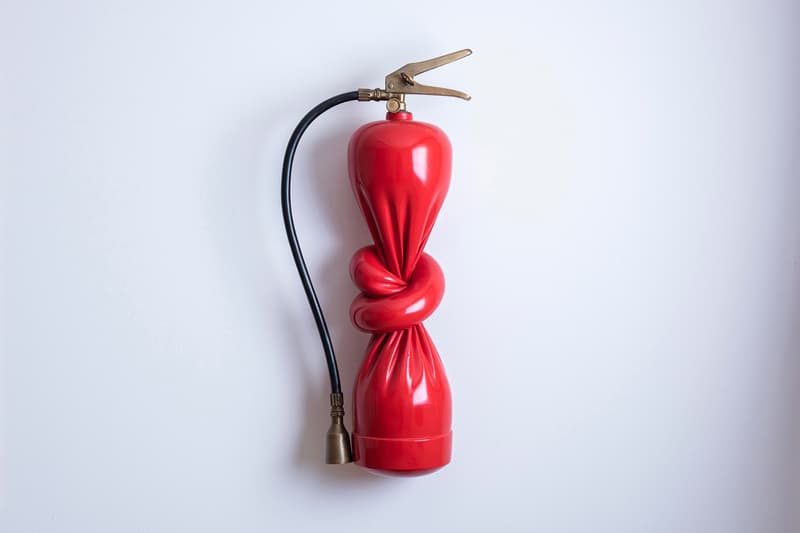 These Are the Best Artworks Releasing This Week
Alex Chinneck's twisted fire extinguisher sculpture leads this week's top art editions.
---
Every week we spotlight the best art releases weekly by notable artists, galleries, museums and contemporary art platforms across the globe. Listed items typically encompass limited edition artworks, prints, collectible figures, collaborative merchandise and more.
For this week's installment: Alex Chinneck unveils surrealist sculpture of a fire extinguisher, Joan Cornellà releases K-Love vinyl sculptures for Valentine's Day, Design by Reborn drops colorful robot sculptures inspired by Vietnamese window grills, UNKNWN stocks Medicom Toy's multi-color version of Jean-Michel Basquiat with Sunglasses vinyl figure, and PEETA purveys new Pressure Control spray can resin sculptures.
View the full list below.
Alex Chinneck's Twisted Fire Extinguisher Sculpture Edition
Release Date: Available via the artist's studio
Release Price: Contact office@alexchinneck.com for pricing
British artist Alex Chinneck recently unveiled a new sculpture edition under his ongoing Knot series that sees everyday objects in unique surrealist forms. This time around, Chinneck creates a new waxed bronze sculpture portraying a twisted fire extinguisher. Only 20 pieces have been made for the edition.
Alex Chinneck Studio
Forstal Farm
Brook, Kent TN25 5PD
United Kingdom
Joan Cornellà's K-Love Vinyl Figures with AllRightsReserved
Release Date: Available February 12 at 9 p.m. EST on Ding Don Takuhaibin's website
Release Price: $1,560 HKD (approx. $199 USD)
Acclaimed Barcelona-based artist Joan Cornellà recently teamed up with Hong Kong-based creative studio AllRightsReserved on a collaborative figure entitled K-Love. In lieu of Valentine's Day this weekend, Cornellà injects his dark humor in a pair of figurines that uncannily portray the likeness of North Korea's supreme leader, Kim Jong-un. The artwork is also observed making a finger heart gesture that has become a popular symbol among K-pop stars.
Design by Reborn's Rise of the Vietnamese Robots Edition
Release Date: Available for pre-order now on Design by Reborn's website
Release Price: Ranging from $150 USD to $1,800 USD
Saigon-based conceptual art studio Design by Reborn just released a series of wooden sculptures entitled Rise of the Vietnamese Robots. The entirely hand-crafted, limited edition figures were inspired by the intricately-patterned window grills of Saigon. The collectibles feature magnetic appendages for slight movability and ease in assembly. Not to mention, an assembly diagram featuring the pattern for construction arrives with each robot.
Medicom Toy's Jean-Michel Basquiat with Sunglasses Multi-Color Figure
Release Date: Available on UNKNWN's website
Release Price: $125 USD
Following the monochromatic version, Medicom Toy returns with a multicolor version of the popular Jean-Michel Basquiat vinyl collectible doll. Standing 240mm in height, the artwork pays homage to the late legendary artist. The figure features paint-splatter detailing on its miniature track jacket, jeans, and shoes.
PEETA's Pressure Control Spray Can Resin Sculptures
Release Date: Available in select stockists, learn more by visiting PEETA's website
Release Price: $373 USD
Celebrated Italian muralist and sculptor, Manuel "PEETA" Di Rita, just released an edition of vivid resin spray can sculptures. The piece features the artist's signature abstract motifs across its three-dimensional form. Each collectible measures 19 x 7 x 7 centimeters, arriving in a signed and numbered edition of 30 pieces.