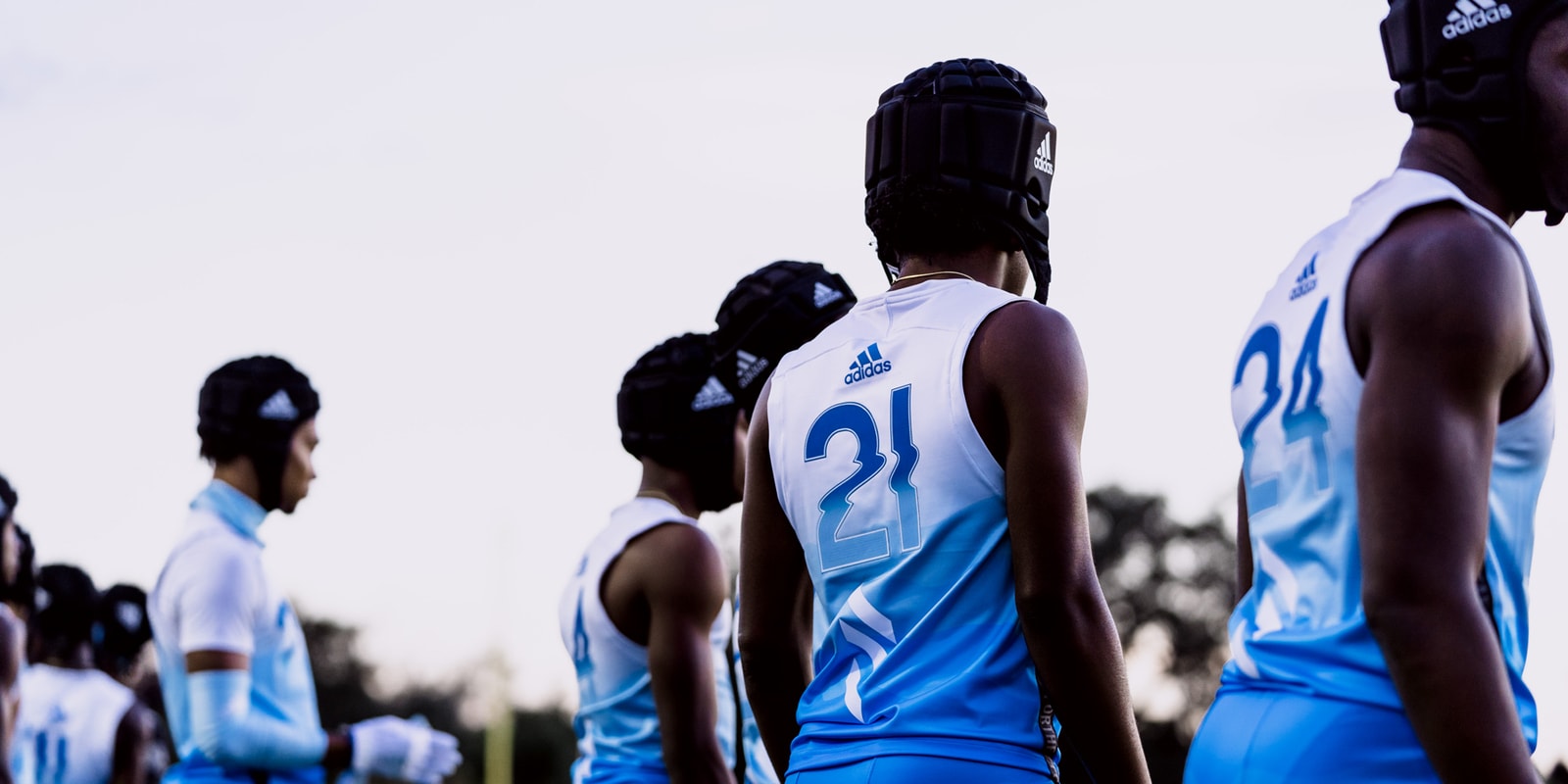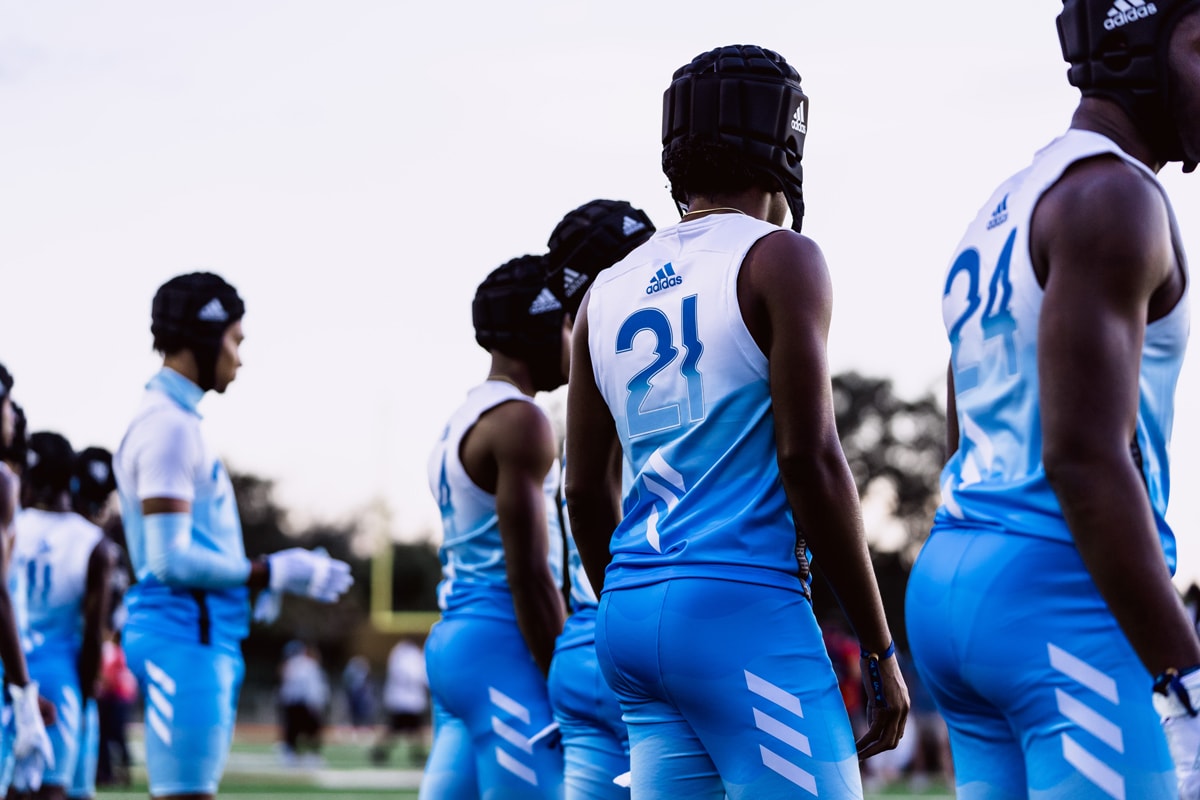 How the Power of Sports Is Driving adidas and Parley to End Plastic Waste
During Super Bowl week in Miami, adidas unveiled a sustainable football field, and new education program with the University of Miami.
Whether we realize it or not, we've all begun to experience the effects of climate change and our inability to prioritize Earth's many environments. However, only a nominal percentage of the world's population has truly felt these consequences on an acute level, from the recent wildfires in California, Brazil and Australia, to the severe hurricanes tearing apart the Gulf of Mexico.

This is why environmental conservation has a convenience problem; if it doesn't impact our immediate daily lives, we're much more likely to push it behind our personal problems. Not to mention the fact that it's the companies and governments around the world polluting land, water air and food in the name of the dollar that wield the most power in halting climate change.

But when our environmental neglect threatens a beloved global activity like sports, the effects of climate change can feel front and center. This is why adidas, among the largest apparel companies in the world, is using sports' influence to promote a cleaner and more sustainable Earth.

"Through sport we have the power to change lives," says James Carnes, vice president of global brand strategy and sustainability at adidas. "But if you don't have a place to play sport, it doesn't exist."

Director of adidas Football and former pro linebacker Cameron Collins echoes this mission, saying, "[sport is] a universal language, which all of us speak or have spoken at some point. So we're using our platform to incite change."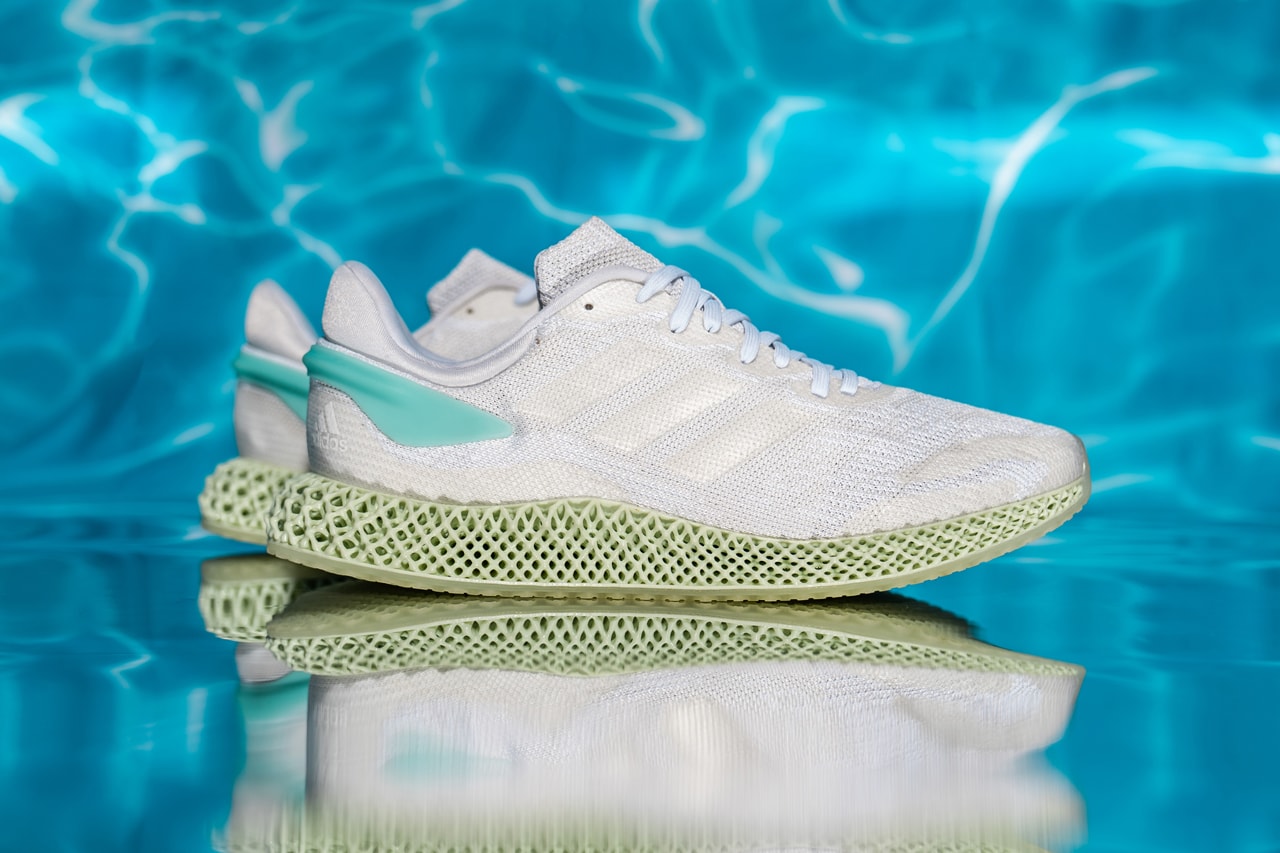 1 of 10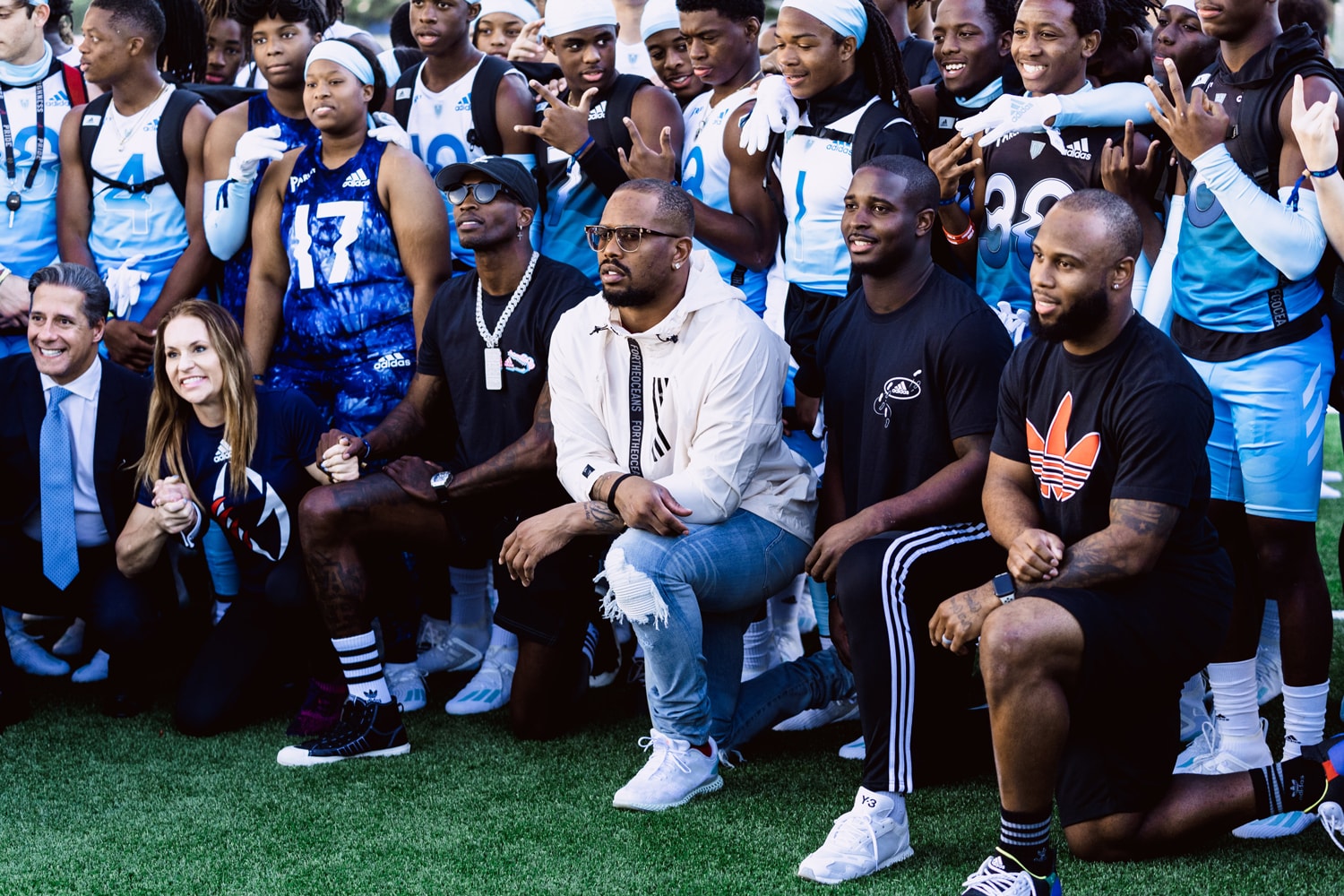 2 of 10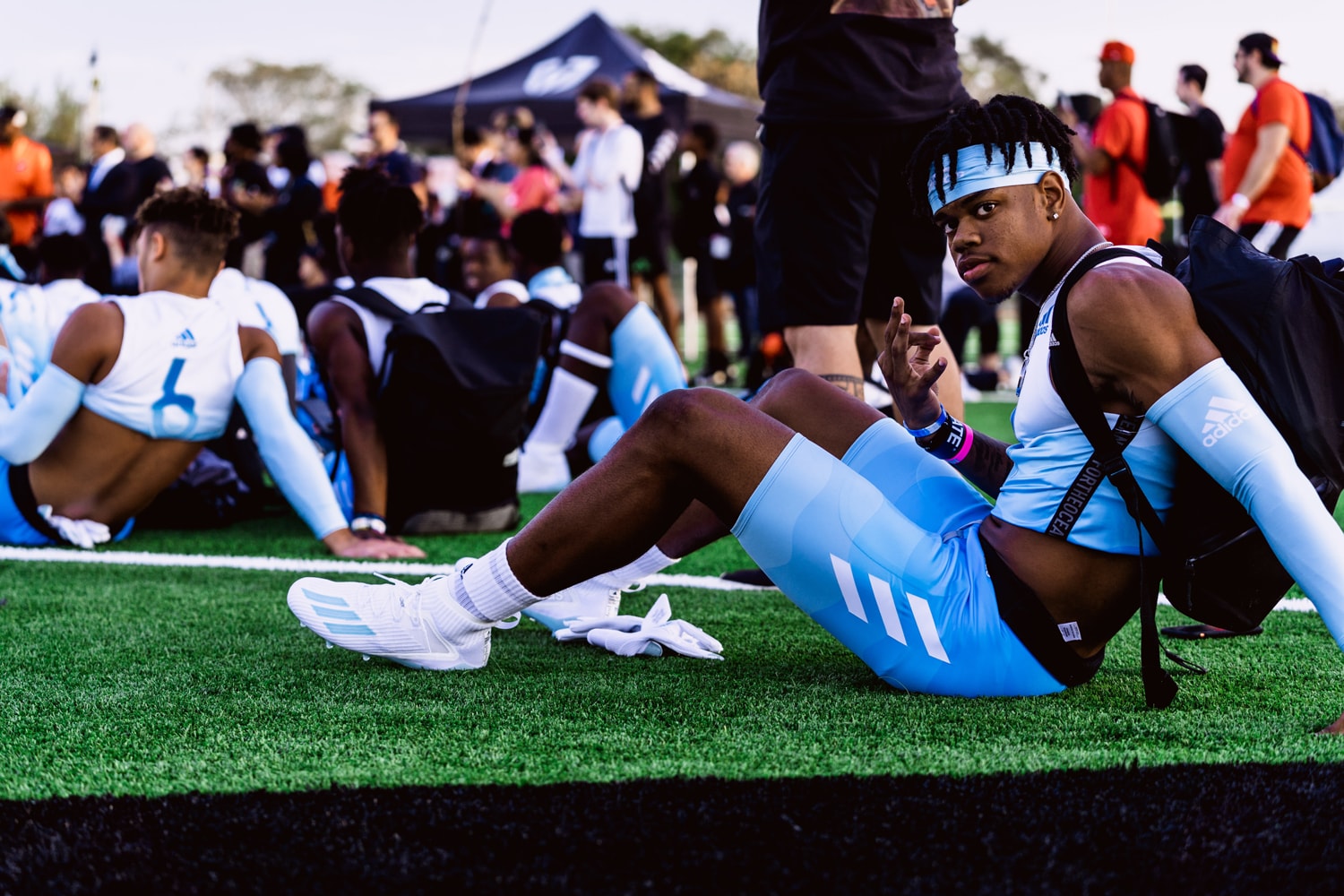 3 of 10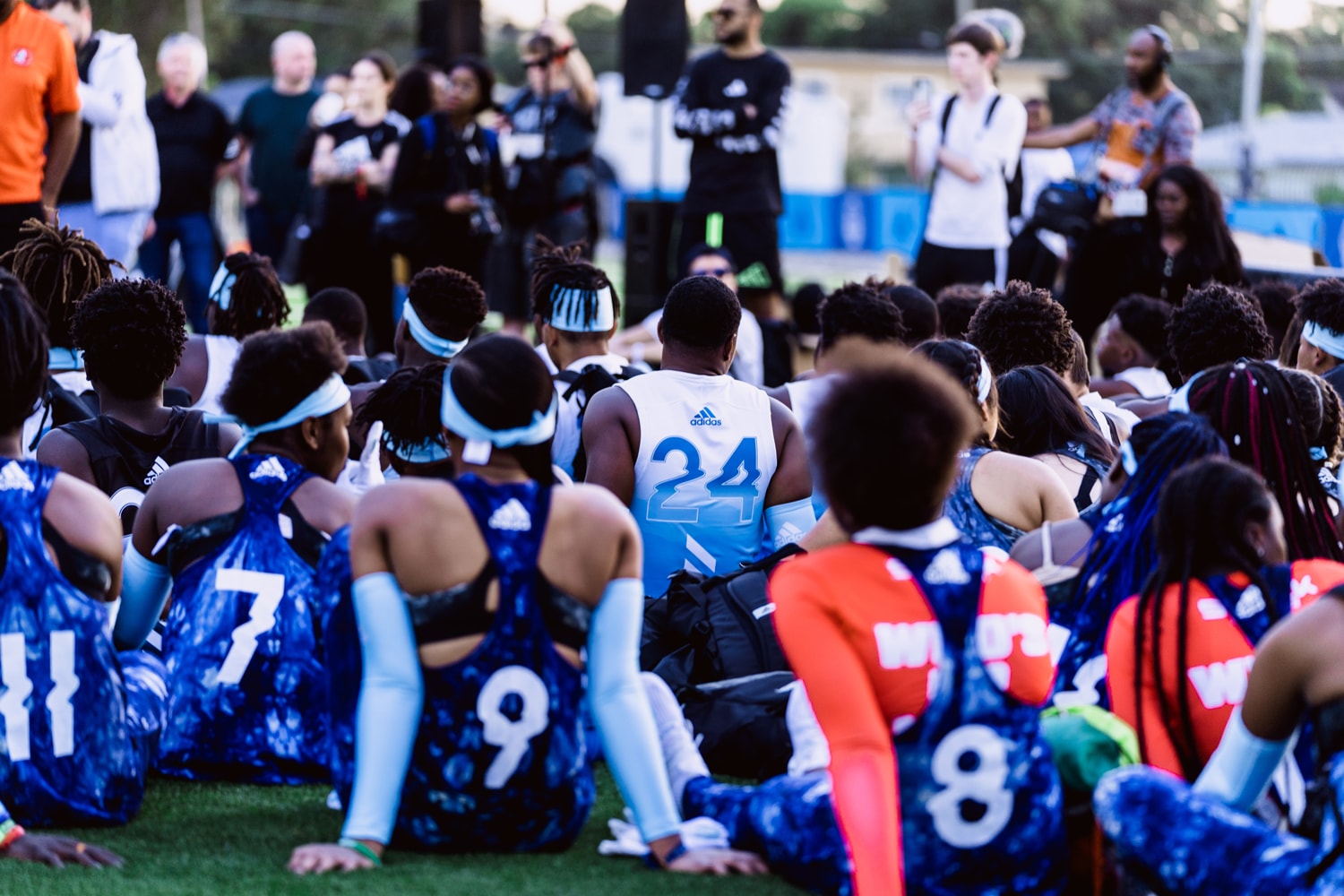 4 of 10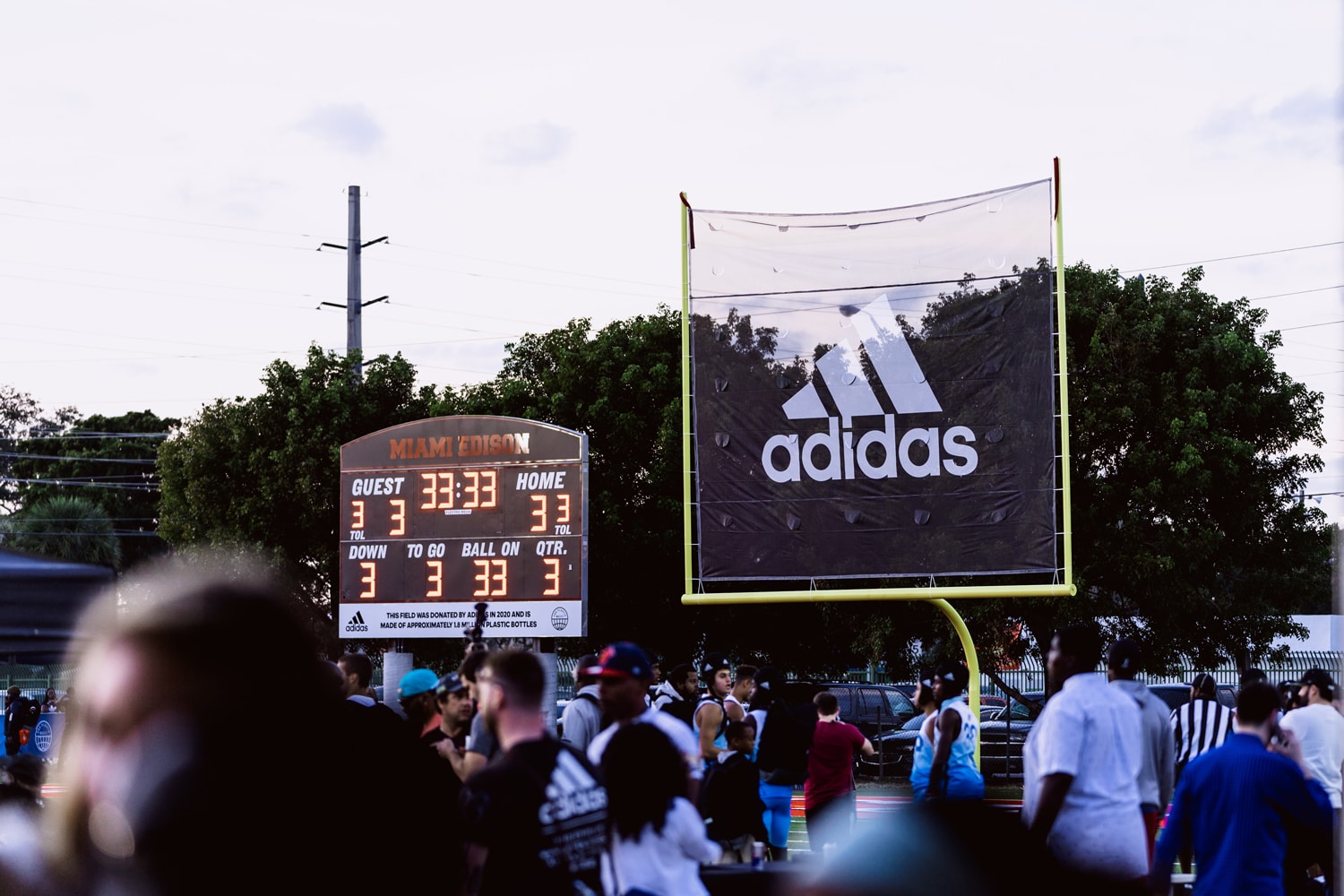 5 of 10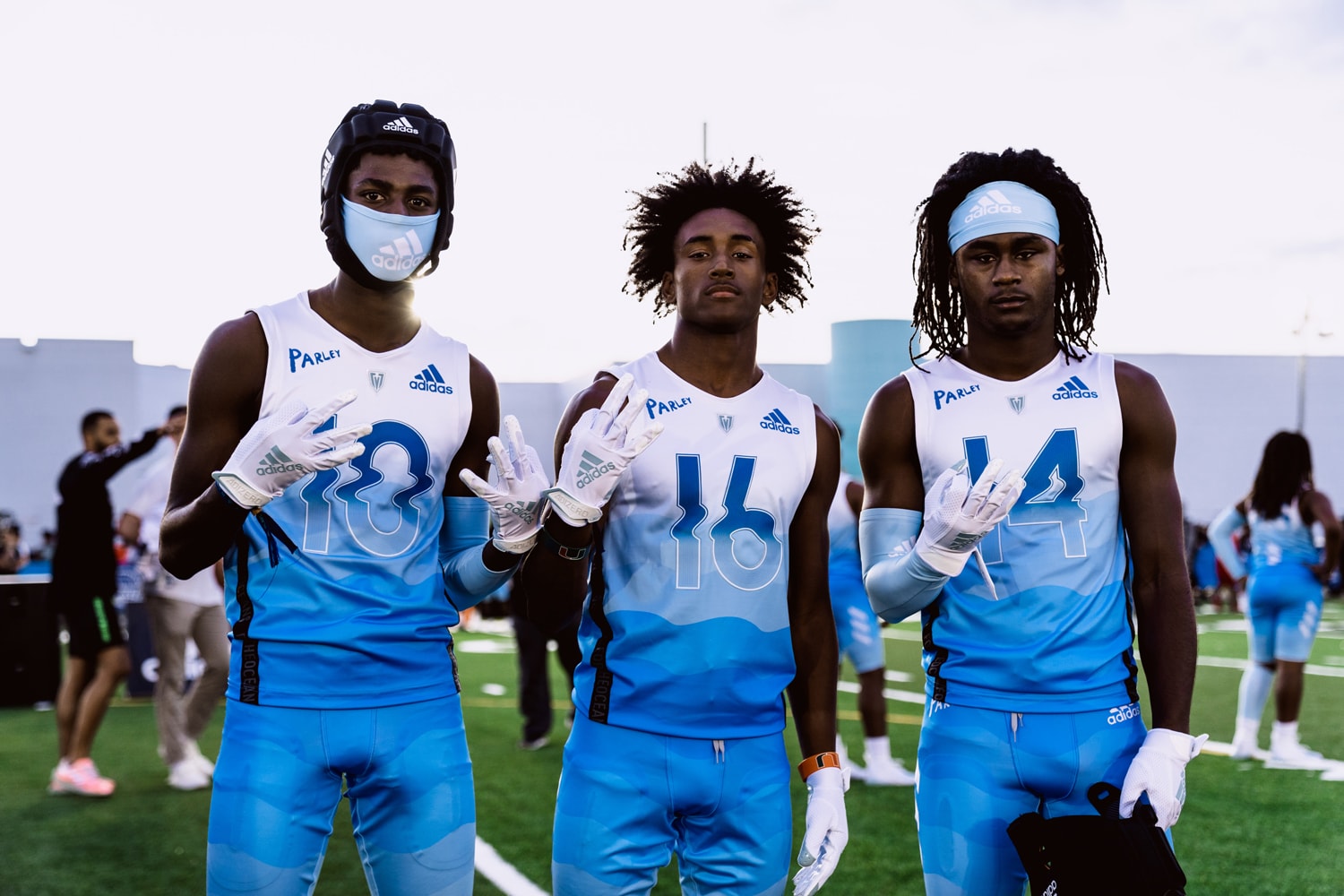 6 of 10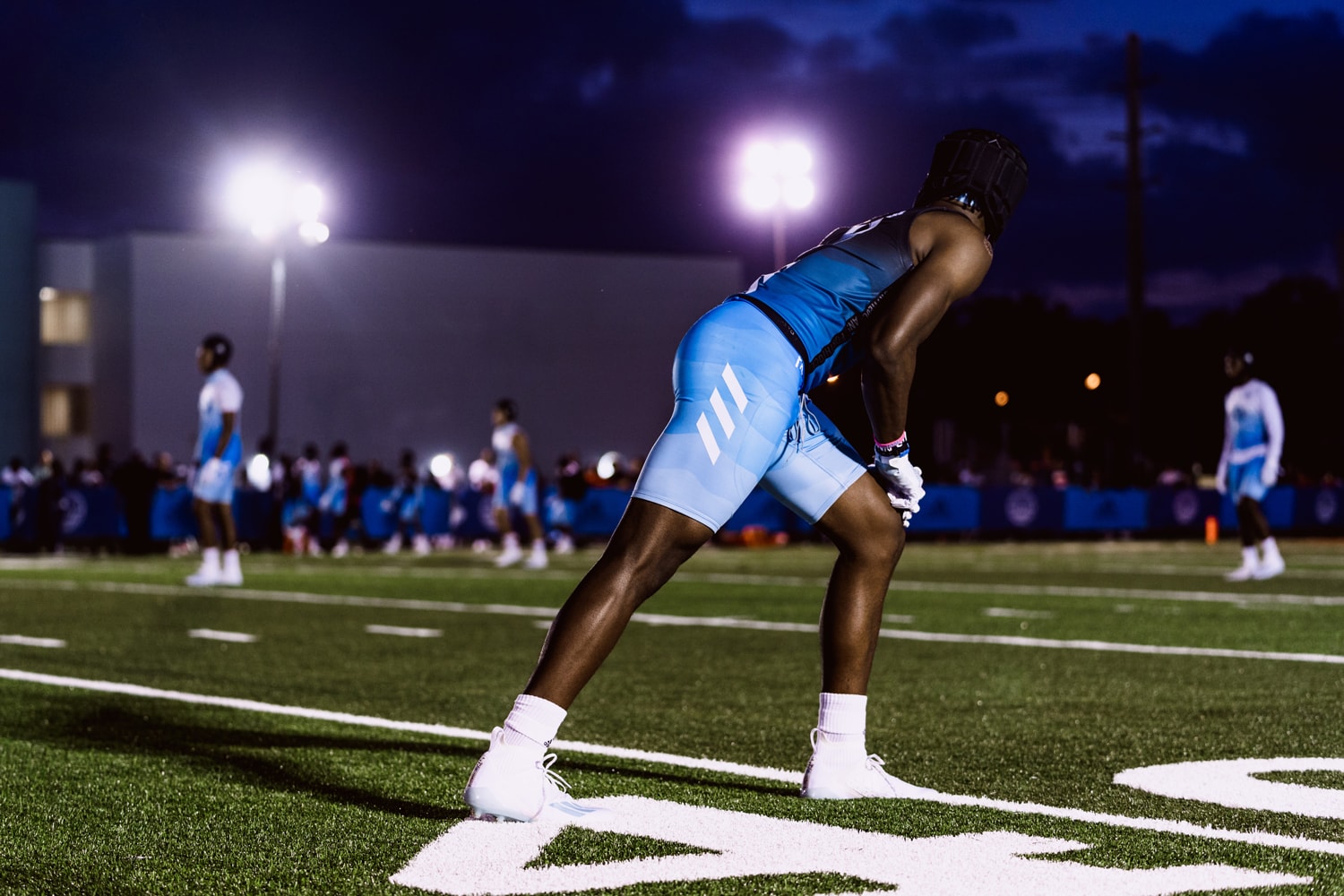 7 of 10
8 of 10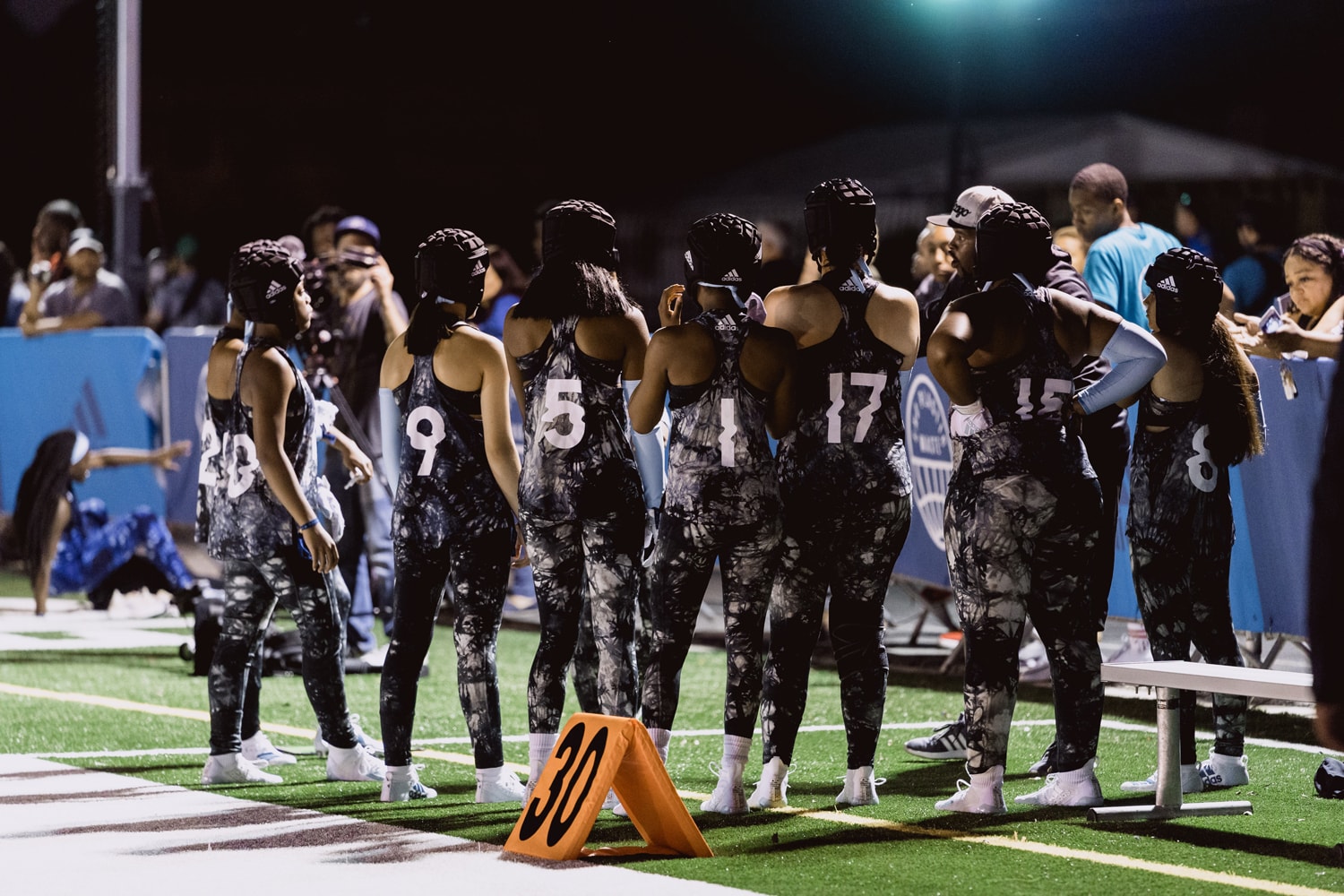 9 of 10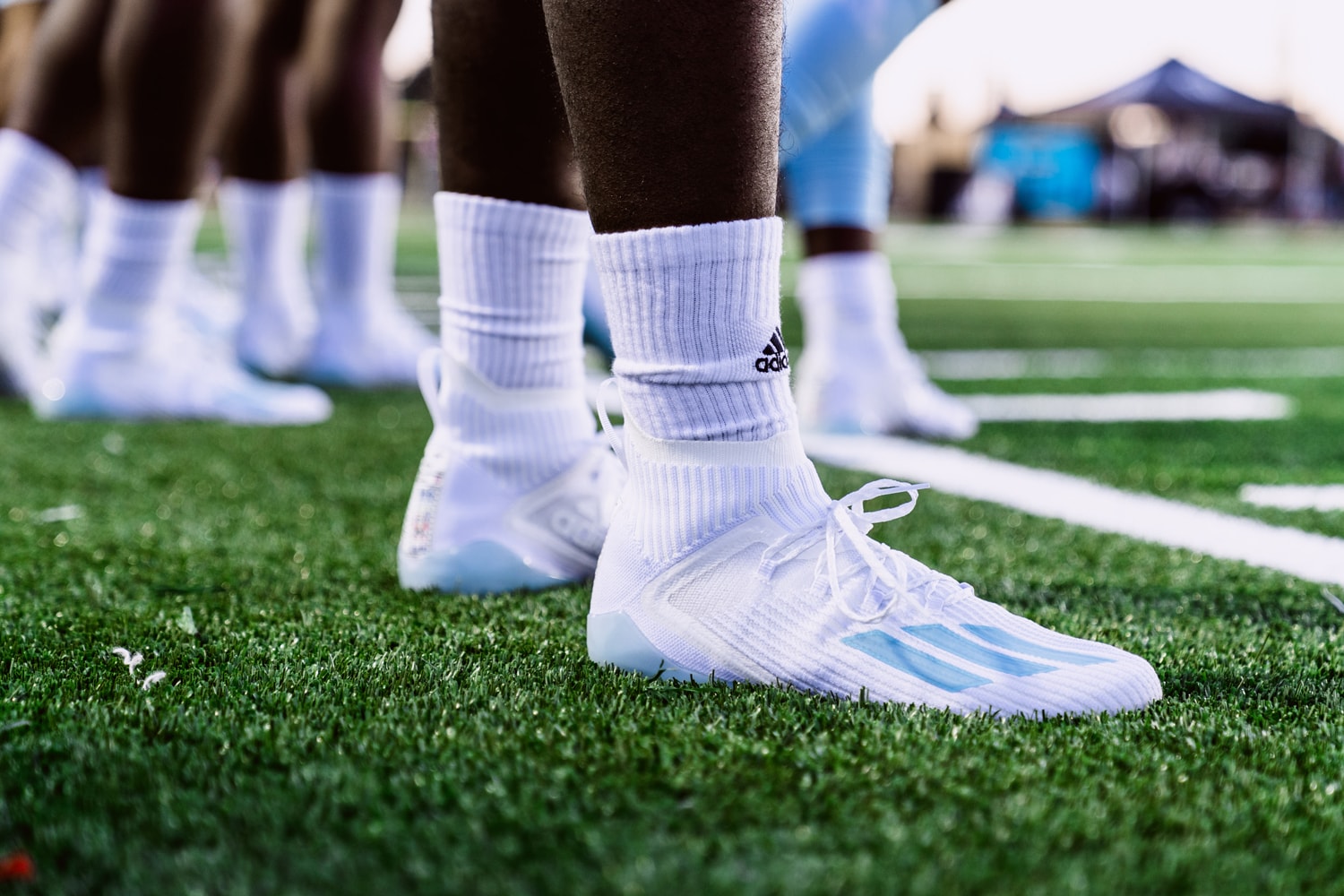 10 of 10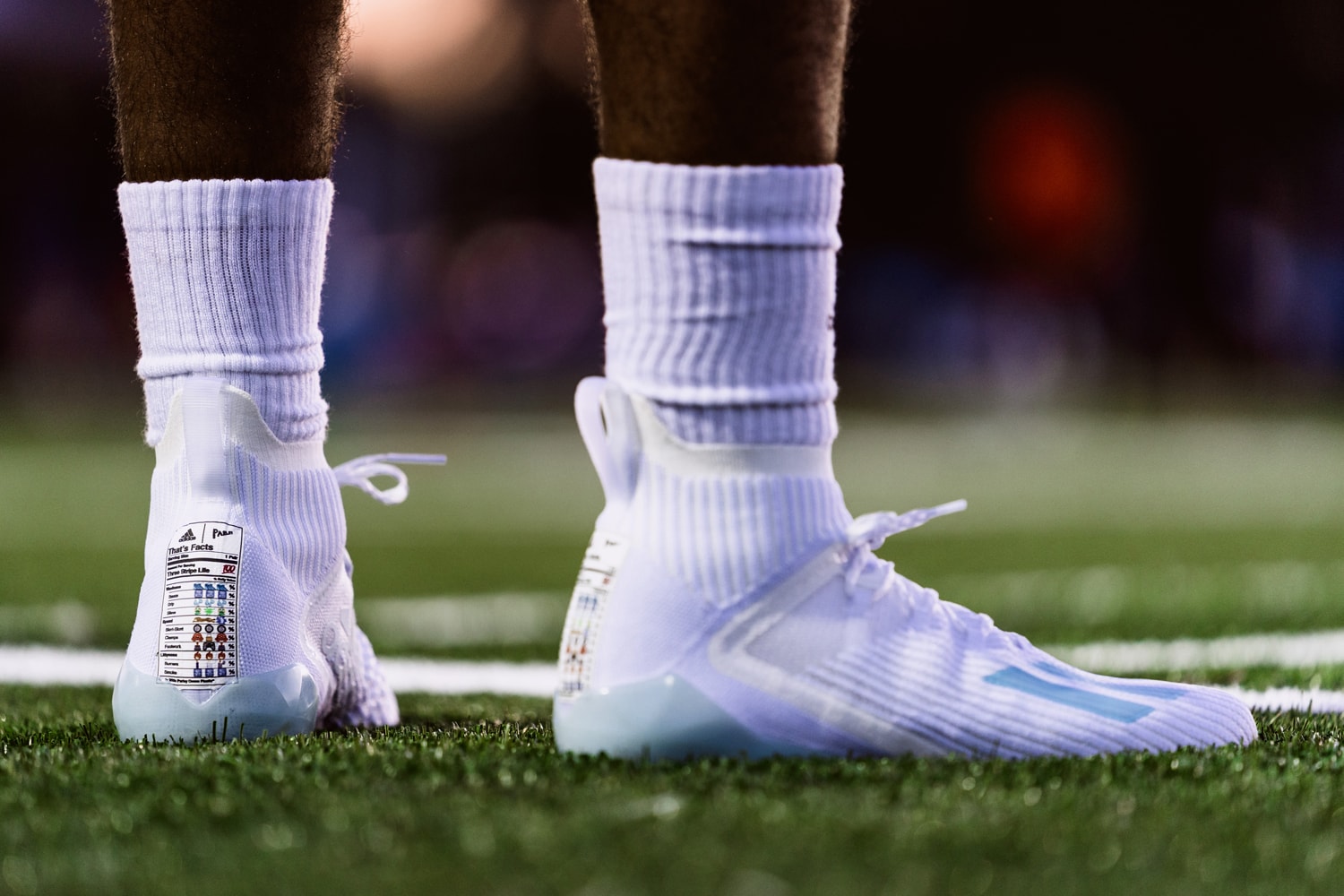 Since 2015, adidas and Parley have worked together to recycle oceanic plastic into various materials that are used in footwear and apparel. In the German sports brand's latest sustainable initiative, it announced that 50% of all the polyester used in products will be recycled by the end of 2020. To jumpstart this campaign, adidas unveiled PRIMEBLUE and PRIMEGREEN, two new performance fabrics where 100% of the polyester used is recycled.

PRIMEBLUE contains Parley Ocean Plastic and is now included in some of the brand's most popular and visible performance products, such as the UltraBOOST 20 and the uniforms of the USA Volleyball team and the University of Miami Hurricanes. PRIMEGREEN on the other hand contains no virgin plastic, and will be available later this year on or within a number of key adidas products.

With these new performance fabrics, adidas is also working with its premier American sports partners (MLS, NHL and the Power 5 NCAA football programs) to transition to more sustainable uniforms by 2021. By 2024, adidas will use only recycled polyester in all products across the business, and by 2030, it'll have reduced the company's carbon footprint by 30%, as compared to 2017. All of these goals not only fight to end plastic waste, but adidas hopes that by 2050, it'll have achieved full climate neutrality. "The best system is not our 90-year-old plastic engineering, it's the 300-million-year-old process that nature created, which is biodegradability." These goals are all led by the brand's "three loop strategy." The first, the recycled loop, aims to turn all virgin plastic into recycled plastic, starting with the two aforementioned materials. The second loop, the circular loop, goes a step further by making the products themselves fully recyclable. This was kickstarted last year with the Futurecraft Loop sneaker. Lastly, "the holy grail" according to Carnes, the bionic or regenerative loop will deliver apparel and footwear that are 100% biodegradable. "The best system is not our 90-year-old plastic engineering," says Carnes, "it's the 300-million-year-old process that nature created, which is biodegradability."

During this past week's unveiling of PRIMEBLUE and PRIMEGREEN in Miami for Super Bowl LIV, adidas went beyond apparel, rebuilding Miami Edison High School's football field with Parley Ocean Plastic. The field is made with approximately 1.8 million recycled bottles collected from remote islands, beaches, coastal communities and shorelines, thus preventing this litter from polluting our oceans. "More than a place for these young athletes to play, it's a reminder of our collective responsibility to end plastic waste," says Collins.
Many of those young athletes won't have the luxury to ignore Earth's cry for help, and as such adidas ditched Super Bowl week's ostentatious yacht parties to host a very different kind of boat adventure. adidas and Parley launched North America's first Academy for the Oceans at the University of Miami with an immersive approach to environmental education for the next generation of changemakers. Their goal: "elevate the discourse about environmental stewardship and sustainability with the community."

"We're recreating the education of undergrad students, modifying the way we're teaching and delivering the curriculum," says Roni Avissar, dean of the Rosenstiel School of Marine and Atmospheric Science. "Instead of being classroom-based, which has been the tradition for many years, we are changing that to a research-based education. We take the students as a small group, typically 10 to 12, we give them a real research problem to work on with the faculty; so they learn through doing the research."

HYPEBEAST got a chance to experience this new approach first hand as we boarded the Rosenstiel School's primary research vessel, the F.G. Walton Smith, named in honor of the School's founder. There, we saw how students and faculty are measuring the Atlantic Ocean's various vitals as well as the amount of plastic that's in it.

"We're looking at significant environmental problems in relation to the ocean," explains Dean Avissar. "It's clear that plastic in the ocean is a huge environmental issue. It is being transferred into the fish, the marine life, and entering the food cycle of pretty much everyone. It's a critical issue."
1 of 5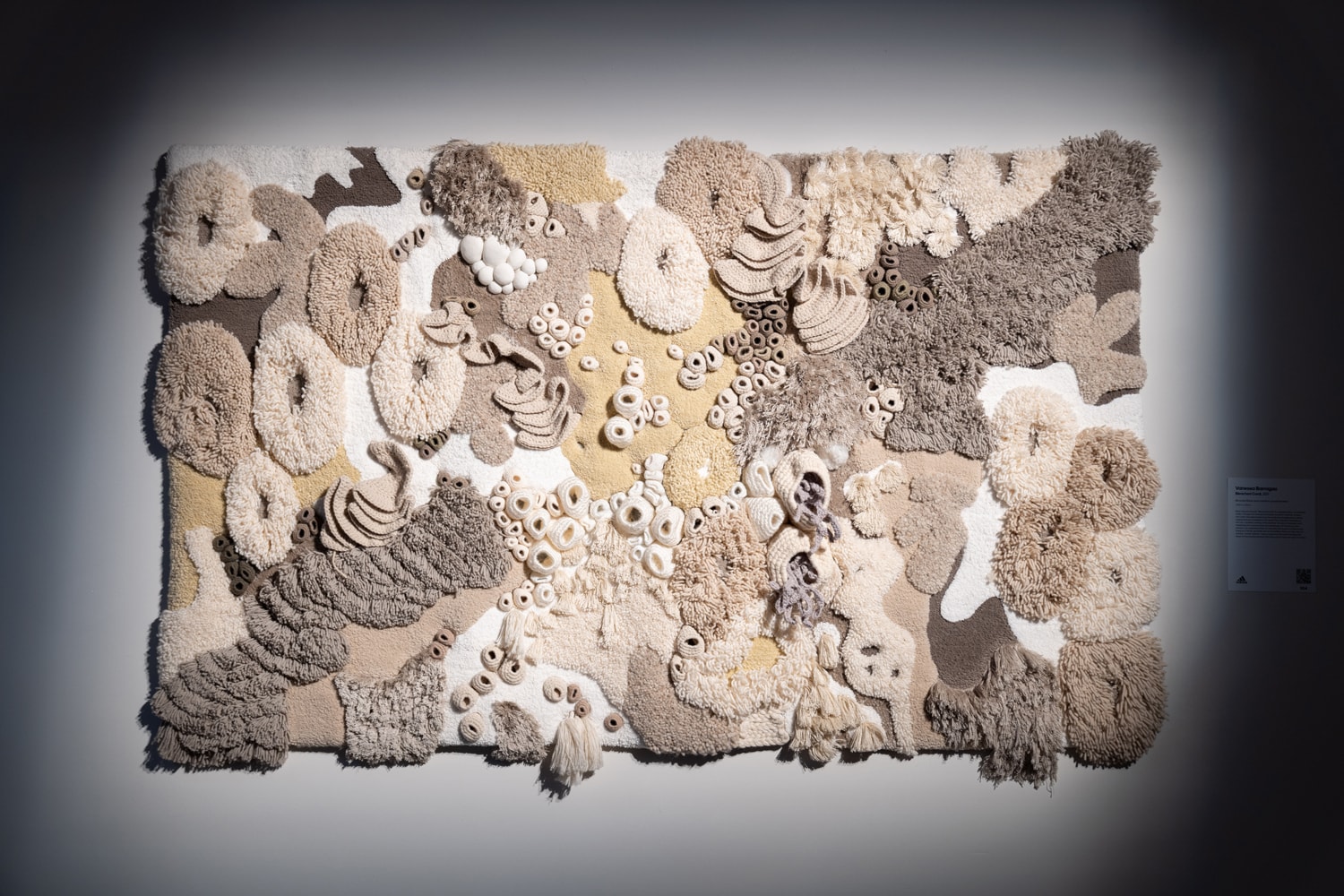 2 of 5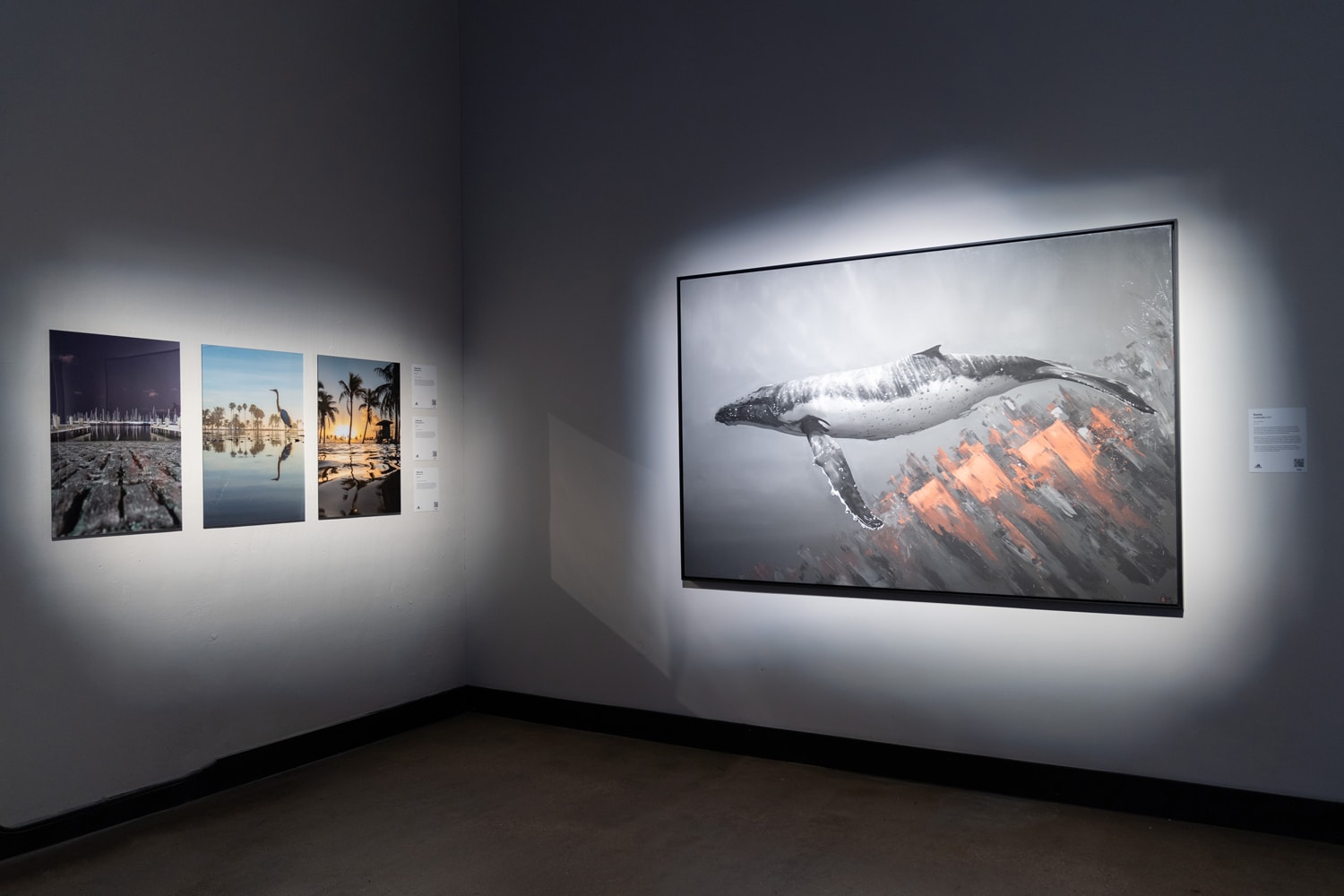 3 of 5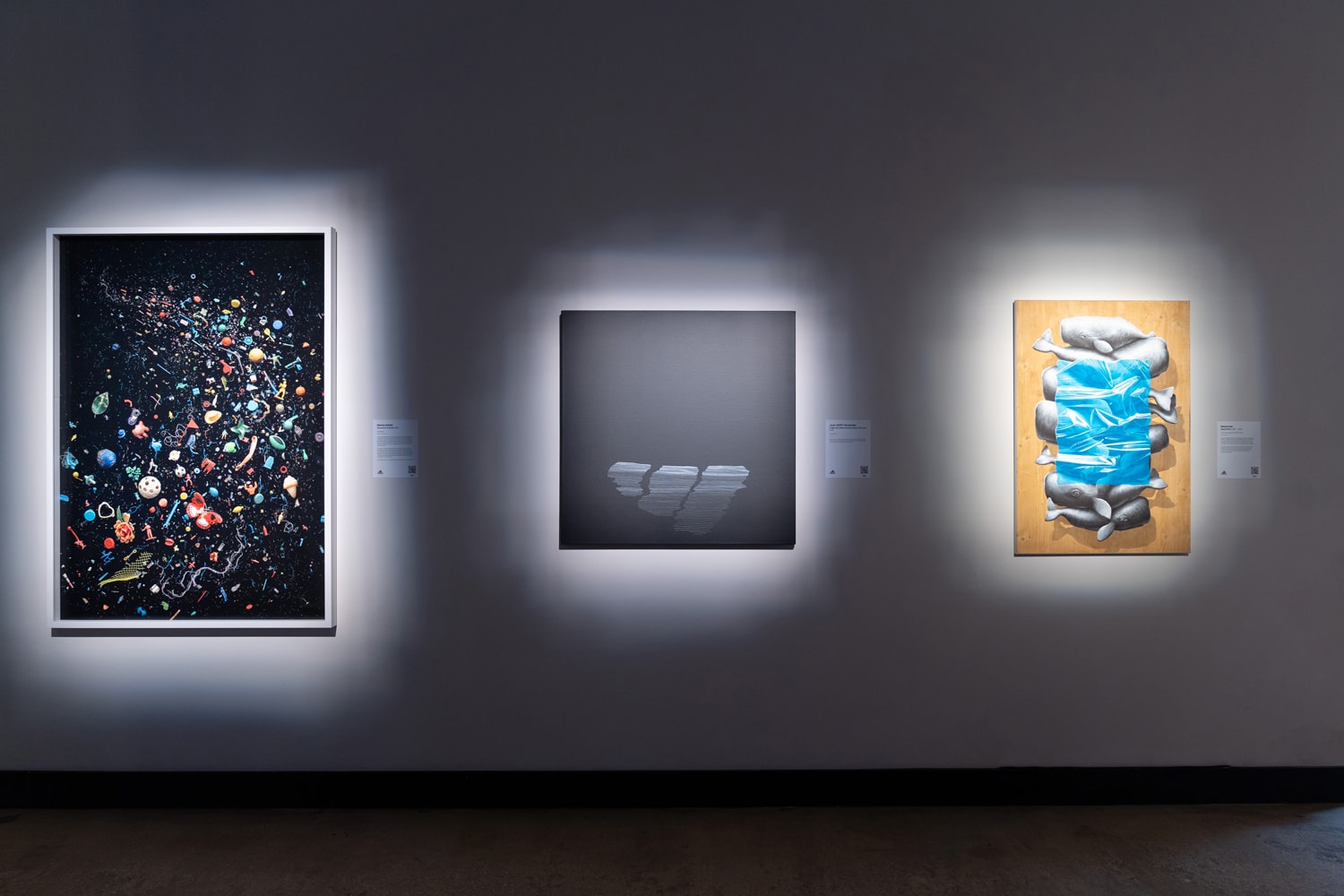 4 of 5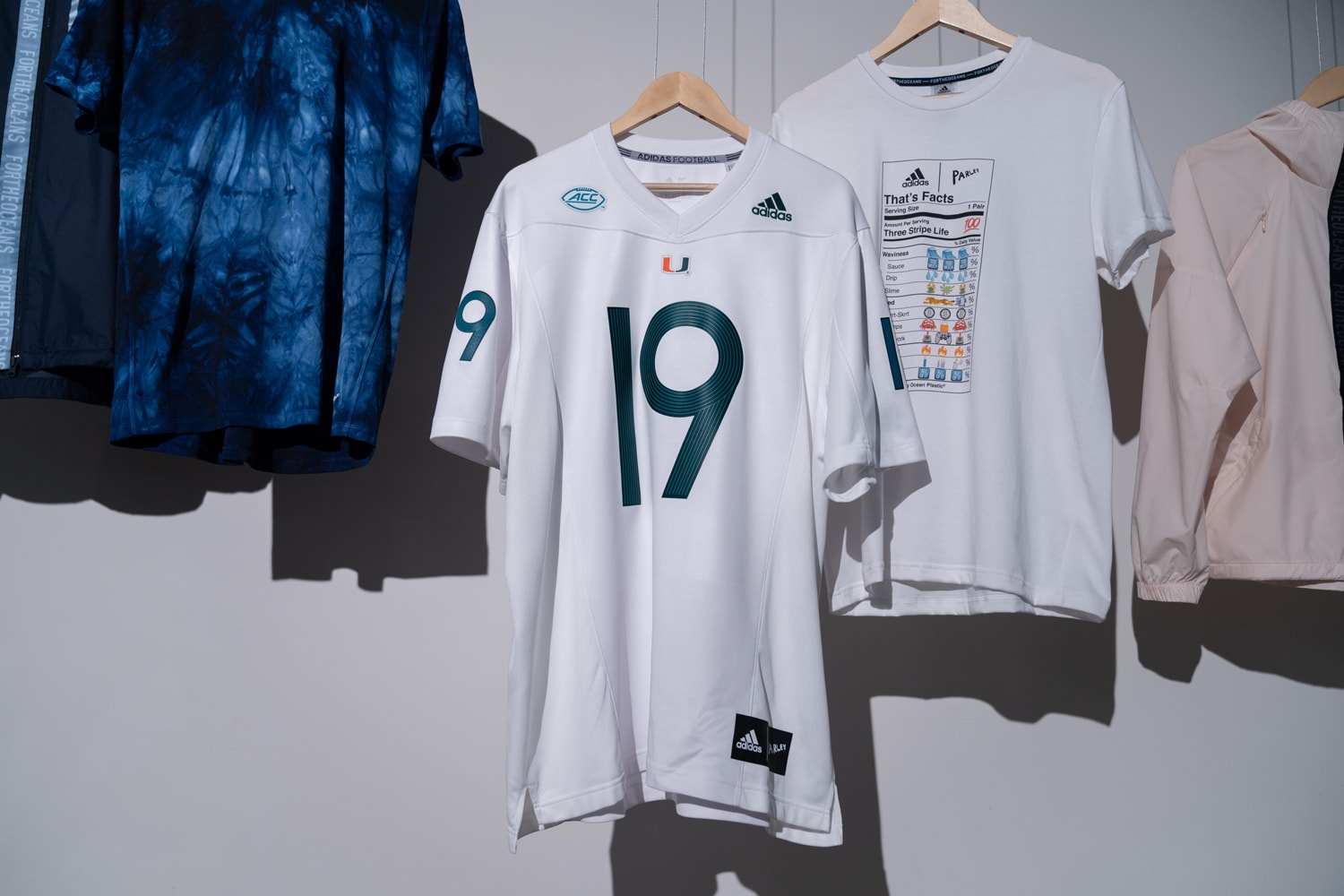 5 of 5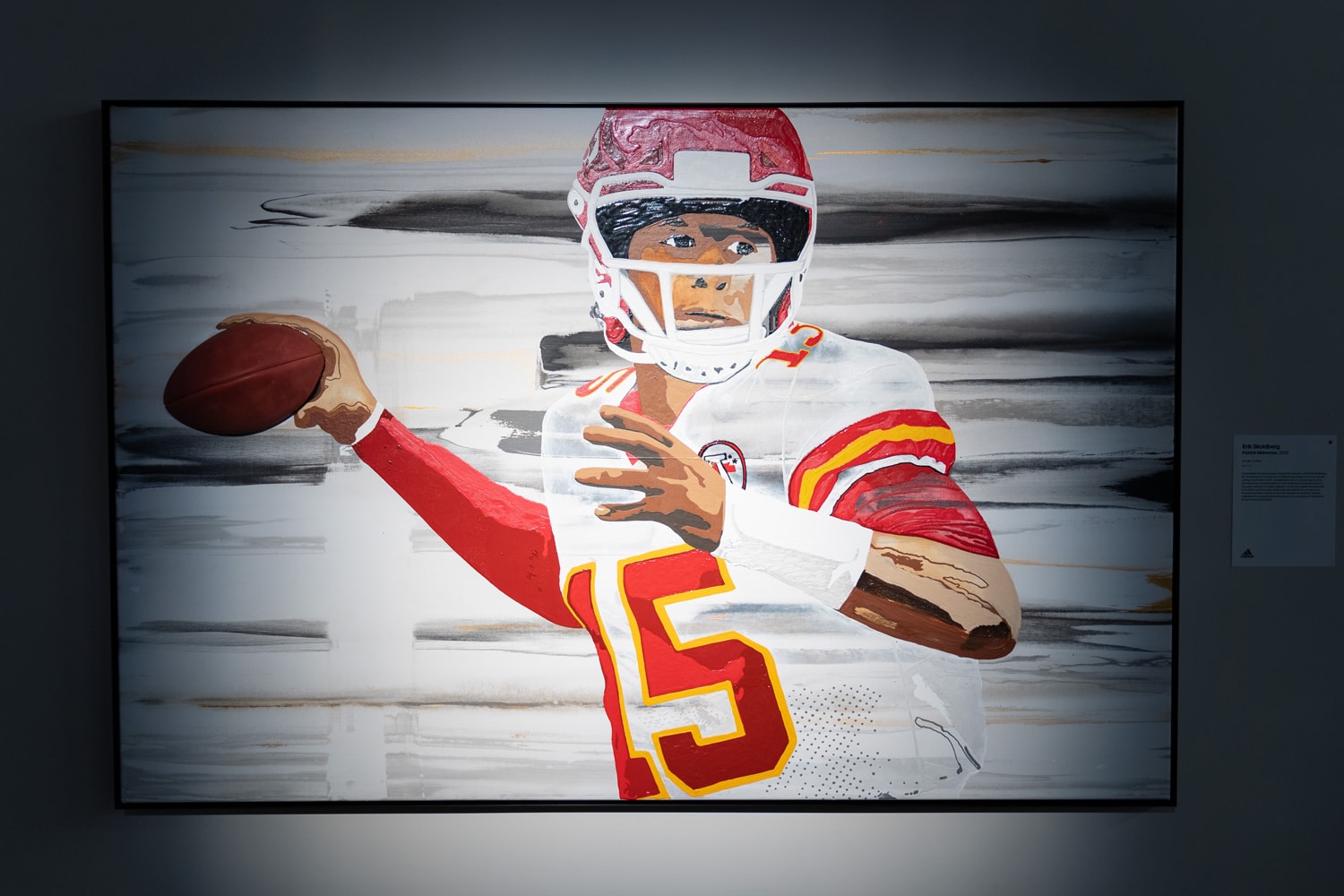 "I recently saw a video of a fish somewhere," starts Jimmy Graham, five-time Pro Bowl tight end for the Green Bay Packers and former two-sport star at the University of Miami. "It was just floating dead, and this guy takes out and opens the fish's stomach and it was full of plastics. It was eye opening; I'm glad he posted that because it brings awareness to this serious issue."

Graham and fellow NFL tight end David Njoku joined us for the boat trip, in addition to a small group of young, local students looking to learn more about the future of our oceans and marine life, as well as their own future in relation to them.

"We have to start with the youth," urges Graham, "providing them with educational programs, beginning as young as possible and up through college. Then we need to make sure that there's these certain classes available at every college, or programs that students can get involved in to help out their local community and environment. Our community is our planet." "There's not a lot of time to get this done; the competition here is not other brands, it's time." Graham's statement brings us back to the urgency of our planet's health. But to be fair, there are many people who just don't have the capacity to alter their life around their carbon footprint. There are countless families in Miami-Dade County alone who are more preoccupied with healthcare, education and income than they are with what, where, when and how to recycle their waste, making climate change as much of a class problem as it is an environmental one. But still, while businesses are the one's polluting Earth at a much more tremendous rate then we are, we the consumers have the ability to push them to be more ethically and morally responsible.

"We gotta do everything that we can do as a company to stop doing the wrong things when we create the products that people want," says Carnes. "But what I hope we can do is, that us, humans, need to start thinking about what's more important to us."
If adidas is so conscious of its plastic waste, why not end it right now? A lot of it has to do with our behavior as consumers. "If people work out, go for a run, do yoga, we're obsessed with being at a temperature that we can feel comfortable and perform within," explains Carnes. "Cotton just stays wet. There are other materials out there but they're super expensive. So you can say 'we're no longer using polyester,' but then you'd have to get used to being wet all the time when we do sport or used to paying $400 USD per T-shirt."

Carnes promises that adidas is researching and partnering with startups to help make those high-end materials more affordable. He went further to tell us about ones that are developing biofabricated and mushroom-based leathers, as leather is another material that the fashion industry is overproducing and thus causing its own environmental devastation.

It was exciting to see that various initiatives adidas is leading to end plastic waste while protecting our beloved sports, both on a grassroots and product level, but it was still quite daunting to hear about the uphill battle Earth and its inhabitants have to face. Luckily, Dean Avissar was there to slightly ease our concerns.

"Is it all 'reversible'? The climate and the planet is an evolving system, so reversible is a big word. The planet has seen different activities from a climate and biological evolution point of view, so going back to what it was is not necessarily a target, but making sure we do not damage the planet more than what we've already done is a big ethical concern."

The dean adds, "The world as we know it will be different for the next generation, but the human population is adapting, in a tremendous way, and even under a changing climate, Earth is not near collapse. The ecosystem of the planet will evolve, some places may change for the better, others for the worst."

Sports too are adapting, even the Olympics. Faced with the threat of extreme heat and overcrowding, the Tokyo Olympic Committee released a 38-page report last year detailing various countermeasures for the rising temperatures, from large misting fans to colorful rows of flowers that create cool microclimates.

"There's not a lot of time to get this done," urges Carnes, "the competition here is not other brands, it's time."