Nike SB Dunk Low "Street Hawker" Salutes China's Omnipresent Food Carts
Designed by Guangzhou artist Jason Deng, the special makeup features 22 separate street food-inspired details.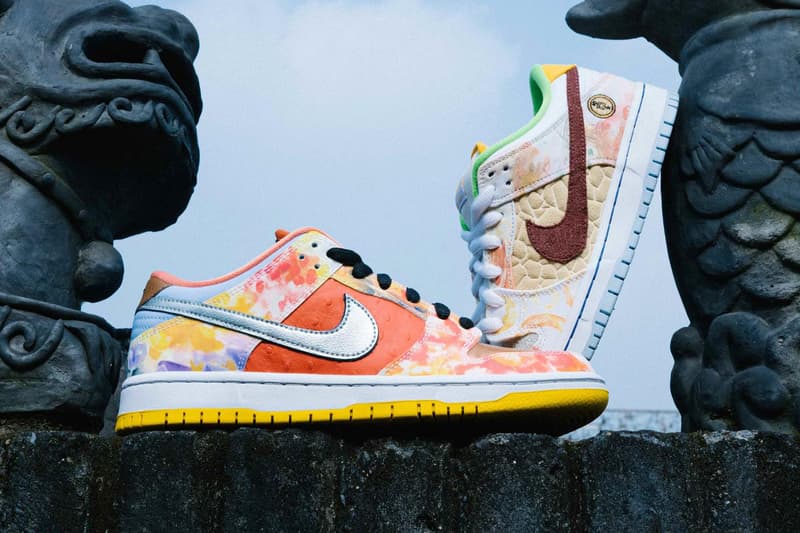 1 of 10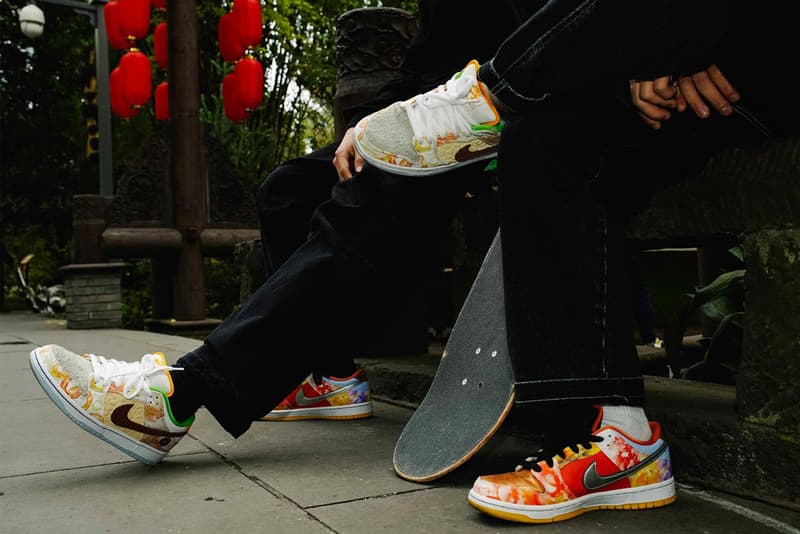 2 of 10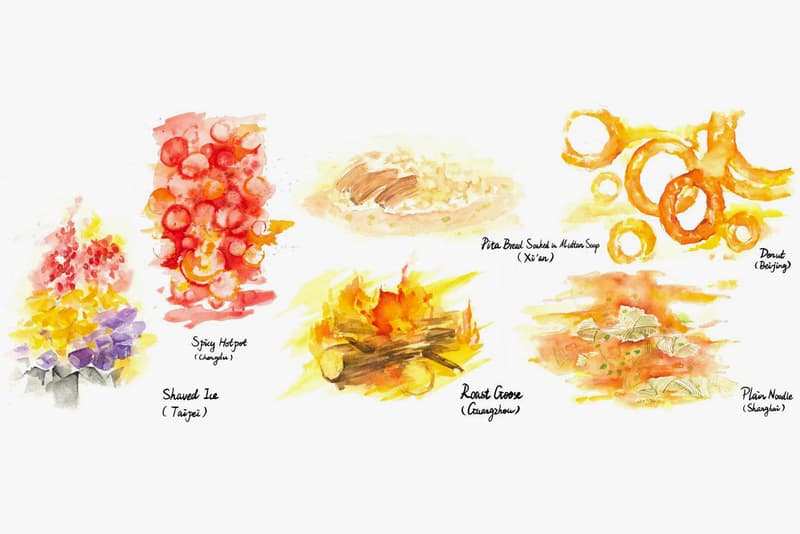 3 of 10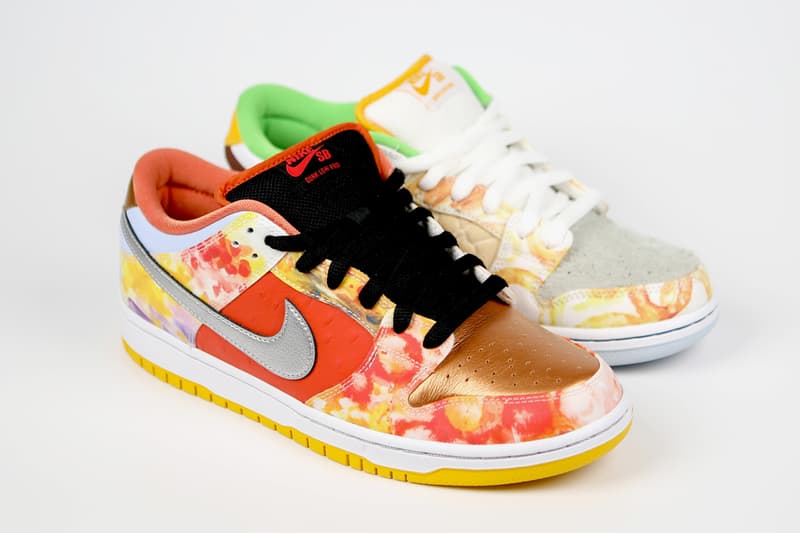 4 of 10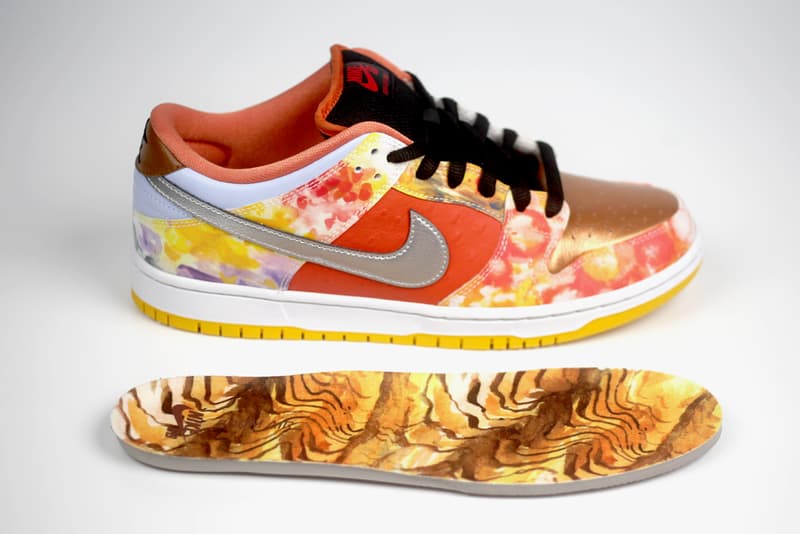 5 of 10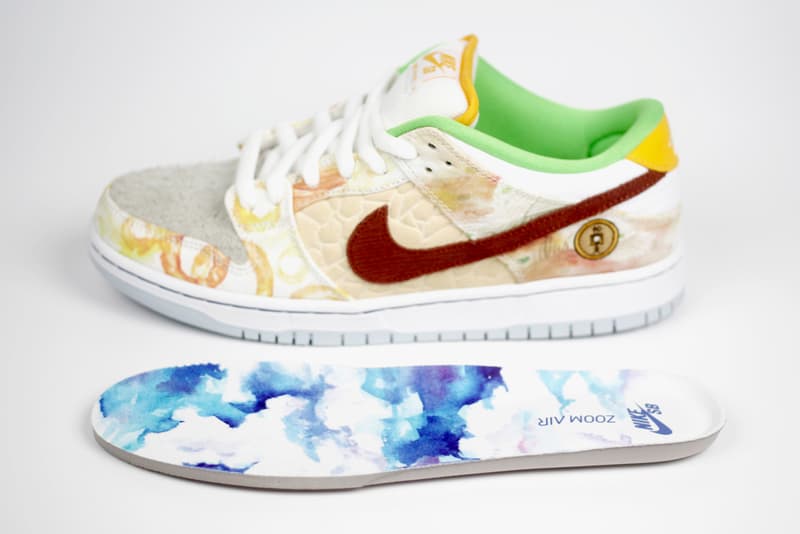 6 of 10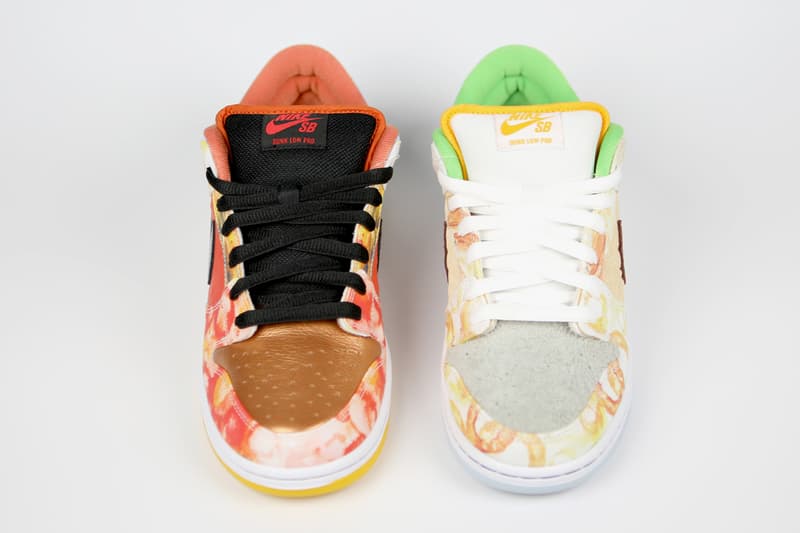 7 of 10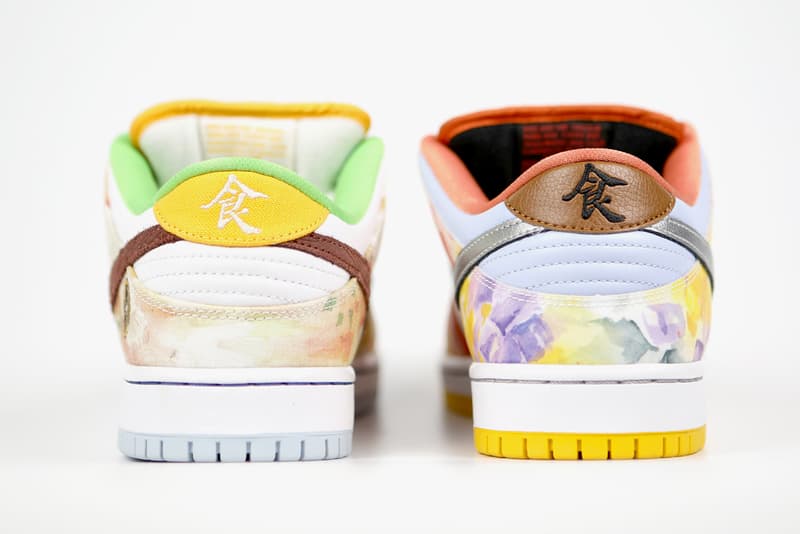 8 of 10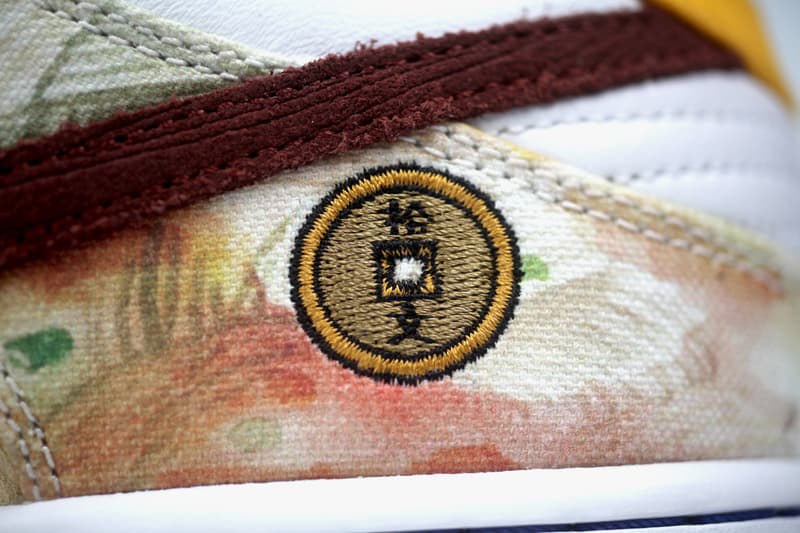 9 of 10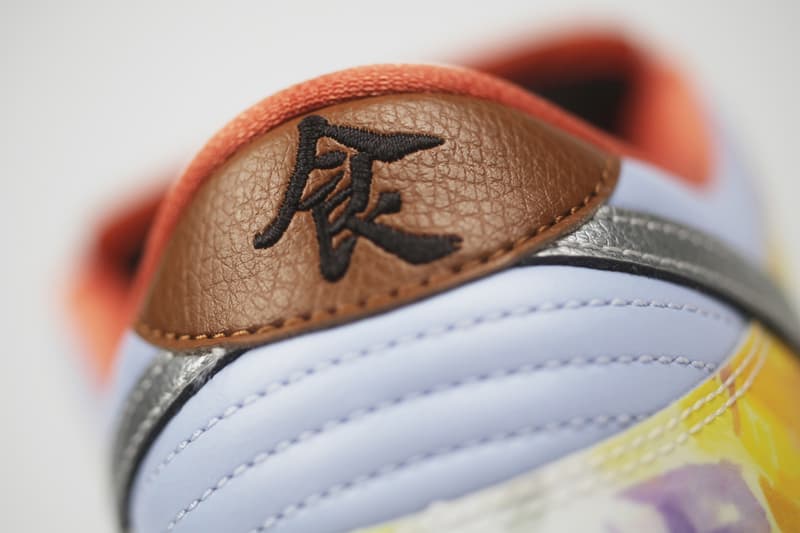 10 of 10
Nothing brings people together quite like food, so Nike SB is saluting China's omnipresent street food carts and the famed dishes they serve with a new SB Dunk Low "Street Hawker." Designed by Guangzhou artist Jason Deng, the special makeup features 22 separate street food-inspired details that draw from inspirations diverse as flour-based dishes, Yangchun noodles, 10-cent copper coins and chopsticks. All of these pieces are centered around six regional dishes from six Chinese cities, referenced in an above-pictured watercolor painting from Deng himself.
As you'd assume from a shoe that culls inspiration from this many sources, the look is wild, mismatched and playful. The right shoe is the more colorful of the bunch, supplying everything from a rich red quarter to vibrant smoke patterns on the top eyestays and around the collar. Not to be outdone, the left shoe gets in on the action too with a neutral-toned base, shaggy gray suede toeboxes and brown Swooshes. Nike has provided an in-depth breakdown of each and every piece as well, which can be seen in full below.
Left Shoe

1. The left shoe uses a lighter beige for three flour-based dishes.

2. The suede toebox mimics the color and texture of green bean soup (Douzhi) from Beijing.

3. Donut (Jiaoquan) patterns on the forefoot pair with the green bean soup.

4. Embossed suede on the lateral side shows shredded pita bread pieces for a traditional Xi'an dish: pita bread soaked in mutton soup.

5. That mutton soup is represented in water-color patterns across the lateral side.

6. The Swoosh is depicted in a wood-grain texture to represent chopsticks.

7. On the lateral heel, water-color fading looks like Shanghai plain noodles, also called Yangchun noodles.

8. An embroidered 10-cent copper coin appears on the lateral heel, hinting at Yangchun noodles.

9. The left insole resembles a blue sky, inspired by traditional Chinese slang implying that people treat food as their heaven.

10. The blue lining of the left midsole mimics the blue-and-white of fine porcelain bowls.

Right Shoe

11. The right shoe features hotter colors to represent different heats, from spicy to sweet.

12. The metallic color on the right toebox is pulled from Chengdu hotpots in which dishes are cooked.

13. Boiling chili-oil treatments bubble around the toebox.

14. Ostrich leather on the lateral side is inspired by the crispy roasted goose skin that's famous in Guangzhou.

15. The silver Swoosh resembles the metal hook used to hang the roast goose.

16. The flame and Lychee wood used to roast the goose appears in a watercolor pattern around the eyelits.

17. Shaved ice and taro balls — a common Taipei dessert — can be found on the heel counter.

18. The insole paints the scene of a bench terrace, a landscaping method used to grow rice paddies.

19. The collar lining reflects the color of meat dishes.

20. The yellow outsole represents cooking oils.

Both Shoes

21. Heel tabs feature Chinese calligraphy for "food" in black and white thread.

22. Four colors of laces are inspired by four essential seasonings in Chinese cuisine: green (shallots), yellow (ginger), white (garlic) and black (black pepper).
Look for the Nike SB Dunk Low "Street Hawker" to release via Nike SNKRS and skate retailers like The Berrics Canteen on January 22.
For more news on upcoming sneakers, check out the latest installment of HYPEBEAST's weekly Best Footwear Drops list.