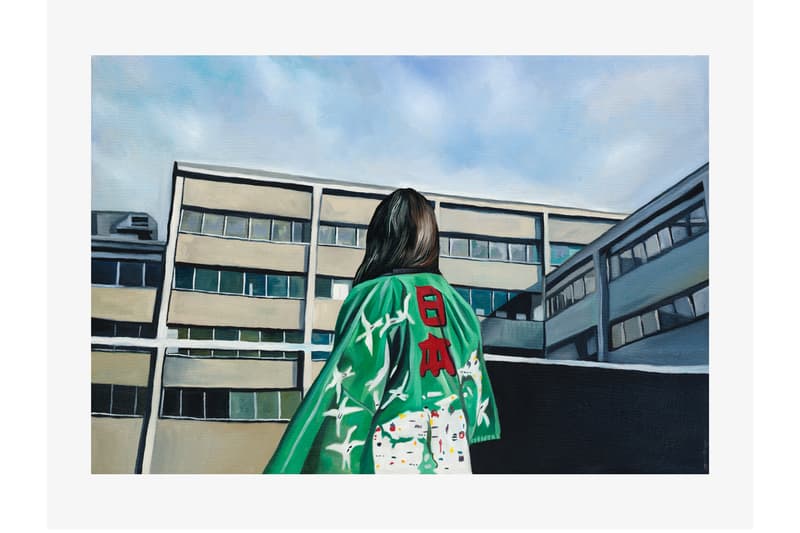 Andrea Wilkin Releases Limited Print Celebrating Japanese Festivals
Inspired by an original portrait painting.
---
Montreal-based visual artist Andrea Wilkin recently unveiled a limited edition print entitled "日本" or "Japan" in English. The print edition was inspired by an original oil painting portraying the artist's sister clad in a Japanese garb. Every summer, the Japanese Canadian Cultural Centre of Montreal (JCCCM) hosts a large "matsuri" which is the Japanese word for festival. Wilkin and her sister volunteered at the festival back in 2016, assisting visitors with face-painting in the matsuri games section. The garb worn in her painting is called a "Happi coat" and the characters on the back portion of the robe can be read as "Nihon" or Japan in English.
"Being half Japanese and having spent my childhood in Japan, experiencing the full matsuri – following crowds of people through the streets as they carry a shrine on their shoulders, playing matsuri games, eating Japanese street food and wearing traditional garbs – is very special to me," said Wilkin. "There is more than 300,000 matsuri held across Japan each year, typically sponsored by a local shrine or temple. These festivals are in celebration of the shrine's deity or a historical event. An important element of matsuri is the carrying of the shrine's kami (Shinto deity). It is held to show thanks to the kami for nature, for life and for growth in a community. It is the only time of the year when the kami leaves the shrine to be carried around the town."
Each print measures 18 by 24 inches and arrives in an edition of only 40 batches. Head to The Letter Bet's website to purchase one now for $150 CAD (approx. $117 USD).
Elsewhere in art, Cai Guo-Qiang unveiled his first-ever virtual reality artwork.