8 Drops You Don't Want to Miss This Week
Featuring Supreme, Rick Owens, Awake NY, Stüssy, P+F and Palace.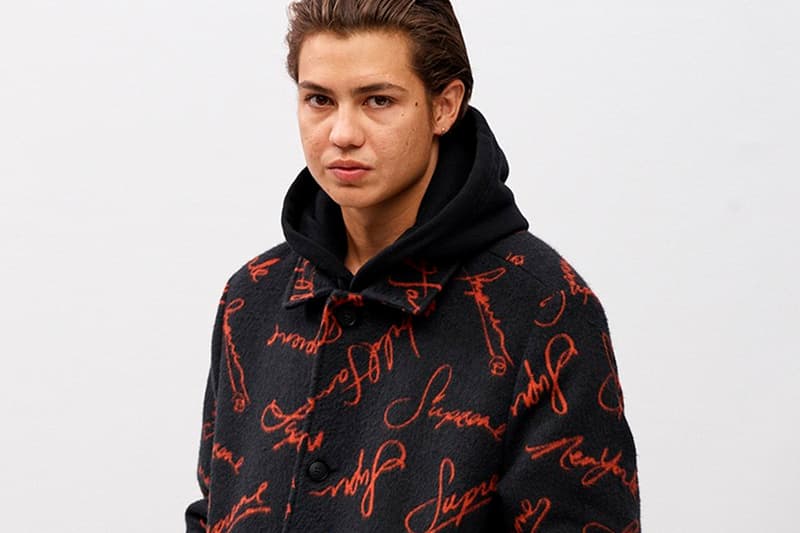 With another week upon us, we have yet another installment of our product drops series. Leading the list is the twelfth drop from Supreme's Fall/Winter 2020 collection along with Palace's Winter 2020 Week 7 drop complete with its Whitney Houston capsule.
For its Week 12 release, Supreme has readied a team-up with frequent collaborator Timberland. Coming together, the duo put together three colorways of the reimagined New York classic 6-Inch Premium Waterproof Boot.
Another standout collaboration is the 40th-anniversary commemorative range from Stüssy and COMME des GARÇONS' CDG sub-label. Other FW20 releases this week come in the form of seasonal ranges from Places+Faces, Awake NY and Carhartt WIP. Rounding up this week's drops is Guerrilla Group's OSVI – Season 2 "TOSY / To Only Saving You" collection and Rick Owens' FW20 "PERFORMA" denim collection exclusive to Self Edge.
Guerrilla-Group: OSVI – Season 2 "TOSY / To Only Saving You" Collection
After establishing its experimental seasonless display format, OSVI, Guerrilla Group has returned with OSVI – Season 2 "TOSY / To Only Saving You."
The range introduces "STREAMERS," an underground organization in Shared Synthetic Hallucination – New Reality (SSH-NR) with a purpose and origin that remains a mystery. Standouts include distressed lamb wool knit pieces, Japanese haori jacket inspired outerwear crafted with THERMOLITE® linings and edgeless 3XDRY® pleated skirts. The concise range blends elements of functionality through textiles and military uniforming with utilitarian details underscored by relaxed fits, distressing and asymmetrical cuts.
When: Now
Where: Guerrilla Group
Rick Owens "PERFORMA" Self Edge Exclusive Collection
Building on their relationship, Rick Owens has prepared an exclusive collection for denim purveyor Self Edge.
The FW20 "PERFORMA" denim collection features a workwear focus and is entirely made in Japan. The staple denim pieces come in the form of; the Duke, a slim-tapered overdyed pant; the Detroit, a straight-leg pair of jeans; the Worker Jacket, a modified 13.75oz Type III denim jacket; and finally, the Outershirt, a heavy-duty overshirt that doubles as a light denim jacket. Each item is defined by details like black-wax coating, DARK DUST construction, squared pockets, and thick cowhide patches.
When: Now
Where: Self Edge
Carhartt WIP Fall/Winter 2020 Collection
Carhartt WIP has returned with its latest seasonal range centered around the development of diverse fabrics and innovations.
Corduroy and wool serve as the base of the range, providing warmth and balance with functional materials and rich layers of purples, caramels and beiges as the main color tones. Adding functionality to the collection is American thermal Polartec fleece, matching Nord Jacket and Pants, along with light and breathable fabrics for an all-round winter-ready series.
When: Now
Where: Carhartt WIP
Awake NY Fall/Winter 2020 Collection
Aside from its recent Social Studies collaborations, Awake NY has now readied its FW20 collection comprised of street leaning options for the season.
Standouts include a brick red two-piece wool suit with tweed panels and silky Awake-branded shirts, as well as a pullover sweater emblazoned with "TEACH THE CHILDREN THE TRUTH" and an electric blue sweater vest knitted with a lemon at the chest. Cozy styles include four hoodie-sweatpants sets include a pair dressed in Realtree camouflage, while hats, flannels and an array of new graphic T-shirts round out the collection.
When: November 12
Where: Awake NY
Supreme Fall/Winter 2020 Week 12 Drop
Continuing its major FW20 collaboration series, Supreme has teamed up with Timberland once again for its Week 12 Drop. Coming in three colorways, the boot range is made exclusively for Supreme and reimagines a New York classic.
The take on the iconic 6-Inch Premium Waterproof Boot features a premium nubuck upper reinforced by rugged triple stitching seam-sealed construction and marked with printed logos from both brands. Additional branding comes in the form of a co-branded hangtag, Supreme logo tab, debossed Timberland logo at heel and printed insoles. Aside from buttery leather collars, the boots come with 400 grams of PrimaLoft insulation and leather lining. Finally, the leather-lined anti-fatigue footbed is paired with a rubber lug outsole is made with 10 percent plant-based materials.
The accompanying Week 12 Drop is led by the Script Logos Wool Overcoat, Aerial Tapestry Harrington Jacket with matching Crewneck, Jeans and Skateboard, Velvet Work Jacket with matching Trousers, and Checkerboard Zip Up Sweater. Other standouts include the Studded Collars Hooded Sweatshirt with matching Rayon Shortsleeve Shirt, Sweatpants and Vase, Hooded Shadow Plaid Shirt and Multi-Color Logo Longsleeve Top. Headwear this time around comes in the form of the Ripple Corduroy Small Box 6-Panel, 2-Tone Canvas 6-Panel, Garage Beanie and Multi Stripe Beanie. While this week's boldly branded accessories include the two-gallon glass Fish Bowl with embossed logo and Opinel No.08 Folding Knife coming in two colorways with a stainless steel 3.28" retractable blade.
When: November 12, 11 a.m. EDT & Japan Release November 14, 11 a.m. JST
Where: Supreme Online
CDG COMME des GARÇONS x Stüssy 40th Anniversary
After helping kick-off Stüssy's 40th-anniversary celebrations, COMME des GARÇONS' CDG sub-label has come together with the streetwear imprint for another commemorative release.
Relying on staple silhouettes, the special range features repurposed graphics, each updated with thematic appeal. Prints include a classic Stüssy circular logo elevated with CDG branding and vice versa, as one shirt boasts the familiar stacked "CDG" graphic atop Stüssy's own logo. Standouts found in the range include a military olive bomber jacket, striped Bing jacket and Beach pant set.
When: November 13
Where: Dover Street Market
Places+Faces Fall/Winter 2020 3rd Drop
Coming with the third installment of its FW20 offering, Places+Faces has prepared a staple assortment of logo T-shirts, accompanied by Sherpa Jackets and corduroy pants.
Designed for the cold-weather ahead, heavyweight pieces like the Sherpa Jacket and corduroy pants arrive in autumnal brown, creams and gray, while the T-shirts have been given similar palettes alongside a striking mint iteration. An interesting item coming this drop is a black hoodie marked by a Chenille application expressing the signature P+F logo.
When: November 13
Where: Places+Faces
Palace Skateboards Winter 2020 Week 7 Drop