Flock Together Provide a Positive Space to Channel Creativity Through Nature
Starring the new Lacoste and National Geographic collection.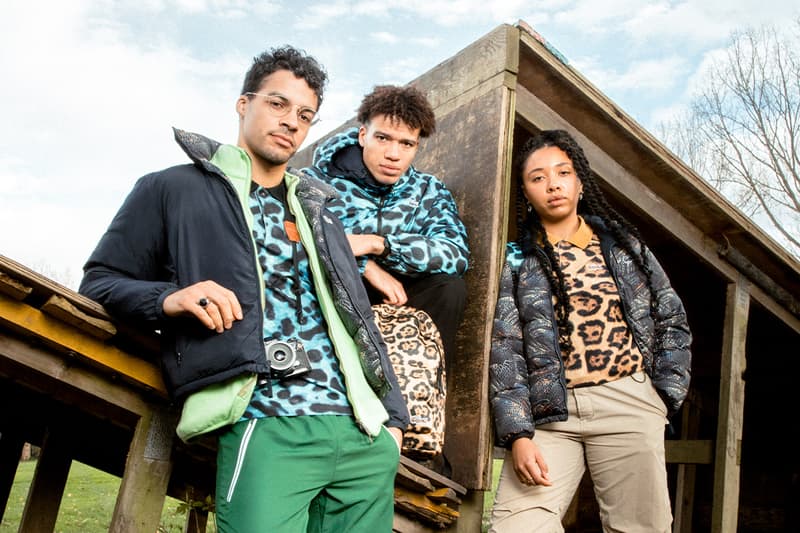 Challenging the underrepresentation of POC in nature, the birdwatching collective Flock Together reconnects young Londoners with the abundance of wildlife across the capitals' green spaces while offering an essential support system for the POC community. Following its success in London, the collective continues to expand globally, with Flock Together Chapters now operating in Toronto and New York.
HYPEBEAST spent the day with three Flock Together members, Filmmaker Will Carr, Creative Strategist Theo Bassett-Shand and Creative Producer Nnena Nwakodo, to talk about the therapeutic qualities of nature and the importance of representation within the outdoors.
The creatives are sporting the latest Lacoste x National Geographic collaboration, celebrating the beauty of the natural world with its print-heavy collection. Drawing inspiration from National Geographic's Photo Ark project, the range spotlights four key animals; the Grévy's Zebra, the Green and Black Poison Dart Frog, the Halloween Pennant Dragonfly and the Jaguar.
The four species are interpreted as graphics and prints on polos, jackets and accessories. All the materials within this offering are produced from recycled polyester, organic cotton and natural rubber.
Nnena Nwakodo, Creative Producer
Why is it essential for Flock Together members to transfer elements of curiosity and discovery into everyday life situations?
Nature makes you feel like time is standing still. I think curiosity and creativity breed in nature as your mind has a chance to slow down and explore the bigger ideas you typically don't have time for. A feeling we are often missing in the creative industries where deadlines are always imminent. I'm definitely bringing that slowed down thought process into my day-to-day.
As a Creative Producer, How do you see initiatives like Flock Together nurturing creativity and collaboration?
I knew I was part of something special when I wanted to produce every single idea that was shared on the walk! The Flock Together community is so supportive. There is no hierarchy or pre-judgments. When you marry that with the inspiration that nature provides…the sky's the limit!
How has being part of Flock Together impacted your work and social life?
Massively. Dealing with 2020 has been overwhelming for many reasons and having the opportunity to explore nature in a safe space with beautiful souls who instantly felt like my people – it's very special.
Theo Bassett-Shand, Creative Strategist
In what way is the sense of unity and community provided by Flock Together communicated to new members?
The moment you decide to get up on a Sunday to trek to Epping, Walthamstow, or Surrey you instantly become a part of the family. Sometimes you bump into people on the journey and after a few nervous looks you start chatting, which is always funny. We always break halfway through each walk so members can perform, share achievements or raise a topic for discussion. This is a special moment and the shared experience builds a sense of unity between the group.
How does the coming together of like-minded individuals help address POC's under-representation in nature and broader industries?
On our own we are left out of these spaces; but as a group we are invited inside. Our collective coming together has changed everything. From photographers to lawyers, musicians to journalists, there's so much talent in the group with valuable insights for the next generation. At the moment this information is passed on informally during walks but we are working on establishing official programs, creating opportunities and completely reimagining what a mentorship model looks and feels like, which is really exciting.
Understanding the attitudes and habits of specific demographics is a big part of your role as a Creative Strategist; what has it been like to hear the stories of individuals who have been inspired by the therapeutic qualities of nature?
It's been a really tough year for our community with a lot of people looking for an escape. Flock Together has become the vehicle for this release, allowing people to bring their life, projects and problems into perspective during the walks. The act of focusing on nature forces us to pause and slow down, grounding us in the present; reminding us that things will get better. Experiencing this power myself and hearing how it's improved other people's physical and mental health has been a joy.
Will Carr, Filmmaker
In what ways is Flock Together able to relieve the pressures of life in the capital?
Like any capital city, London life moves fast and living here comes with a hidden pressure to keep up, it's amazing how much extra stress is added to your life just by living in this environment. That didn't fully hit home for me until this year when we were all forced to put our lives on hold, work stopped and yet I still felt a huge pressure, mostly self-imposed, that I should be creating every day alongside starting several side hustles! I eventually realized that what I needed was the opposite, a space to slow down, escape the pressures of keeping up and just stop and enjoy the world around me in an open safe space, this is what Flock Together offers its members and I often find I have come away with new ideas and fresh energy to create off of the conversations and connections made on the walks.
As a filmmaker, what have been the creative benefits of spending more time in nature?
Being in nature calms your mind down and focuses your energy on being present. You start to notice details you would normally overlook and you learn how everything is connected. It frees your mind up of the clutter and helps focus your thoughts and creativity to where they need to be and helps you see creative challenges that generally revolve around urbanized thinking and roots, in a fresh way without the burden of past thinking.
How has your time spent with Flock Together influenced the films you've been making?
More so than the actual films I have been working on, Flock Together has influenced my approach to work and reinforced the importance of balance and belief in the work and ideas you want to pursue. Sometimes it can be lonely work, or an idea might seem too daunting but knowing that there is a safe, supportive network of like-minded people that are not only breaking down barriers on their own but will also listen, encourage and push you on your own is a comforting feeling.
Check out the new Lacoste x National Geographic collection in the galleries above and head over to Lacoste's website to shop the collection.