Travis Scott Drops "FRANCHISE" Remix Featuring Future
The Atlanta rapper elevates the chaotic track.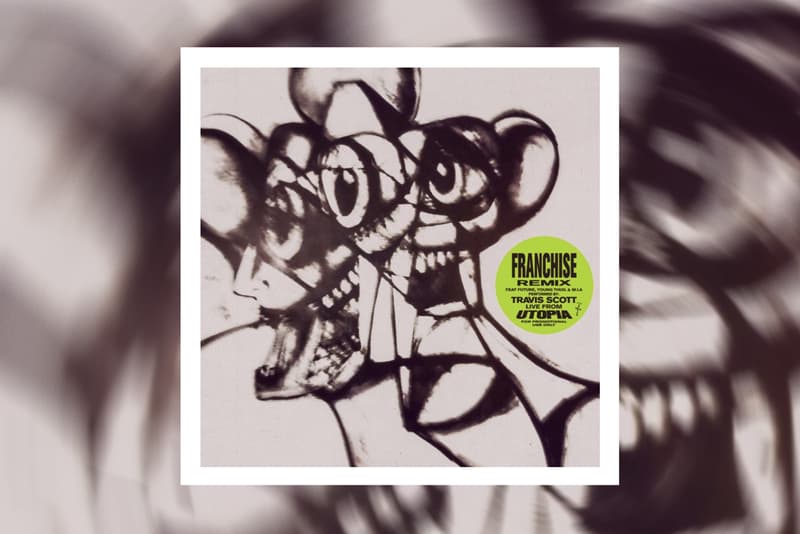 Travis Scott has shared a remix of his number one single "FRANCHISE" featuring Future. The Atlanta rapper kicks off the song with an onslaught of rapid-fire verses to elevate the chaotic tone from the original track: "I made you get that Richard Millie, bust it down, b*tch/ I made you get that Patek right there, bust it down, b*tch/ I came from out the jungle with this shit right on my arm, no cap, yeah."
Moreover, the cover art for the mix features a new work by the iconic American painter, George Condo, who also created a design for the original single. This latest variant features a monochromatic illustration of Condo's unmissable Cubist-inspired subjects.
Rumors of the remix have spread across social media these past couple of days, but Travis only confirmed the track's releases just 20 minutes before launching it on multiple streams. The remix follows Travis Scott's late night show performance last week with help from the "FRANCHISE" original collaborators M.I.A. and Young Thug.
Listen to the remix below and let us know your thoughts in the comments. Elsewhere in music, T.I. announced a new album entitled The L.I.B.R.A. featuring appearances by Young Thug, Benny the Butcher and more.