This Week in HYPEBEAST SOUNDS: 21 Savage, Giveon, Lykke Li, Omar Apollo & More
50 new tracks in our latest playlist installment to hold you down for the rest of the week.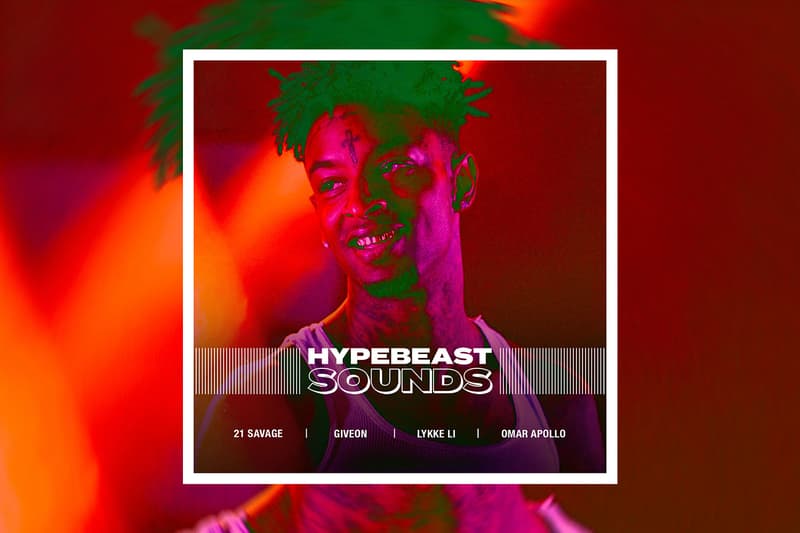 Welcome to another weekly installment of HYPEBEAST SOUNDS, our ongoing playlist that rotates through 50 of our editors' favorite songs throughout the music world.
This week is highlighted by some major updates like 21 Savage and Metro Boomin's Savage Mode II debuting at No. 1 on the Billboard 200. It featured narration from the one and only Morgan Freeman, too. The highly-anticipated project delivered and lived up to everyone's expectations with controversial Drake bars, a prime Young Nudy verse and Savage showcasing just how much he's grown as an artist in the four years since Savage Mode first released.
Giveon continues to build on the incredible momentum since his appearance on Drake's "Chicago Freestyle." After releasing his breakout EP Take Time in March, the rising singer-songwriter returned with the short but undeniably sweet four-track When It's All Said And Done complete with a Snoh Aalegra feature. "It took me time to figure out what it is that I wanted to do with [my voice]. Also, it was a voice I wasn't used to hearing in the East side of Long Beach. So at the very beginning, I thought my voice was kind of weird, to be honest," he told Apple Music recently. With every release, Giveon continues to refine and surprise.
Other updates include Lykke Li's first Swedish-language song "BRON" featuring production by Ludwig Göransson. While the single wasn't an homage to LeBron's recent fourth NBA championship, it was an emotional movement centered around post-break-up blues translating roughly to "bridge" and "source" in Swedish. Omar Apollo's upcoming album Apollonio launches this Friday, October 16, and he readied its arrival with "Want U Around". It's a silky smooth electric guitar groove that showcases just how soulful his vocals can be with backing by British-Australian singer Ruel.
Stream the latest installment of HYPEBEAST SOUNDS below and check out our rundown of last week's Best New Tracks.