The 10 Most Anticipated Games of 2020
Featuring titles like 'Final Fantasy VII Remake,' 'Half-Life: Alyx,' 'Cyberpunk 2077' and more.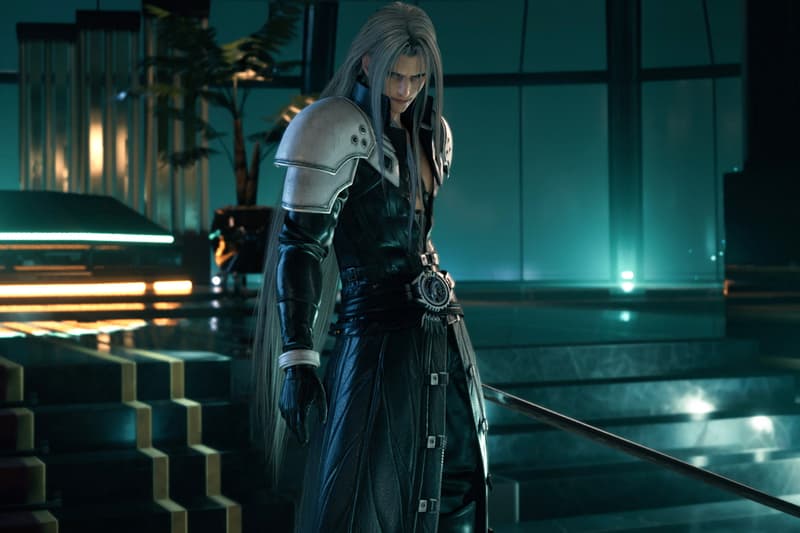 2019 was a massive year for video game fans. Capcom remade Resident Evil 2, Hideo Kojima finally released his long-awaited Death Stranding, Activision breathed new life into Call of Duty: Modern Warfare, Nintendo launched its fan-favorite Super Smash Bros. Ultimate, and gamers were kept plenty busy with Sekiro: Shadows Die Twice. On the hardware front, Sony and Microsoft both announced the upcoming releases of its next-gen consoles — the PlayStation 5 and Xbox Series X — and even Google released its first console, the Stadia.
But gamers won't have to worry, because 2020 is looking to be just as exciting. With massive titles to be excited for this year, including Half-Life: Alyx, Final Fantasy VII Remake and Cyberpunk 2077, the beginning of the new decade will finally see the release of these AAA titles. Barely able to contain the excitement, we at HYPEBEAST have compiled a list of 10 of the biggest games coming out in 2020.
Half-Life: Alyx
Release Date: March, 2020
Platforms: PC
15 years after the release of legendary video game Half-Life 2, its creator Valve has finally fulfilled fans' wishes and brought to life a fresh Half-Life game, this time bringing the franchise into the realm of virtual reality. While it's not exactly the Half-Life 3 that its player base has so eagerly asked for over the past decade and a half, the developer has assured that it'll nonetheless be an epic experience, noting that Half-Life: Alyx is their biggest project yet, with an unprecedented amount of staff working on it — almost a third of which have all worked on previous titles in the franchise.
As to how it fits into the Half-Life universe, according to a recent synopsis from Valve, the new game is set in between Half-Life and Half-Life 2, and will follow Alyx Vance and her father Eli as they "discover a secret that leads them into the heart of the Combine's occupation of City 17."
Persona 5 Royal
Release Date: March 31, 2020
Platforms: PlayStation 4
Following the huge success of Persona 5's release back in 2017, Atlus has decided to re-release the Japanese RPG under the name Persona 5 Royal. As its lengthened title suggests, the upcoming release is more than just a rehash — the game will feature a bunch of new content, including a new playable character, new areas to explore, and an array of tweaks and updates to make gameplay even more enjoyable. Aside from the game's release, there'll also be four separate DLC bundles arriving, giving fans of the franchise even more to be excited about.
Resident Evil 3
Release Date: April 3, 2020
Platforms: PC, PlayStation 4, Xbox One
After a massively-successful remake of Resident Evil 2, and in celebration of the original game's 20th anniversary, Capcom announced at PlayStation's State of Play conference that it would be remaking Resident Evil 3, utilizing the same RE Engine used for the award-winning remake of its prequel. Seeing the return of Jill Valentine, the story dials back slightly in time before the events of Resident Evil 2, with Jill trying to escape Raccoon City while avoiding Umbrella Corp and the antagonistic Nemesis, a massive bioweapon created to hunt down S.T.A.R.S special forces.
In addition to the remake, Capcom has also stated that its previously-announced asymmetrical 4v1 title Project Resistance will now be bundled in with Resident Evil 3, giving players a multiplayer option where classic characters will have to fight, survive and escape from the Mastermind, the one-player side which can place various traps and control different creatures to hunt down the survivors.
Final Fantasy VII Remake
Release Date: April 10, 2020
Platforms: PlayStation 4
A Final Fantasy VII Remake has been a long time coming. First teased at E3 a decade and a half ago, it wasn't until ten years later in 2015 that Sony and SQUARE ENIX confirmed a full remake of the 1997 title would be coming to the PlayStation 4. While it's now been confirmed to be a complete revamp of the original game built entirely from scratch, fans can rest assured that many of those working on the remake are veterans from the original title.
The most significant difference is definitely gameplay: the new remake will turn the fixed-camera turn-based system into a modern third-person RPG with a free-roaming camera and real-time combat. Beloved characters such as Cloud, Tifa, Barrett, Aerith and antagonist Sephiroth will all be coming back, with SQUARE ENIX giving fans a glimpse of the reimagined characters in the various trailers released so far. Unfortunately, as with SQUARE ENIX's other highly-anticipated title this year — Marvel's Avengers — Final Fantasy VII Remake has also been delayed, now slated for launch in April.
Cyberpunk 2077
Release Date: September 17, 2020
Platforms: PC, PlayStation 4, Xbox One, Google Stadia
After developing the highly-acclaimed RPG The Witcher 3: Wild Hunt, CD Projekt Red has come back with another highly-anticipated RPG title, named Cyberpunk 2077. Based in a Blade Runner-esque dystopian future, Cyberpunk 2077 puts players in a world where mega-corporations have taken over. In usual CD Projekt Red fashion, you'll have plenty of options to choose from when it comes to what role your character plays in the world, depending on your interactions with various factions, corporations, and non-player characters.
To top things off, John Wick actor Keanu Reeves is also in the game, playing the role of Johnny Silverhand, a character that lives on a chip inside the protagonist's head. Unfortunately for fans, despite seven years in the making, CD Projekt Red has been forced to delay Cyberpunk 2077's release date in order to polish up the game, moving the launch date from April to September.
The Last of Us Part II
Release Date: May 29, 2020
Platforms: PlayStation 4
Having won more than 10 different awards since its release, there's no surprise that Naughty Dogs are continuing down the path with The Last of Us. Six years after the first installment was released, its developer finally announced that a sequel — titled The Last of Us Part II — is coming to the PlayStation 4. The new game is set five years after the events of the original title, and users will play as Ellie, who is now 19 years old. The story will continue following Joel and Ellie's relationship, with a shift from the theme of love in the previous game to hate, an emotion quite evident in Ellie when you watch the trailers released so far. With Neil Druckman reprising his role as lead writer and director for the upcoming title, it's no surprise that it's considered one of the most anticipated games of 2020.
Ghost of Tsushima
Release Date: Summer 2020
Platforms: PlayStation 4
Infamous developer Sucker Punch Productions will soon be releasing yet another PlayStation 4 exclusive, set in a feudal Japan. Titled Ghost of Tsushima, the game brings players back to the Land of the Rising Sun in the 13th century. You'll play as a samurai named Jin Sakai, a student to the way of the Ghost, whose mission is to defend Tsushima Island from the incoming Mongolian invasion. Enticing gameplay, mesmerizingly cinematic levels, and a beautiful soundtrack all come together to make this third-person action game one of the most anticipated titles of 2020.
Marvel's Avengers
Release Date: September 4, 2020
Platforms: PC, PlayStation 4, Xbox One, Google Stadia
After two years since its initial announcement, SQUARE ENIX finally unveiled Marvel's Avengers at E3 2019. The new action-adventure game brings the focus on one of the younger superheroes in the Avengers universe: Kamala Khan aka Ms. Marvel. As one of Marvel's first openly Muslim superheroes, a big part of your mission will be to reunite the original Avengers crew, who disbanded following a failed mission to stop a terrorist attack, which led to a catastrophic tragedy.
So far, aside from Ms. Marvel, the confirmed playable character list includes Captain America, Iron Man, Hulk, Black Widow, Thor and Ant-Man, each with a wide variety of custom skins as well. Unfortunately for fans of the Avengers, SQUARE ENIX had to delay the game's release — which was already slated for May — to September, later this year.
Yakuza: Like a Dragon
Release Date: January 16, 2020 (Japan), 2020 (Worldwide)
Platforms: PlayStation 4
The seventh installment to the beloved Yakuza franchise, Yakuza: Like a Dragon introduces a whole array of new features and changes to the game. For a start, the upcoming game will bring players out of Tokyo and the game's fictional re-creation of Kabukicho — named Kamurocho — for the very first time, instead taking place now in the Yokohama district of Isezaki. It'll also be the first main game that doesn't focus on the original protagonist Kazuma Kiryu, introducing a new character named Ichiban Kasuga, who Sega has described as more emotive and outspoken.
Even more different will be the gameplay, which shifts from the previous real-time combat mechanics to a turn-based battle system, with a four-person team. As a final touch, Yakuza: Like a Dragon will also introduce the franchise's first-ever controllable female fighting character, named Saeko Mukouda. For those who miss the original characters as well, fret not — Kazuma Kiryu, Goro Majima and Taiga Saejima will all be making an appearance, albeit playing minor, assistive roles.
Godfall
Release Date: 2020
Platforms: PlayStation 5, PC
Counterplay Games and Gearbox announced at The Game Awards 2019 the first title for Sony's next-gen PlayStation 5: a new action-RPG called Godfall. Also available on PC through the Epic Game Store, the game features a whole new loot system as well as third-person melee combat that combine together to create a fresh genre dubbed "Looter-Slasher." With co-op gameplay in mind, the game supports parties of up to three players, and places heavy emphasis on character and item customization. There's currently no official release date for the game, but given the PlayStation 5's tentative release date of late 2020, expect the game to be released no earlier than that.