NOAH Drops Australia Benefit Long-Sleeve Tees
With all proceeds going directly to WIRES, Australia's largest wildlife rescue organization.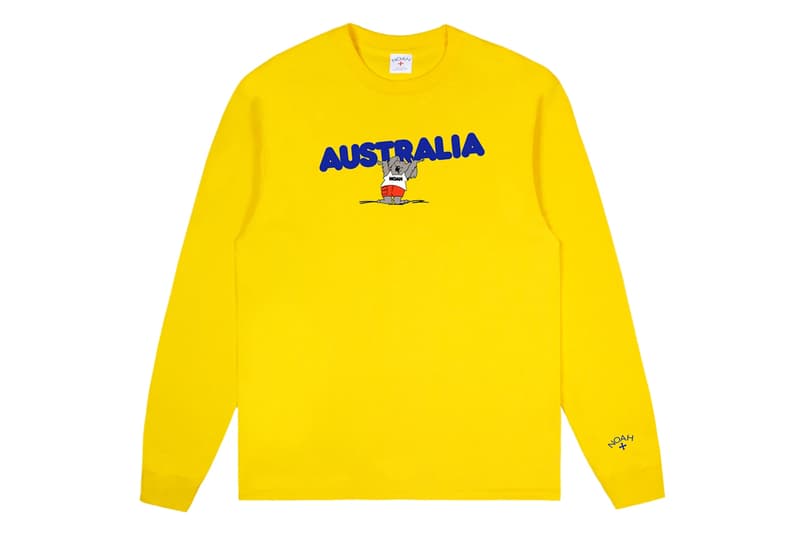 1 of 2
2 of 2
Over the past several days, Australia has been racked by devastating wildfires that have burned over 32,000 square miles of land and taken the lives of an estimated one billion wild animals, so NOAH is pitching in to help with a special long-sleeve T-shirt. 100% of the proceeds from the shirt's sales will go to WIRES, the country's largest wildlife rescue organization.
Available in both yellow and white, each tee features a smiling koala bear in red shorts and a white NOAH tee holding up a blue "Australia" graphic, plus the brand's signature wordmark and Knights Templar cross on the left wrist. The back has been left blank.
NOAH's strong environment-first stance is a large part of its ethos, with the brand not mincing words in the shirt's product description. "This leap in devastation was brought about by extreme droughts and heat driven by climate change, which is driven by human behavior. We're all responsible for this, and we must fix the problem. It's that simple."
The description goes on to say "This t-shirt can be worn as a symbol to show you're willing to help, or as a scarlet letter, acknowledging the crimes we've all had a hand in committing that have led us to this point. Take your pick. We will donate all proceeds to WIRES, Australia's largest wildlife rescue organization, in hopes that will help ease the nightmare scale of suffering we've inflicted on animals in one of the world's most diverse habitats."
NOAH's Australia Benefit long-sleeve tee is available now on the NOAH webstore, retailing for $52 USD. As it's a pre-order, buyers can expect their tee to ship in 2-3 weeks.
Elsewhere, Incipio is going enviromental with sustainable plant-based phone cases.
NOAH Australia Benefit Long-Sleeve Tee