Luminox's New RECON NAV SPC Is the Outdoorsman's Comprehensive Tool Watch
Updated to a 46mm case.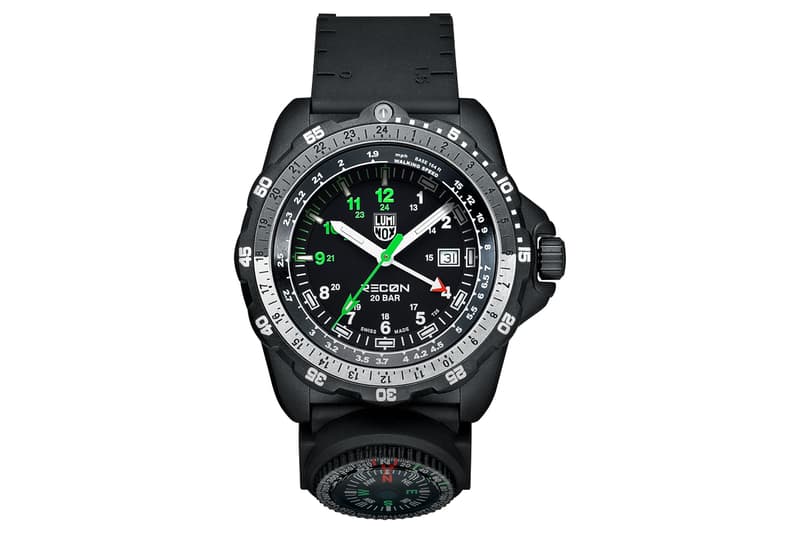 Watchmaker Luminox has expanded on its LAND offerings with a newly revamped RECON NAV SPC 8830 series, updating one of the most comprehensive tool watches for the explorers out there.
Now coming in a larger 46mm case constructed with an extremely tough CARBONOX material, the Swiss-made piece utilizes a quartz GMT movement offering a second timezone via 24-hour markings around the dial, coupled with a unidirectional hatcheting dive bezel for underwater use with a water resistance of up to 200 meters. As a timepiece designed for military navigation specialists, Luminox has incorporated a walking speed tachymeter onto the dial, with new features on the strap featuring three of the most common map scales as well as an inch-cm measurement and comparison chart. A removable compass can also be attached to make sure you're always on the right track.
Whether you're an experienced outdoorsman or you're looking to get into the sport, Luminox's revamped RECON NAV SPC 8300 series will be a trusty companion for all your navigational needs in the wilderness. Those interested can head over to the company's website to learn more now.
For more things watches, G-SHOCK has launched four new models for its G-SQUAD sports line.
Luminox RECON NAV SPC 8830 Series