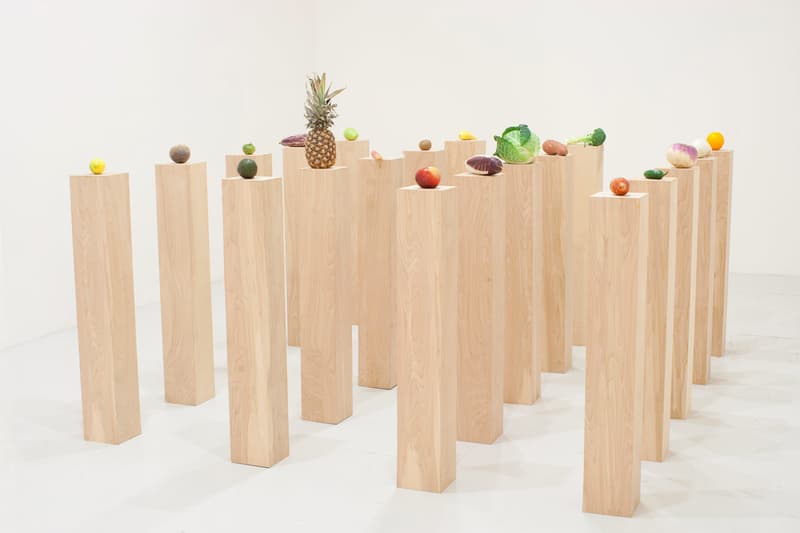 1 of 2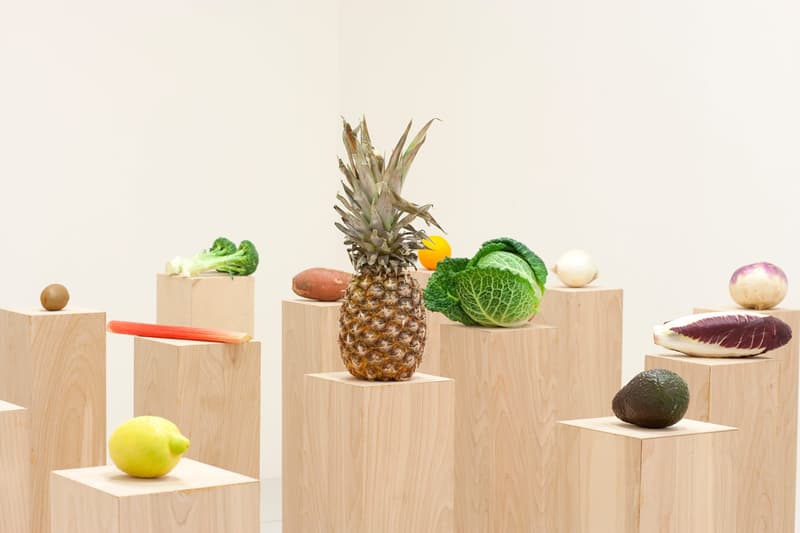 2 of 2
Darren Bader Posits Fruits, Vegetables as Sculptures in New Whitney Museum Exhibition
Visitors are even invited to eat the produce.
---
In the eyes of American artist Darren Bader, fruits and vegetables are not only mere groceries, but are more accurately described as "nature's impeccable sculpture." This exact belief sets the framework for Bader's new "fruits, vegetables; fruit and vegetable salad" exhibition at the Whitney Museum of American Art, in which fresh produce become sculptural objects before eventually being consumed by the audience.
Bader's installation sees the likes of pineapples, mangos, kiwis, lettuce, broccoli and more positioned atop wooden pedestals, reimagining their typical environment of the grocery store or kitchen into an immaculate gallery space. At select days and times throughout the week, museum staff will then remove all of the produce before it over-ripens, chopping and slicing the food into fresh salads for visitors to eat and effectively transforming the exhibition into an interactive one. After the transition, the space is restocked with a crisp assortment of fruits and vegetables, recreating the gastronomy-meets-art experience all over again.
Darren Bader's "fruits, vegetables; fruit and vegetable salad" is on display now at the Whitney Museum until February 17, 2020. Visitors can take part in the eating component from 3 p.m. to 6 p.m. on Mondays, Wednesdays and Sundays, and from 7:30 p.m. to 10 p.m. on Fridays.
Elsewhere in art news, Nick Doyle's "Paved Paradise" exhibition in Detroit uses paintings, sculptures and more to explore American iconography.
Whitney Museum of American Art
99 Gansevoort Street
New York, NY 10014