These Are the Best Artworks Releasing This Week
An underrated Takashi Murakami print featuring 'Godzilla' and 'Evangelion' leads the list of works.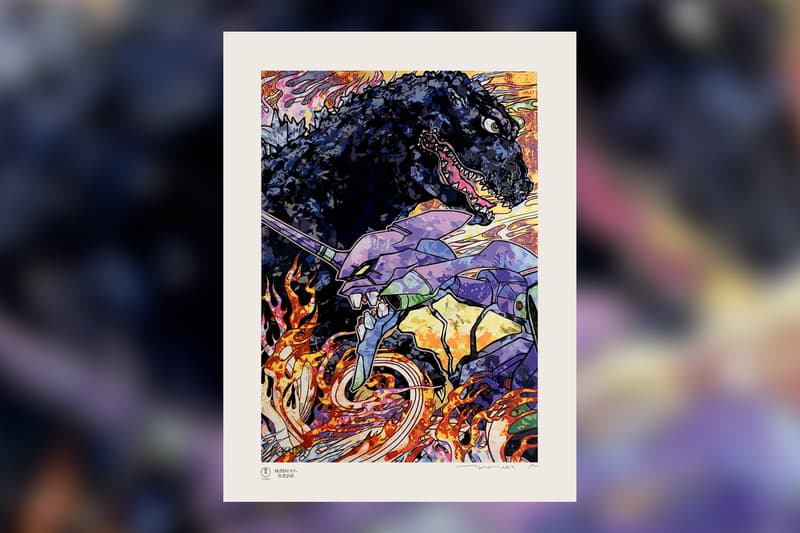 Every week we spotlight the best art releases weekly by notable artists, galleries, museums and contemporary art platforms across the globe. Listed items typically encompass limited edition artworks, prints, collectible figures, collaborative merchandise and more.
For this week's installment: Kumi Contemporary drops Takashi Murakami's limited edition silkscreen spotlighting Godzilla Resurgence and Evangelion, Paddle8 auctions a rare offset lithograph by Keith Haring, Tappan Collective releases an aluminum sculpture by Luke Chiswell, NANZUKA purveys a new sculpture edition by Javier Calleja, and Jess Johnson announces a charity print release with proceeds to go to wildlife shelters in Australia to help injured animals in the midst of the ongoing Australian wildfire catastrophe.
View the full list below.
Takashi Murakami Godzilla Resurgence + Evangelion Silkscreen Edition
Release Date: Available now on Kumi Contemporary's website
Release Price: $3,425 USD
Japanese contemporary art seller Kumi Contemporary has reissued one of the more underrated print editions by Takashi Murakami. The Japanese artist created the artwork last year in homage to acclaimed director Hideaki Anno who made the cult anime series Neon Genesis Evangelion and directed the 2016 film Shin Godzilla. The print portrays a brilliantly-colored visual of the King of the Monsters and its robot doppelgänger in a brawl.
Paddle8 Auctions Rare Keith Haring Offset Lithograph
Release Date: Available for bidding on Paddle8's website
Release Price: $800 USD+
Paddle8 is currently auctioning off a series of limited artworks under its "Holiday Edit" series. Among the numerous lots is a rare Untitled offset lithograph by Keith Haring which the late iconic artist developed back in 1999. Measuring 33 by 47 inches, the artwork features Haring's signature dancing figures in vivid colors.
Luke Chiswell Too Young To Lose Too Old To Win Aluminum Sculpture
Release Date: Available now on Tappan Collective's website
Release Price: $1,200 USD
Australian artist Luke Chiswell evokes skateboarding culture across his diverse practice spanning sculpture, abstract painting, and more. Chiswell is currently selling an original sculpture entitled Too Young To Lose Too Old To Win on the contemporary art platform Tappan Collective. The piece measures 31 by eight inches, spotlighting a wrecked surfboard crafted entirely using aluminum materials.
NANZUKA Launches Do Not Touch Sculpture Edition by Javier Calleja
Release Date: Available January 8-15, contact lottery.jc@nug.jp
Release Price: $2,005 USD
NANZUKA once again teams up with APPortfolio to release a special sculpture edition by celebrated Spanish artist Javier Calleja, Entitled Do Not Touch (36x19x22cm), the three-dimensional work stars Calleja's signature big-eyed character alongside a hand-drawn canvas. Each figure was made using resin, steel, and acrylic paint. The collaborative edition is limited to 250 units with each one signed and numbered by the artist.
Jess Johnson Charity Print Release for Australian Wildfire
Release Date: Available now on Jess Johnson's website
Release Price: $75 USD
Acclaimed New York-based artist Jess Johnson recently dropped a charity print edition entitled DELENDA EST. The work features an intricate figurative composition by Johnson, portraying three snakes in the center and geometric patterns throughout. Each Giclée print measures 8.5 by 11 inches. "All proceeds from this print will be donated to wildlife shelters to help rebuild and cope with the enormous numbers of injured animals that will need care in the coming months," said Johnson in a statement. "The fires in Australia are a continuing catastrophe which has burnt millions of hectares of habitat and incinerated over a half-billion animals."