6ix9ine's Testimony Results in Guilty Verdicts for Former Cohorts (UPDATE)
Both "Nuke" and "HARV" are now facing possible life sentences.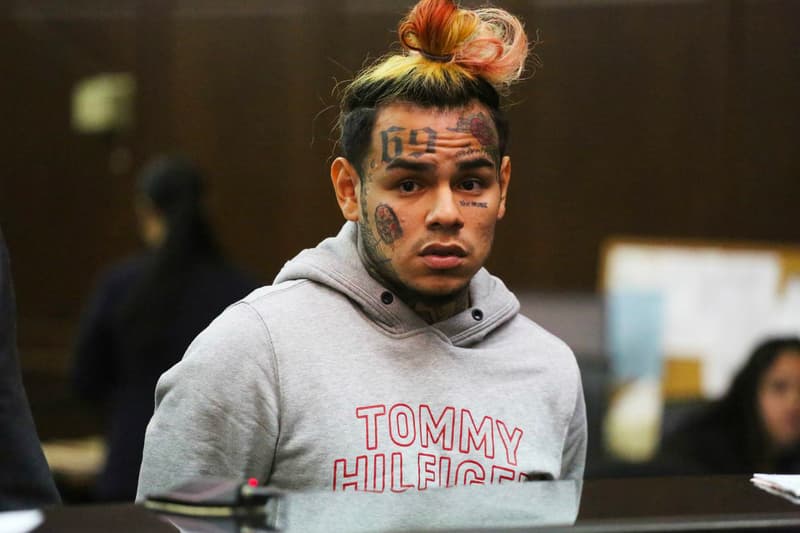 UPDATE (October 4, 2019): Following Tekashi 6ix9ine's testimony against two of his former cohorts from Nine Trey Gangster Bloods, the jury in the Federal District Court in Manhattan has found both Aljermiah "Nuke" Mack and Anthony "Harv" Ellison guilty. In particular, Nuke has been found guilty of racketeering conspiracy and conspiring to distribute narcotics, whilst Harv has been convicted for racketeering conspiracy, kidnapping 6ix9ine, maiming and assault. Sentencing is scheduled for February next year, with both now facing a maximum penalty of life in prison.
---
ORIGINAL STORY (September 18, 2019): It's been a tumultuous road for Tekashi 6ix9ine over the past year — but it seems the rapper is willing to spill all against his former cohorts. On Tuesday, it was revealed that just one day after 6ix9ine's arrest back in November, the Brooklyn native was willing to shell out his cooperation with the feds, and further layout for a jury how his former gang, Nine Trey Gangster Bloods, helped in starting his musical career by offering him "street credibility" as well as protection. TMZ has shared that 6ix9ine has cut a deal with prosecutors by offering full cooperation, hoping to lower his current 47-year sentence.
On Tuesday, the hip-hop artist — who previously pleaded guilty to nine criminal counts — took to the witness stand for nearly two hours, standing in front of a jury in a federal courtroom where ex-associates Aljermiah "Nuke" Mack and Anthony "Harv" Ellison were also present. Mack is currently being charged with racketeering and narcotics trafficking, while Ellison is being charged with racketeering and gun crimes in connection with 6ix9ine's kidnapping in 2018.
The rapper further described his relationship to Nine Trey in that they provided protection as he continued blowing up in the music sphere, further providing them revenue to continue in exhibiting their illicit behaviors. He revealed that he became involved with his fellow cohorts because he wanted street-credible "gang members" to appear in his music video for his platinum-selling "GUMMO" — the viral 2017 song that led to the rapper's blow-up. "I wanted the aesthetic to be full of Nine Trey," he stated, "I said I wanted them to be wearing all red," noting the color's affiliation with Bloods. "I went to buy three dozen red bandanas for them to wear," further noting that he "knew the formula was to repeat the gang image, promote it. That's what people like."
"My role was, just keep making hits and be the financial support for the gang," he stated. He continued in stating that "we participated in a lot of crimes," running down a list of various unlawful practices he and his cohorts engaged in. As prosecutors played snippets of various music videos, the rapper clarified various lyrics and their connection to the gang, further identifying the alleged Nine Trey members who appeared in them, nervously pointing at "Nuke" and "Harv" as he spilled information.