6ix9ine Arrested on Racketeering Charges, Faces Life in Prison
The New York City rapper's bail was denied and he remains in federal custody currently.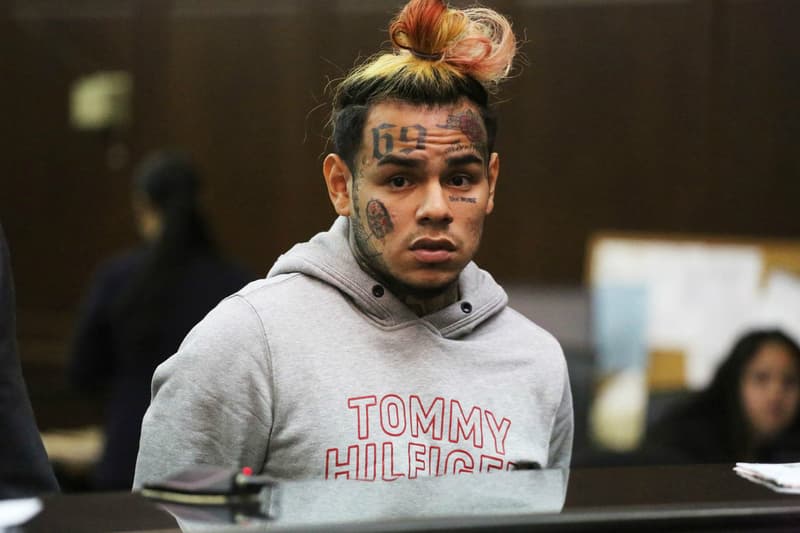 Tekashi 6ix9ine is in a heap of trouble. The Brooklyn native was arrested by federal agents Sunday evening (Nov. 18) and charged with racketeering. Tekashi along with five other men was arrested by the Bureau of Alcohol, Tobacco, Firearms and Explosives (ATF) agents in New York City. They are all facing racketeering and firearms charges, and the joint investigation was facilitated and executed by the NYPD, ATF and the Department of Homeland Security.
6ix9ine was locked up along with his fellow Nine Trey Gangsta Bloods members Jamel Jones (Mel Murda), Kifano Jordan (Shottie), Jensel Butler (Ish), Fuguan Lovick (Fu Banga) and Faheem Walter (Crippy).
The rapper along with the five other associates was arrested as part of an ongoing investigation by the ATF, NYPD and the Department of Homeland Security for years, according to the U.S. Department of Justice. The New York Daily News reports, the indictments date all the way back to 2013.
According to TMZ, the 18-page indictment shows that 6ix9ine is facing six counts, containing racketeering and firearms charges, with the most serious of those being the discharging of a firearm while committing a crime. The punishment for that charge would have a mandatory minimum of 25 years in prison, and could potentially carry a life sentence. The indictment alleged that he participated in the July shooting of a bystander in Brooklyn and the gunpoint robbery of one of his gang's rivals last spring, according to the AP.
U.S. attorney Geoffrey S. Berman released a statement, which said:
As alleged in the indictment, this gang, which included platinum-selling rap artist Tekashi 6ix 9ine, wreaked havoc on New York City, engaging in brazen acts of violence. Showing reckless indifference to others' safety, members of the gang were allegedly involved in robberies and shootings, including a shooting inside the crowded Barclay's Center, and a shooting in which an innocent bystander was hit. Thanks to the extraordinary work of HSI, ATF, and the NYPD, the defendants will now face justice in federal court.
Lance Lazzaro, 6ix9ine's attorney, attempted to get his client released on $1 million bail, however, bail was denied after a prosecutor said there was evidence that he directed or participated in multiple acts of violence as part of the Nine Trey Gangsta Bloods gang. A sketch of 6ix9ine's court appearance was done by Elizabeth Williams of the Associated Press, which you can see below. Lazzaro tells XXL that the federal charges against his client are excessive and will eventually be dismissed. "I believe that the charges against him is an over-charge by the U.S. Attorney's Office and that when the facts come out I am confident that the charges will be dismissed as it relates to Daniel Hernandez Tekashi 6ix9ine," Lazzaro explains.
6ix9ine remains in federal custody and TMZ is reporting that he's currently in a general population at the Metropolitan Detention Center in Brooklyn while he waits for his upcoming new bail hearing.
Daily Beast reports that 6ix9ine was warned by federal agents that he was in danger of an attack from former associates of his crew. They reportedly offered protection but he declined. Investigators allegedly while using a wiretap, heard 6ix9ine's former associates say they wished to "super-violate" him.
The arrest comes shortly after 6ix9ine received probation and avoided jail time from his officer assault charge, which he got in May. Also, a month ago, 6ix9ine was sentenced to four years probation and 1,000 hours of community service for violating the terms of a plea agreement for his 2015 sexual misconduct case.
This courtroom sketch of 6ix9ine sure is something… pic.twitter.com/ACYE2mIfX4

— Complex Music (@ComplexMusic) November 20, 2018