McDonald's Will Begin Selling Plant-Based Burgers in Canada
Beyond Meat's stocks have already soared.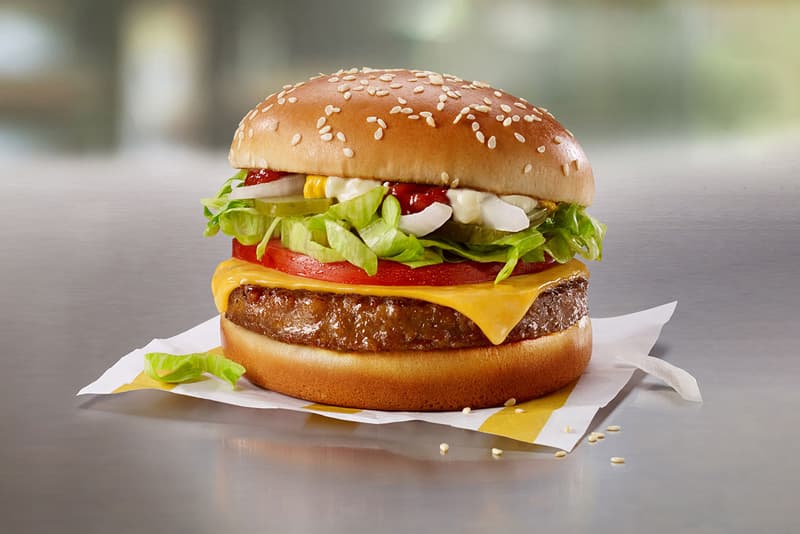 McDonald's is the next major fast food chain to offer a meatless burger in partnership with Beyond Meat. The restaurant chain has announced that it will be testing out the resulting plant-based creation in 28 of its Canadian restaurants over the span of 12 weeks.
Cheekily dubbed the P.L.T. (Plant, Lettuce, Tomato), the burger will juxtapose the Beyond Meat patty against classic McDonald's toppings like shredded lettuce, tomato and cheese. Two classic sesame seed buns hold the sandwich together. CNBC has reported that in response to news of the partnership, Beyond Meat's shares have already increased by 12 percent.
"During this test, we're excited to hear what customers love about the P.L.T. to help our global markets better understand what's best for their customers," said McDonald's VP of Global Menu Strategy Ann Wahlgren in a statement. "This test allows us to learn more about real-world implications of serving the P.L.T., including customer demand and impact on restaurant operations."
McDonald's already offers meatless burgers in Germany and Israel, but the scale of McDonald's presence in North America is on another level; the company is currently the largest restaurant brand in the US based on sales and its approximate 14,000 US locations. Regardless of its size, however, Beyond Meat CEO Ethan Brown is confident that his company can fulfill even larger orders in the future, which will be important in case McDonald's elects to make the sandwich a permanent menu option.
Beyond Meat has recently worked with KFC, Subway, Dunkin' and Carl's Jr., among others. The growing demand highlights the desire among consumers for an alternative to meat-based meals, tying in with widespread concerns over climate change.
Canadian customers will be able to test out the P.L.T. at select McDonald's restaurants beginning September 30, with the sandwich weighing in at $4.90 USD.
In other delicious news, check out the best coffee cities in America in 2019.