Krispy Kreme Introduces Pumpkin Spice Original Filled Doughnut
Available for a limited time only.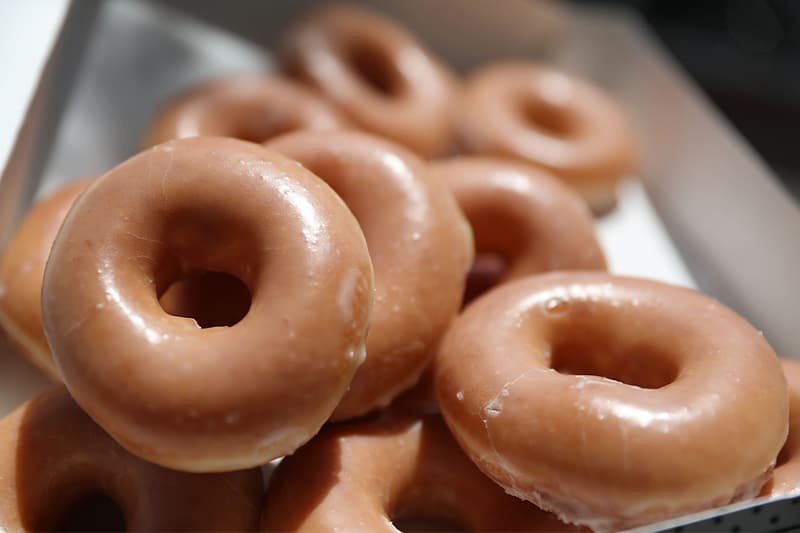 Krispy Kreme is debuting a new flavor in their "Kreme-Filled" line to celebrate the season. The doughnut staple has introduced the Pumpkin Spice Original Filled Doughnut, a premium take on the Pumpkin Spice Original Glazed Doughnut upgraded with cheesecake Kreme stuffing and cheesecake icing.
In addition to the creamy new treat, Krispy Kreme is offering to trade "letdown" pumpkin spice products from other places with one of their doughnuts. "Krispy Kreme is ensuring (and insuring) that this season, pumpkin spice fans have the delicious product experience they've been craving," the Krispy Kreme website reads. "With so many pumpkin spice products hitting the scene – from hummus to doggie treats – some have gone too far. Have you encountered a disappointing Pumpkin Spice product? For one week only, you can bring any pumpkin spice letdown to a Krispy Kreme shop near you and trade it for one of our delicious doughnut versions for FREE. One per person."
"Bad pumpkin spice products shouldn't happen to good people," Dave Skena, Chief Marketing Officer for Krispy Kreme Doughnut Corporation, said in a press release. "If you've been impacted by the proliferation of pumpkin spice products that don't make sense, come to Krispy Kreme and we'll make it all better with a free pumpkin spice doughnut."
Both the Original Filled Doughnut and Original Glazed Doughnut variant, along with the "letdown" trade-in, are available now at participating Krispy Kreme branches throughout the U.S. until September 8, 2019.
In other news, Oreo debuted Tang-flavored cookie sandwiches in Dubai.
Our #PumpkinSpice Original Glazed Doughnut is back! ?? Also introducing an all new Pumpkin Spice #OriginalFilled for one week only!​?

Plus, this year we're offering Pumpkin Spice Purchase Protection! You won't want to miss this deal ? – more info at https://t.co/uDV00tUUWE. pic.twitter.com/OCBdh5NllS

— Krispy Kreme (@krispykreme) September 2, 2019