Johnny Depp Responds to Dior's "Sauvage" Campaign Backlash (UPDATE)
"The film was made with a great respect for the indigenous people not just of North America but all over the world."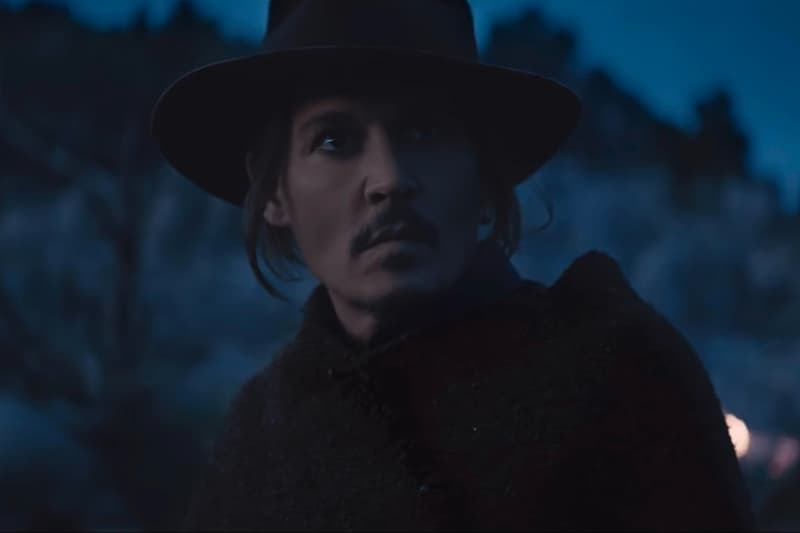 UPDATE (September 10, 2019): Following the criticism, Johnny Depp defended Dior's "Sauvage" campaign, claiming that the project was created with the utmost respect for indigenous people around the word. "There was never — and how could there be or how would there be — any dishonorable [intent]. The film was made with a great respect for the indigenous people not just of North America but all over the world," he explained in a recent interview. "It's a pity that people jumped the gun and made these objections. However, their objections are their objections."
With Dior pulling the plug on the campaign's teaser video, Depp added that the teaser didn't rightfully express the project. "A teaser obviously is a very concentrated version of images and there were objections to the teaser of the small film. The film has never been seen," he said. "I can assure you that no one has any reason to go out to try to exploit. It was a film made out of great respect and with great respect and love for the Native American peoples to bring light to them. They haven't had the greatest amount of help out of the United States government."
The actor also confirmed that a final decision to pull the ad is yet to be made, and that the creative team involved is planning to meet and work with those offended by the campaign to achieve a viable resolution. He noted, "The idea is as pure as it ever was, so we will come to an agreement so that everyone is happy."
ORIGINAL STORY (September 2, 2019): Following Dolce & Gabbana's racism mishap in China last year and Gucci's blackface incident earlier this year, the latest backlash following accusations of cultural appropriation and racist tropes is aimed at Dior. Over the weekend, the brand posted its new Native American-themed "Sauvage" campaign featuring Johnny Depp, further sharing a caption that read "an authentic journey deep into the Native American soul in a sacred, founding and secular territory."
In the full-length ad (viewable below) Depp can be seen wearing a cowboy hat, further strumming away on an electric guitar as he narrates the clip. This is intercut between shots of Canku Thomas One Star, an enrolled member of South Dakota's Rosebud Sioux Tribe, dancing in tribal dress. On top of the French word "Sauvage" being translatable to "Savage" (the French word being derogatory when used in reference to French indigenous populations and the English equivalent being a known racist epithet when describing people of Native American descent), Native American actress Tanaya Beatty can also be seen poignantly dressed in a furry hood, tucked away behind brush as she keeps an eye on Depp.
In the official press release for the campaign, Dior shared that "as soon as we began to evoke Native American imagery and symbols in this new film, the House of Dior, Jean-Baptiste Mondino and Johnny Depp immediately decided to contact Native American consultants who are enrolled citizens of the Comanche, Isleta and Taos Pueblos and the Pawnee Nation, with years of experience fighting cultural appropriation and promoting authentic inclusion." The release continued with the brand pitting Depp as "the perfect embodiment of an intense Sauvage man," further highlighting the star's adoption into the Comanche Nation following the announcement of his portrayal of Tonto in 2013's The Lone Ranger.
The brand noted that it had worked alongside indigenous advocacy organization Americans for Indian Opportunity (AIO), who further validated and approved of the project's contents — from the script, to the location, to the dress portrayed, and more. The song, performed by Depp and Jeff Beck, is said to have been inspired by Pawnee rock pioneer and guitarist Link Wray. Dior also noted it was making a donation to the organization.
Since the campaign's release, Dior has deleted every notion of it, sparking an ongoing conversation about the treatment and respect towards the Native American community both within the entertainment industry as well as on a larger sociopolitical scale. While many social media users went on to criticize Dior for employing racial tropes and cultural appropriation, Tanaya Beatty equally shared her thoughts, which can be viewed below.
It's also worth noting that this isn't the first time Dior has channeled Native American motif's within its "Sauvage" marketing campaigns — the brand infused Navajo folklore in the Johnny Depp-featuring short film from 2018, Legend of the Magic Hour.
Join the conversation and let us know your thoughts below.
For more related news, Gucci recently hired a head of diversity, equity, and inclusion.