'Vogue' Believes the Footwear Industry May Be Funding the Brazilian Forest Fires
"While the factors that led to the fires are complex, the footwear industry is partly responsible."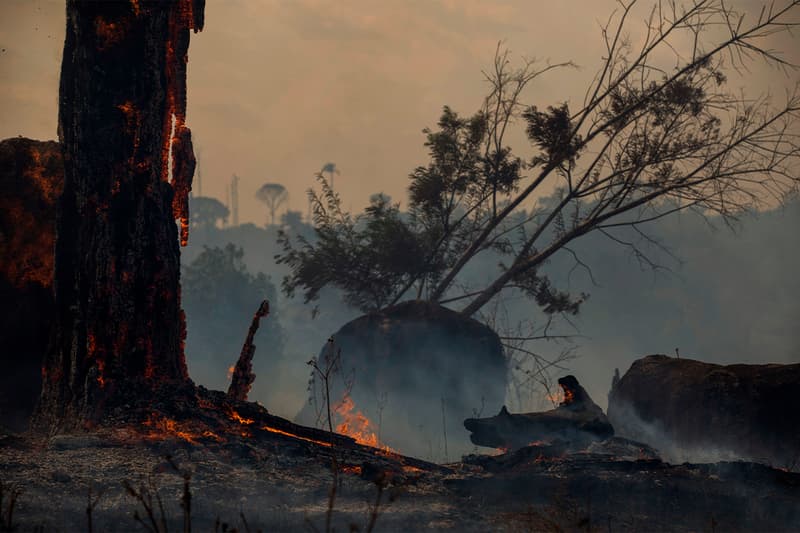 In a recent Vogue Business piece by Rachel Cernansky, the author suggests that — among other reasons — the footwear industry may be one contributing source to the catastrophic forest fires in the Amazon.
According to Cernansky, the largest cause for deforestation in the Amazon is cattle ranching, along with associated industries like soy production, which is used as food for the cattle. So as demand grows for more cattle whether for beef or leather, ranchers naturally will burn more of the forest to make room for more cows. "This demand has hit Brazil particularly hard," says Cernansky. "The South American country supplies about 22 percent of the world's leather exports, making it the single largest source of animal hides, according to an analysis by the US National Wildlife Federation. And the footwear industry is the single largest buyer of all that leather, says the UN."
The situation is not all dire. Many companies in the fashion industry understand what's at stake, and brands like Nike, Kering and LVMH have committed to only deforestation-free leather sourcing. The issue, however, is that tracing where your leather comes from can be problematic. Cattle can be moved from ranch to ranch to avoid this "non-deforestation" requirement. "Many still think that because they buy 'Italian leather', that means it is not from Brazil, but that is untrue," says Nathalie Walker, director of tropical forests and agriculture at NWF. In reality, the Italian leather industry sources heavily from Brazil.
The way forward, says Cernansky, is to increase transparency and better tracing of where the leather originates from. Many services like Globaly Canopy's Trase, or Textile Exchange's Responsible Leather Assessment tool are all surfacing in the hopes to provide a better picture of where leather is being sourced from, making sure they are not contributing to deforestation.
The fashion industry is trying hard to steer away from ethically contaminated leather sources, and more organizations are trying to implement greater transparency measures, but "What is needed is the clear demand from the market, and for government databases to allow access to data that can facilitate this work at low cost," Walker says. Solving this crisis would require the cooperation of everyone.
For more eco-related news, artist Jahan Loh has addressed global warming with Japanese animation.