Best New Tracks: Mozzy, Sauce Walka, E-40, Dom Kennedy, Rick Ross & More
The music game's latest major releases.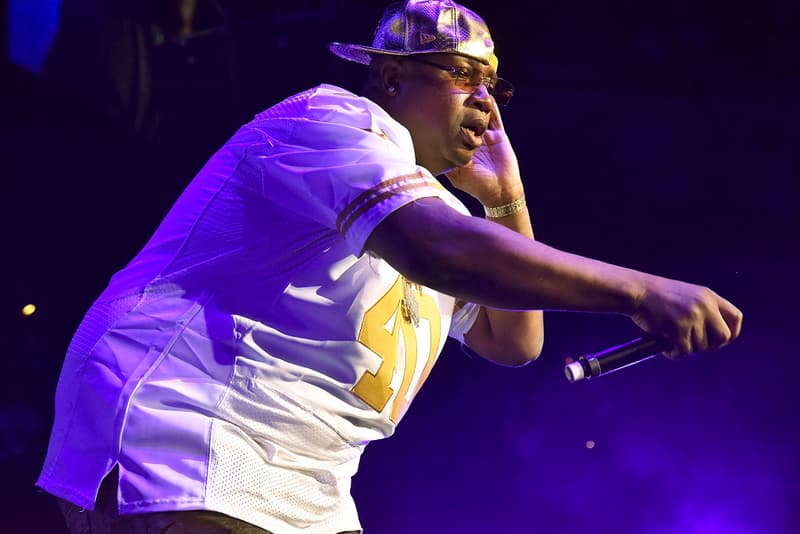 Last week, our Best New Tracks series spotlighted new releases from Black Milk, Chynna, Caleb Giles, Vegyn, Tove Lo and more. Now, we're highlighting the latest projects, visuals and singles from Mozzy, E-40, Rick Ross, Dom Kennedy, Sauce Walka, P-Lo, Ariel Pink, Nef the Pharaoh, Lil Pete, Shootergang Kony, Villain Park, Sweeze Don, Kaleta & Super Yamba Band and Damian Lillard.
P-Lo & Mozzy – "Don't Think"
For his latest major single, P-Lo is teaming up with Mozzy for a new single known as "Don't Think." Notably, "Don't Think" serves as the follow-up to P-Lo's July single "Going Big" and comes to us on a month after SOB X RBE dropped the video for the new single P-Lo produced for them, "Rich." "Don't Think" is being shared to support P-Lo's next full-length studio project SHINE, which is scheduled to see release next week on August 16.
Rick Ross – Port of Miami II
For his 10th studio album, Rick Ross is serving up a sequel to his critically-acclaimed 2016 debut Port of Miami. Made up of 15 new tracks, the feature-heavy Port of Miami II pairs Rick Ross' bars with verses from Nipsey Hussle, Meek Mill, Swizz Beatz, Denzel Curry, YFN Lucci, Drake, Jeezy and more. Solo highlights come courtesy of songs like "Vegas Residency."
Dom Kennedy & OPM – Young Nation Vol. 2
Last October, Dom Kennedy debuted a new full-length solo project known as Volume Two. Now, the West Coast cult-favorite is linking up with the rest of his OPM crew for a new group album titled Young Nation Vol. 2. OPM's Young Nation Vol. 2 LP is comprised of 18 new records, including songs with Jay 305, The Game, Quentin Miller, Niko G4, Warm Brew and more.
"We working on [OPM Vol. 2] right now because we got that same camaraderie and everybody got that same hunger and vision and that's when it's best," Dom Kennedy previously told us during a recent episode of our MIC/LINE podcast series. "OPM is at its best, it's right now. Like I feel like that era we talking about, this era is going to completely wipe that era it out."
Villain Park – "Visions"
To support and introduce their forthcoming studio album The Recipe, Villain Park are releasing a music video for its new single "Visions."
"Visions came from a personal place," Villain Park share with us. "We want to let everyone know that no matter what's going on, Villain Park will always stick to our vision and keep it real with no pressure. On this visual, we wanted to match the crazy energy that we bring on the track and take it to a higher level. We were looking to create something that no one has seen before and make people BLACK OUT."
"Our upcoming album The Recipe releasing on August 28th is the start of a new chapter in our lives," the up-and-coming West Coast rappers add. "Showing our fans and the world that we can create a body of work and execute something that is naturally crazy. Especially in these times in rap where a lot of people are on the same wave. It's our recipe to life. We want to wake everybody up and leave something that can possibly change the world and create a shift in the game."
Ariel Pink – "Stray Here With You" & "So Glad"
Ariel Pink is releasing an unreleased song known as "Stray Here with You," and a new iteration of the 2002 Loverboy salvo "So Glad." Notably, the two tracks are being released to support the forthcoming arrival of Mexican Summer's new reissue series Ariel Archives, which sets out to deliver re-releases of the Ariel Pink's Haunted Graffiti albums Underground and Loverboy and a compilation of other unreleased records known as Oddities Sodomies Vol. 2.
Kaleta & Super Yamba Band – "Mèdaho"
Nigerian Afrobeat musician Kaleta's NYC-based psych-funk group Kaleta & Super Yamba Band are planning on serving up a new full-length project on September 6. Dubbed Mèdaho, the album delivers afrofunk grooves and rhythms blended through a psychedelic filter. To introduce listeners to that unique sort of alchemy, Kaleta & Super Yamba Band are debuting the title track off their forthcoming LP.
"Mèdaho means a lot to me. It Brings back memories as a young child with a huge ambition to see the world starting form Lagos a stone throw away," Kaleta tells us. "This song reminds me of the struggles, and most of all the fulfillment of dreams come true."
Sweeze Don – "500 Grams"
For the latest heavy-hitter from an up-and-coming Detroit rapper, Sweeze Don adds to his city's flood of new heat with a visual for "500 Grams." Notably, the clip was put together by director Erik Thomas of LED Productions.
E-40 – "Goat"
For the latest Practice Makes Paper visual, E-40 is revisiting one of the LP's opening cuts, "Goat."
"Some of these lists seem game goofy," E-40 shares via an official statement. "I don't think people are including all the right things when making their lists. These lists should be inclusive of style and legendary status but also mogul status, record sales, microphone skills, uniqueness, relevancy, longevity, and consistency."
Sauce Walka – "New Sauce City"
For his latest slice of heat, Sauce Walka serves up a visual for the Jrag-produced "New Sauce City." This latest videos comes to us a few months after the release of clips for the Rizzoo Rizzoo collaboration "Noodles" and the Peso Peso-assisted "Didn't Notice."
Lil Pete – "Said & Done"
Towards the end of spring, Lil Pete revealed plans for his debut studio album HARDAWAY. The LP's announcement was coupled with the release of its lead single, "Honest," which allowed Lil Pete to create a record that tackled the the perils of the streets and "what goes on in them and people that live in poverty." Now, the Bay Area artist is sharing another record off HARDAWAY, "Said & Done."
"I worked really hard on HARDAWAY; it's like my debut," Lil Pete previously told us. "I Made A Promise and 4EverFocused were tapes. I spent so much time on this album. I feel like I gotta go hard and make a way."
Nef the Pharaoh & Shootergang Kony – "Beat That Vest Up"
On August 15, Nef the Pharaoh plans on releasing a new full-length studio project titled Mushrooms & Coloring Books. For the album's latest single, the Vallejo rapper is linking up with Sacramento star-in-the-making Shootergang Kony and fast-rising producer DTB (ALLBLACK, Offset Jim, Rexx Life Raj) for the hard-hitting "Beat That Vest Up." Besides this contribution from Shootergang Kony, Mushrooms & Coloring Books will also feature features from SOB X RBE's Slimmy B, Sada Baby, Tyga and others.
"This song was inspired by real life. Don't kill nobody after listening to this song," Nef shares in an official statement sent to FADER. "I don't promote violence, but this tracc puts you in murder mode. It's a real gritty song about fonk hours."
Damian Lillard/Dame D.O.L.L.A. – Big D.O.L.L.A.
Damian Lillard continues to work on building up his musical career as Dame D.O.L.L.A. by cooking up a new full-length studio album, Big D.O.L.L.A.. Notably, the NBA superstar's latest LP delivers 10 new tracks, including collaborations with Lil Wayne and Mozzy. Lillard's third album as a rapper, Big D.O.L.L.A. servess as the full-length follow-up to 2017's Confirmed.