Instagram Launches New Tools to Combat Bullying
Yet another set of features that'll foster a safe environment for its users.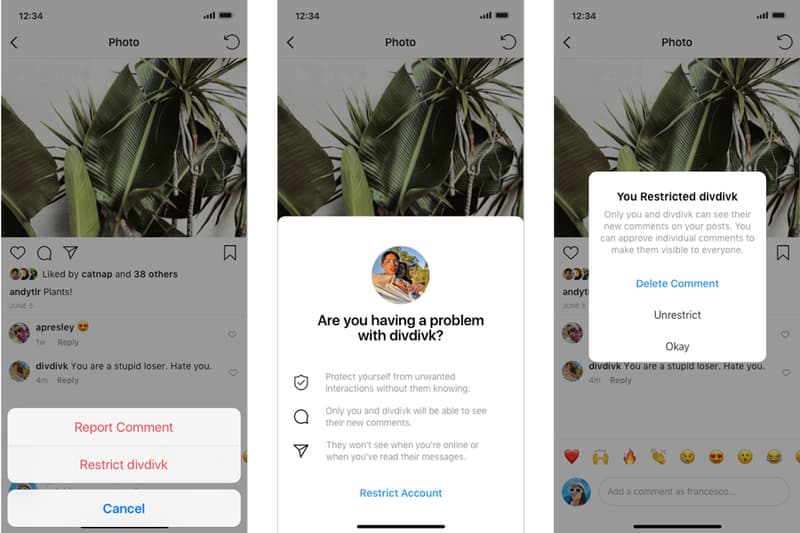 Instagram has announced it will launch new tools to combat bullying on its platform. One tool, which is already in effect, uses artificial intelligence to let users know when a comment they just left could be perceived offensive.
Instagram head Adam Mosseri said in a blog post that "This intervention gives people a chance to reflect and undo their comment and prevents the recipient from receiving the harmful comment notification. From early tests of this feature, we have found that it encourages some people to undo their comment and share something less hurtful once they have had a chance to reflect."
Another yet-to-release tool will empower possible victims by allowing users to restrict certain accounts from commenting and only make them visible to the user as opposed to their followers as well.
"You can choose to make a restricted person's comments visible to others by approving their comments," Mosseri writes. "Restricted people won't be able to see when you're active on Instagram or when you've read their direct messages."
It is unknown whether these tools will be optional. Stay tuned as more details surface.
In other tech news, Amazon employees are going on strike during Amazon Prime Day.
Updates from the head of Instagram @mosseri about our commitment to lead the fight against online bullying ❤️ https://t.co/Co2rgsuJvt pic.twitter.com/tlngJftizT

— Instagram (@instagram) July 8, 2019
My top priority as head of Instagram is the wellbeing of the people who use our platform every day. I had the chance to sit down with @TIME to talk about Instagram's fight against bullying and the steps we're taking to lead the industry in this fight. https://t.co/fNIrEbXQFx

— Adam Mosseri (@mosseri) July 8, 2019