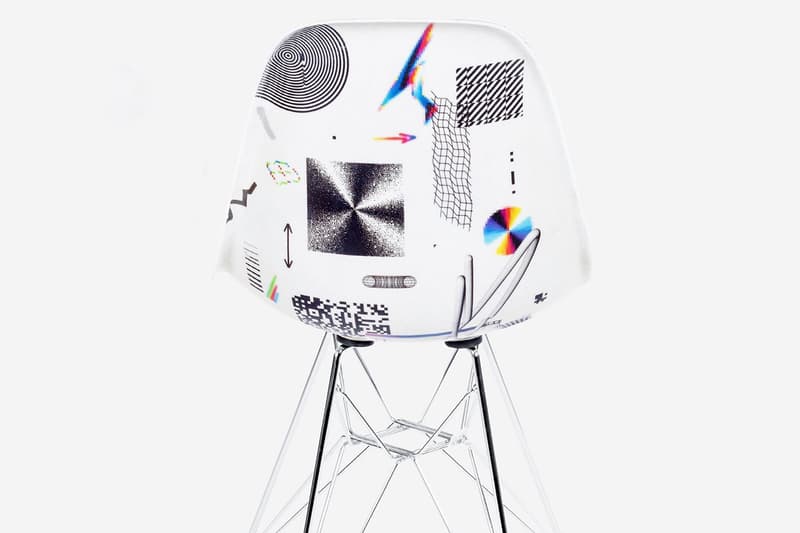 Best Art Drops: Felipe Pantone x Modernica Chair, Sam Friedman Print & More
Including Phaidon's new 'Vitamin T' book spotlighting 100 textile artists.
---
Every week we spotlight the best art drops by notable artists, galleries, museums and contemporary art platforms across the globe. Listed items typically encompass limited edition artworks, prints, collectible figures, collaborative merchandise and more.
For this week's installment: Felipe Pantone launches a limited edition side shell chair with Modernica for Beyond The Streets, James Jean is set to drop his 'Aurelians' time-limited edition print, Sam Friedman announces new 'Beach Monoprint No. 3' print with Louis Buhl, Medicom links up with Gasius to open registrations for their collaborative 'Crying Dog' sculpture, and Phaidon spotlights the works of 100 textile artists in new 'Vitamin T' book.
View the full list below.
Felipe Pantone x Modernica Case Study Side Shell Eiffel Chair
Release Date: Available exclusively at Beyond The Streets
Release Price: TBC
Continuing its artist collaboration series, Modernica now enlists acclaimed Valencian visual artist Felipe Pantone to design its signature Case Study Side Shell Eiffel Chair. Pantone's distorted motifs, geometric patterns, and abstract graphics are observed across the furniture item that boasts a predominantly white makeup. Those interested in purchasing the chair should stop by the ongoing Beyond The Streets exhibition in Brooklyn, New York.
Beyond The Streets
25 Kent Ave
Brooklyn, NY 11249
James Jean 'Aurelians' Time-limited Edition Print
Release Date: Available on James Jean's website
Release Price: $250 USD
James Jean now launches his latest time-limited edition print entitled Aurelians. Sized at 20-1/2 x 23-1/2 inches wide, the edition portrays a bright, surrealistic scene with a trio of mythical beings surrounded by towering flora and butterflies in vivid colors. Each signed and numbered piece features multiple silkscreened elements made using diamond dust alongside holographic and metallic gold enhancements. 'Aurelians' is available for 24 hours on James Jean's website starting July 9 at 7:59 am PDT until July 10.
Sam Friedman x Louis Buhl 'Beach Monoprint No. 3' Print
Release Date: Available July 11
Release Price: TBC
New York-based artist Sam Friedman recently partnered up with contemporary art gallery Louis Buhl on a new print edition entitled 'Beach Monoprint No.3.' Set against a gradient backdrop, the vivid composition portrays multiple abstract elements in varying colors while evoking an otherworldly beach scene. A total of 33 different hand-pulled monoprints will available for purchase starting July 11 at 12 p.m. EST on Louis Buhl's website.
Russell Maurice 'Crying Dog' Ceramic Sculpture
Release Date: Available on Goodhood's website
Release Price: £149 GBP (approx. $185 USD)
Medicom and Russell Maurice of London-based brand Gasius teamed up on a new sculptural edition entitled 'Crying Dog.' Standing 120mm tall, the artwork features a cartoonish canine with exaggerated traits from its head to its paws. Moreover, hand-painted details are observed underneath the predominantly grey ceramic statue. Only 10 numbered editions are up for grabs exclusively at Goodhood's special "Launches" landing page.
Phaidon 'Vitamin C' Book
Release Date: Available now on Phaidon's website
Release Price: £49.95 GBP (approx. $63 USD)
Phaidon dropped its latest hardcover book spotlighting textile artists entitled 'Vitamin T: Threads and Textiles in Contemporary Art' that explores the work of 100 different contemporary textile artists around the globe. The book covers all forms of textile art including tapestry, embroidery, stitching, textiles, knitting, and knotting. It offers insights into the practice of leading artists such as El Anatsui, Sarah Lucas, Do Ho Suh, among others.