The Toronto Raptors Defeat the Golden State Warriors in Game 6 to Become the 2019 NBA Champions
A first for the Canadian franchise.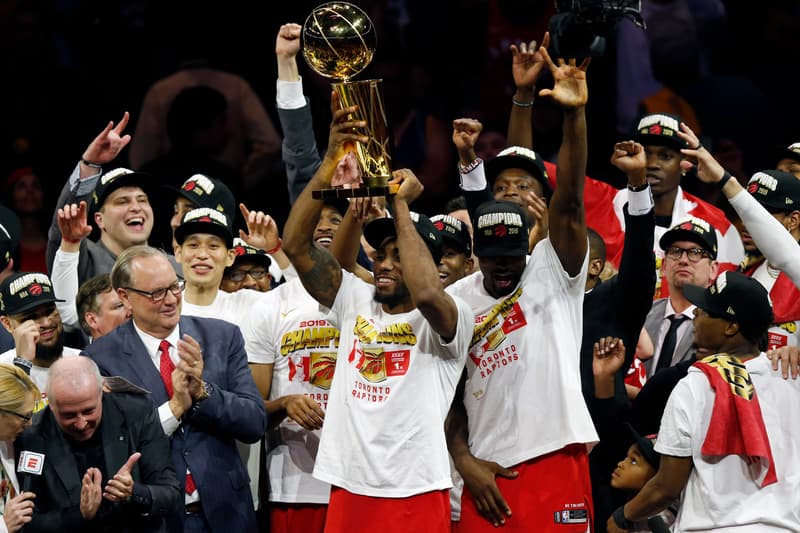 Marked by court-side news, the Toronto Raptors have defeated the Golden State Warriors for the 2019 NBA Championship.
Besting the reigning champs in Game 6 114 – 110, the crowd at the Oracle Arena were stunned as the Canadian franchise earned its first-ever championship title. Following years of unstoppable play, the Warriors were finally bested at this year's high profile NBA Finals. Mounting an aggressive bid to tie the series, the Warrior kept the pressure coming for much of the game until Klay Thompson tore his ACL in the 3rd quarter and his team could not fend off the Raptors off any longer.
Kawhi Leonard stood as a key element of the monumental victory, amidst trade rumors. The Small Forward was honored with the Finals' Most Valuable Player award by NBA Commissioner Adam Silver.
The win serves as just the latest in the Raptors' impressive season. A season which saw the Canadian franchise consistently dominate to make it to the Finals for the first time ever. The win also ends the Golden State Warriors quest for an NBA Championship three-peat.
Congratulations to the Toronto Raptors on their history-making victory.
In case you missed it, Anthony Joshua triggered his immediate rematch clause looking to reclaim his title from Andy Ruiz Jr.