The City Guide to Brussels
Where to Eat, Shop & Play in the EU capital.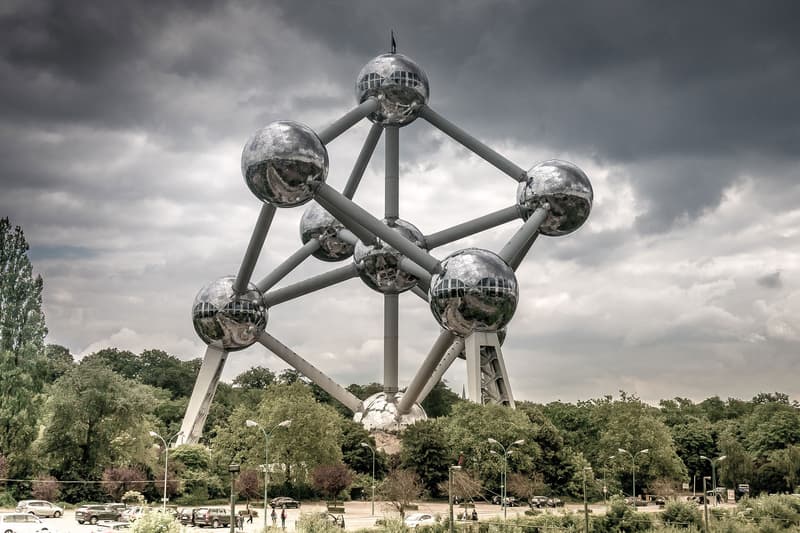 A few years ago we gave you an inside look at Antwerp, Belgium's rising city of fashion and home to the herald Royal Academy of Fine Arts. This time around we've turned our attention to the country's capital and the heart of the EU: Brussels.
Although it is widely known to house the European Parliament and being a powerful magnet for world leaders and diplomats, the city does have its fair share of gems that have been attracting fashion moguls, club goers, art aficionados and food lovers from all over the globe. Unlike other European capitals, Brussels' multiculturalism runs right down to its roots; a historic city that is able to hold bureaucracy in one hand while balancing the hip and eccentric in the other.
Besides its famous chocolates, waffles and cherry-flavored beer, the city also boasts numerous photogenic spots to help amp up your IG content. From the UNESCO World Heritage site of Grand Place and the famed costume changing Manneken-Pis to the cobblestoned streets and Art Nouveau buildings embellished with street art, the city's landscapes have only been attracting more and more visitors each year. Along with its striking architectural and cultural contrasts, Brussels offers up a perfect mix of history and present-day modern life.
If you ever find yourself in the heart of Europe, make sure to check out some of Brussels' lesser known travel highlights, catered to you, below.
Where to Shop
Hunting and Collecting
Since opening almost a decade ago Hunting and Collecting has seen fashion lovers flocking to downtown Brussels to get their hands on unique clothing, exclusive sneakers and bold furniture. The showroom-styled shop is surely one of today's must-visit spots in Europe as it houses a constantly rotating selection of contemporary designers including ADER error, POLYTHENE* OPTICS by Samuel Ross and YEEZY. The concept store also varies its layout throughout the seasons with the current theme being Atlantea Moonrise by Mathias Vouters. Past themes include Space, the South American Desert, Inception, Apres Ski, and more.
Address: Rue des Chartreux 17
Website: huntingandcollecting.com
SMETS
For those looking for more high-end luxury brands, Smets is your go-to place. Located in the city center, the 120-square-meter store carries brands such as Acne Studios, M+RC Noir, Off-White™, and Balenciaga. Along with the latest fashion trends, numerous top-flight Belgian brands are prominently featured as well. And it's not only fashion labels that Smets curates, an array of beauty, design, art and food labels are also offered up.
Address: Rue de Namur 68
Website: smets.lu
Centreville
Located in the center of Brussels, Centreville is a choice option for menswear. The array of brands carried include Japanese (Nanamica, Needles, Junya Watanabe, Porter Yoshida) and European (A Kind of Guise, Drole De Monsieur) all the way to a few occasional American labels thrown into the mix. Streetwear favorites such as The North Face, Arte Antwerp, Stone Island, M+RC Noir and Aimé Leon Dore can also be found here. The store also pays the upmost attention to fabrics and materials to make sure only the best garments are being sold.
Address: Rue des Chartreux 36
Website: centrevillestore.com
Solebox
With it's original flagship located in Berlin, Solebox has expanded across the EU to set up shop in Munich, Vienna, Amsterdam and last but not least, Brussels. Here you will be able to find more popular streetwear labels such as YEEZY, BAPE, and COMME des GARÇONS Play to more niche brands including Daily Paper, Chinatown Market and Filling Pieces. Solebox will also become your one stop shop for all the latest exclusive and premium sneakers. Additionally what makes this Brussels location so appealing is it has been designed to look like a bank with vaults, security boxes, atm counters and more.
Address: Boulevard Adolphe Max 86
Website: solebox.com
Panthers
Originally starting out as a basketball store carrying the most coveted Jordans, Panthers has since expanded into one of Brussel's go-to sneaker shops. Those that pass through will be able to pick up the latest kicks from Nike, ASICS, PUMA, Reebox and Vans along with select apparel and accessory items from Japanese labels HUMAN MADE, NEIGHBORHOOD, PORTER-Yoshida and Medicom Toy.
Address: Boulevard Adolphe Max 3
Website: panthers.be
Stijl
Belgium has also produced its fair share of top designers including Raf Simons, Dries Van Noten and Ann Demeulemeester. Since its inception in the mid-80s, Stijl has helped to spotlight local talents from across the country. For those looking for more higher-end, avant-garde fashion you can find the aforementioned, along with other championed Belgian designers such as Walter Van Beirendonck and A.F. Vandervorst, at Stijl.
Address: Rue Antoine Dansaert 74
Website: stijl.be
Where to Eat
Frites Atelier
With the true origin of the "French Fry" coming straight from Belgium, it's only fair we list one of the hottest spots in Brussels, Frites Atelier. Opened by Michelin star-equipped Sergio Herman, his upscale take on the frites sees them dressed in several regularly changing seasonal flavors, such as Flemish Beef Stew, Tomato Basil Parmigiano and Shashuka Surprise, all invented by Herman himself.
Also as Frites Atelier's largest location, a range of daily specials will be offered up. Prices range from €3.50 EUR (approximately $4 USD) for bare fries to €8 EUR (approximately $9 USD) for specialty fries. Other dishes such as salads and burgers are also available for €12 EUR (approximately $13.50 USD).
Address: Rue Sainte-Catherine 32
Website: fritesatelier.com
La Mer Du Nord
This once hidden street food spot has now become one of the hottest places in the city. Every time you walk by there's a huge crowd of people waiting to order the freshest gifts from the ocean including scallops, razor clams, shrimp croquettes, salt 'n' pepper calamari and so on. The place doesn't have any indoor seating, which makes it a good chance to enjoy the outdoor scenery with the vibrant locals. Dishes start from €8 EUR (approximately $9 USD).
Address: Rue Sainte-Catherine 45
Website: noordzeemerdunord.be
Fernand Obb Delicatessen
Fernand Obb brings you the best street food-style dishes the city has to offer while keeping true to authentic Belgian flavors. The menu includes shrimp croquettes, burgers, and waffles. Tasty veggie options are also available. Prices range from €2.50 EUR for a waffle to €11 EUR for mains (approximately $2.80 to $13 USD).
Address: 27 Rue de Tamines
Website: fernand-obb.be
Amadeus
Amadeus offers up all-you-can-eat ribs for a reasonable price of €18 EUR (approximately $20 USD) per head. On top of serving up what many people claim to be the best ribs in town, Amadeus is known for its quirky, off-kilter decor which consists of various lamps hanging from ceilings and overstuffed bookshelves.
Address: Rue Sainte-Catherine 26
Website: amadeus-resto.be
Grab a Drink And/Or Party At
Beursschouwburg
Beursschouwburg is a multidisciplinary arts centre situated in the heart of Brussels that houses spaces for performances, screenings, concerts, exhibitions, debates, and lectures. Beursschouwburg is also a go-to spot for having a rest at the Beurscafé or grabbing a Brussels brewed beer and partying on its rooftop bar and terrace which provides a beautiful view of the city. During the summer months the rooftop bar holds free concerts and DJ sets.
Address: Auguste Ortsstraat 20/28
Website: beursschouwburg.be
Delirium Village
Near the famous Brussels Grand Place lays a cul-de-sac that houses Delirium Village and its eight bars. Here you can enjoy 2,004 beers from around the world (it even holds a Guinness World Records for the number of beers available for tasting obtained in 2004), or partake in the live music. There's literally something for everyone here as Delirium offers up the usual strong ales, lager, and fruity tastes along with more unusual flavors of chocolate, banana, hot pepper, and gingerbread. And yes, they have gluten free beers. And it's not just beers that Delirium spotlights, vodkas, absinthes, rums, tequilas, mescals, cocktails and much more can be had here.
Address: Impasse de la Fidélité 4
Website: deliriumvillage.com
Where to Hang Out
Flagey
Flagey is the place to be when it comes to your Saturdays and Sundays well spent. During the weekend, the area plays host to a colorful food market with food trucks offering up handmade pastas, organic veggies, oysters, African delights and champagne at €4 EUR (approx. $4.50 USD) a glass. Flagey is also surrounded by numerous restaurants and cafés worth checking out including le Pantin, Murmur, the Black Sheep, and Café Belga.
As stated before, Belgium is the birthplace of fries so it's only fair another spot be included. Unlike its gourmet Frites Atelier counterpart, Friterie Flagey is the street food equivalent. But don't let that fool you. Herald as the best fry spot in the city, the queue is often long but well worth it. There's even numerous dips to try outside of Ketchup.
Place du Luxembourg
Nicknamed by the locals as "Place Lux" or "Plux," Place du Luxembourg is a square situated in front of the European Parliament. Packed with some of the best restaurants, bars and cafés in the European Quarter it's no wonder many of those who work for the European institutions end up at this hotspot. In the centre of the square lays a large grassy area where many find themselves sunbathing or reading a book after work or on the weekends. Live music is also common during special times throughout the year.
Cinquantenaire Park
Just a stone's throw away from the European institutions you'll find Cinquantenaire Park, a large green space where everyone comes to hang out, be active or enjoy the gardens, monuments and museums (such as Autoworld, perfect for car enthusiasts). The hard to miss Triumphal Arch is the centre piece where numerous activities throughout the year are held including food festivals and the Brussels Marathon.
Place Jourdan
Just south of the EU district and Schuman square lays Place Jourdan, a focal point of the city where both locals and travellers converge. Here you can find plenty of outdoor seating, Maison Antoine (another famed Belgian frites locale), coffee spots and various restaurants offering up multicultural cuisines. There's also plenty of places to try the local beers such as Beers Bank.
Where to See Art
MIMA – Millennium Iconoclast Museum of Art
The Millennium Iconoclast Museum of Art is dedicated in spotlighting contemporary artists. From now until September 1, 2019, Dream Box is putting on an exhibition of immersive psychedelia and optical illusions. After checking out the art, visitors can chill out in the restaurant or pick up some vibrant souvenirs in the gift shop.
Address: 39-41, Quai du Hainaut
Website: mimamuseum.eu
On the Streets
Aside from being known for beer, fries, chocolates, and waffles, Belgium is the birthplace of some of the world's most beloved comics like Tintin, The Smurfs, Lucky Luke, and Gaston. The country's comic-book heritage is literally plastered throughout Brussels as large murals can be found hidden throughout the city's cobblestoned streets.
Comic Strip Center
After going on a giant treasure hunt for the best street art, head over to the Comic Strip Center, which is housed in a building designed by Horta, to enjoy the 9th art. Not only are Belgium comics prized here, European, American and Japanese comics are also spotlighted.
Address: Rue des Sables 20
Website: comicscenter.net